A cat who ran down the road to get a lift home with his owner has left the internet in stitches this week.
In a viral video shared on TikTok on Thursday, Zazu the cat's antics have been viewed more than 2.1 million times and gained thousands of likes and comments.
TikTok user modern_motherhood posted the video from inside her car when the white kitty can be seen running up the road and the voice behind the camera says: "Oh my god as if he actually can't even wait for me to get on the driveway today, this cat takes the p***."
"I've just come up here to turn around," she shouts to the cat. "Are you having a laugh mate?" As the cat runs up to the car, she opens the door for him to jump inside and make his way to the passenger side.
"Make yourself comfortable Zazu," jokes the TikToker. Driving around the corner with the cat eagerly looking out of the window, they arrive at home with the happy cat looking very pleased with himself.
"Laughing my head off at Zazu," said one TikToker. Another commenter said: "My cat is exactly the same… feel like he's got me wrapped around his paw."
Many cat owners may be unfamiliar with the sight of a cat wanting to get into the car—thinking back to vet trips with unimpressed feline friends. But Preventative Vet actually reports that if your cat is properly acclimated to riding in the car, they can even learn to love it. With a few simple bits of advice, they suggest getting your feline used to car journeys can be straightforward.
The first step? Getting them used to the essential kitty carrier. Just like us, cats need to be safe and secure in a moving vehicle. A carrier is a perfect way to keep them contained, safe and avoid any distractions from your feline friend while you're driving.
Once they're happy with the carrier, it's time to get used to the car. With the car parked and doors and windows closed, try sitting in the car with your cat in their carrier. Owners should avoid in-car training in very hot or very cold weather.
When your cat seems comfortable in the carrier and in the car, it can be helpful to reward them with a tasty treat or even a slow-release treat toy that can keep them busy during a journey.
Not all cats need much convincing when it comes to traveling, recently one couple online has gained attention by sharing how they live full-time in a custom-built van with their three cats.
Zazu the cat hitching a lift has delighted TikTok users who commented on the video.
"Your cat is the cutest thing I've ever seen," wrote one user. While another commenter wrote: "Omg this is way too cute."
"So precious. Protect at all costs," said another commenter. Meanwhile others mentioned their own similar feline friends: "Glad my cat isn't the only one," said one TikToker, while another wrote: "My cat does the same. She followed my daughter up to the shop."
Newsweek has reached out to modern_motherhood for comment.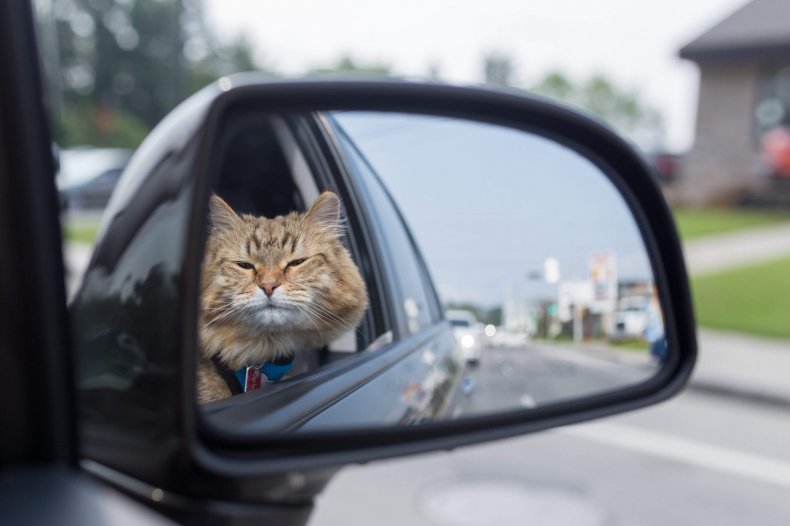 ================

Source link