A one-year-old cat named Fern has captured the attention of the Internet with her unique tail bandages made to look like a mermaid's tail, a carrot, and even a traffic cone.
Fern, who is a brown, white, and orange cat, has her own social media presence which she shares with her sister, Maple. On Instagram, their handle is @maplexfern, and both cats are a year old from Canada.
A clip, which has been liked 861,000 times since it was shared on May 15, showcased the numerous bandages Fern sported over the 10 days she had to wait until it was time to remove the sutures after an accident.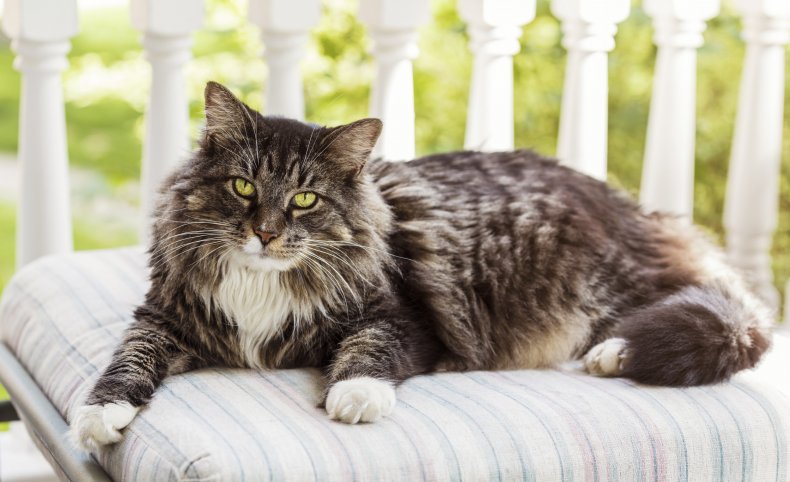 It all started when her owners—both veterinarians—noticed drops of blood around the house and determined Fern had injured herself.
They gave her pain meds and antibiotics were next with a trip to Dad's clinic. Apparently, Fern's tail was caught in the door and "degloved," which exposed bone underneath, according to @maplexfern's Instagram story. Consequently, the tip of the tail had to be surgically removed in order for it to heal correctly.
According to Statista, the average cost of vet care and vaccinations for cats amounted to $125 on average in 2020. For dogs, the cost was higher at $241.
The procedure was a success, and Fern was "very tolerant" of the bandages, which is why her parents kept using them until the sutures were ready to be taken out.
"Being positive and creative during this ordeal," the post is captioned. "Which bandage theme was your favorite?"
More information was also added: "We kept the bandage on until the sutures were ready to be removed! Her surgical site has healed now, and we are waiting for her floof to grow back out."
10 Days of Tails
The first bandage was a long blue mermaid tail, which Fern had wrapped around her while she looked up at the camera in the first cut.
Next up, the feline's tail was fashioned to look like a flower, her tail wrapped in dark green tape with a red and yellow flower dangling from the tip. There was even a little side leaf. Fern looked up at the camera from the floor. Her sister cat, Maple, played with the flower at the end of Fern's tail.
Of course, the Canadian flag had to be represented, and Fern received scratches as her tail stood upright in the air, the length of it wrapped in a light blue bandage and a Canadian flag waving at the end.
On day four, she had her tail wrapped in light green tape and topped with dark green tape in the fashion of a spring onion. She jumped up on her hind legs, getting closer to the camera before the next day was presented.
On day five, Fern looked out the window with a straight green tail made to look like a snake with yellow eyes and a red tongue.
Day six showed Fern's tail wrapped in bright orange tape with green leaves, transforming her tail into a carrot.
The next day, the cat was part banana with her yellow bandage that looked just like a half-peeled banana coming off the tip of the tail, but Fern didn't seem to mind.
On day eight, Fern had a thick caterpillar bandage in an assortment of colors. It was yellow with green and red designs.
Day nine, she became a warning to others with her traffic-cone-style tail.
On the final day, Fern's tail looked like a pencil with a yellow bandage with a red tip for the eraser.
According to Fern's Instagram Story: "Most cats/dogs would try to pull [the bandages] off or chew at it, which can be a hazard/make things worse. This decision was made purely based on how she reacted to it and to make her recovery less stressful as possible." They also added: "Most pets will not tolerate this, and it should not be done purely 'for fun.'"
The materials used for the bandages were from Fern's parents' vet clinic, and the sutures were removed after 10 to 12 days, which is when they made the decision to keep the bandages off. Although the cat had to use a cone to keep her from licking or chewing her tail, she eventually was downgraded to a donut-like device.
Fern's incision has completely healed, and her tail is even seeing active fur growth, which is good news.
Internet Adoration
Numerous viewers weighed in on Fern's unique bandages, and people can't seem to get enough. "I have watched this video close to 50 times," an Instagram user said. "Favorite thing on the internet."
Many had well wishes for Fern after her surgery. "One of the best cat videos," a viewer said. "Bravo! Also, hope your cat is better."
People really seemed to appreciate the creativity that went into the bandages. "This is so cute!" a user wrote. "Love them all, flower must be my favorite!"
Another viewer called it "very creative," adding, "Omg this is funny. The banana is my favorite. Or the traffic cone."
Other comments of appreciation included things like, "Videos like this are actual therapy," "This is so cute," and "I just know your cat is living the dream."
Some people honed in on specific bandages as their favorites as well, and opinions were everywhere. "The spring onion and traffic cone had me dying," an Instagram user said. "These are all amazing!"
Newsweek reached out to Instagram user @maplexfern for comment.
This isn't the only viral moment involving cats.
A DIY hack to get cats to stop scratching furniture is being praised online.
The Internet revealed the "collections" their cats have.
In addition, a cat cuddled her newborn kittens in a cute clip.
================

Source link