A video of a Dalmatian seemingly excited by the music played by a band on a street in the English county of Cornwall has gone viral on TikTok, where it has garnered over 827,000 views.
The video posted by TikTok user @indiarog, which has not been independently verified by Newsweek, featured a message overlaid on it that read: "POV [point of view]: You've never seen a brass band before."
The video shows the dog flinching a few times, looking left and right, before it does a full spin around itself. The Dalmatian later sits down and appears to be in trance, looking out toward the direction of the music.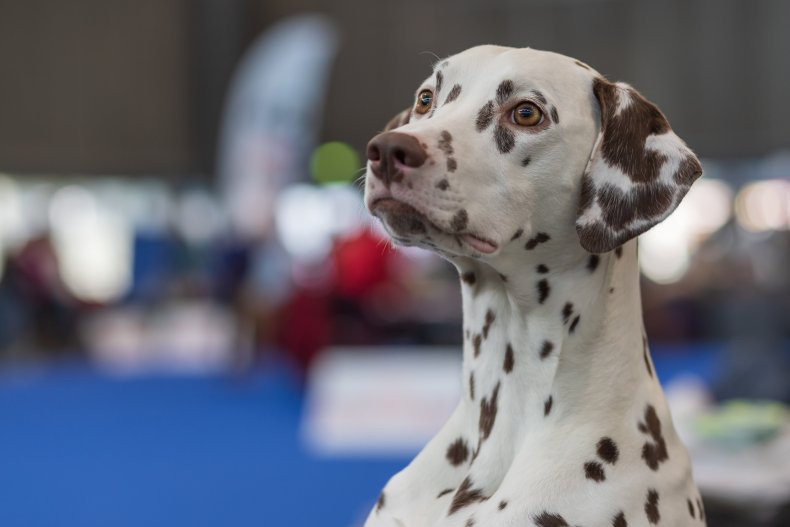 Contrary to the Dalmatian's highly reactive stance in the latest viral video, in a March 2017 study in the peer-reviewed journal Physiology & Behavior, dogs were found to "spend significantly more time lying and significantly less time standing when music was played, regardless of genre."
The study, which looked at the effect of various music genres on the stress levels of kenneled dogs, found that "Heart Rate Variability (HRV) was significantly higher, indicative of decreased stress, when dogs were played Soft Rock and Reggae, with a lesser effect observed when Motown, Pop and Classical genres were played."
While there was "no observable effect of music on barking," the dogs were "significantly more likely to bark following cessation of auditory enrichment," the study said.
The original poster said the dog (known as Purdy) is 6 months old and "experiencing new things."
The user said: "He was more interested in the crumbs my nephew was dropping moments afterwards. He slept too."
Some TikTokers in the latest viral video were concerned that the music may have been too loud and stress-inducing for the dog.
User Lyrics of TikTok songs wrote: "Too loud and stressful," while Simon Bennett said: "Way too loud for its sensitive ears."
User helenangeltipto61 said: "too high pitched for [their] ears…"
An August 2018 study published in the peer-reviewed journal PLOS One noted: "Loud and sudden sounds can induce a wide range of fearful behaviors in dogs, ranging from evidence of minor anxiety to quite marked behaviors."
The study said: "Although the fear response is a natural and self-protecting behavior, in sound sensitive fearful dogs these responses are exaggerated and inappropriate and negatively impact the welfare of the dog."
According to the study, dogs sensitive to sound may present a variety of symptoms, such as the following:
Increased startle response
Restlessness
Panting
Trembling
Hiding
Arched posture
Salivation
Destructiveness
Defecation
Vocalization
Self-mutilation
According to the 2018 study, "Sound sensitivity in dogs is a widespread condition and is frequently associated to other behavioral problems and might cause extensive damage to property and could be harmful to the dog itself, to people and other dogs."
The latest video left several TikTokers in stitches. In a comment that got over 5,400 likes, user b wrote: "blessssss, pups so confused as to why everyone is sitting and chilling while evidently the world is ending [crying laughing emojis]."
In a comment that received 3,400 likes, Oakley-Elizabeth wrote: "Hahaha it's the side eye 'you hearing this right?' [crying laughing emojis]."
Newsweek has contacted the original poster for comment.
Do you have funny and adorable videos or pictures of your pet you want to share? We want to see the best ones! Send them in to [email protected] and they could appear on our site.
================

Source link