Footage of a "mass breakout" at a doggy daycare center has delighted the internet after a TikTok user shared a CCTV video of the clever pups on Tuesday.
With over 50 percent of households in the U.S. reporting owning at least one pet, it is no surprise that there has been a boom in the popularity of doggy daycare services in recent years. In 2016, researchers estimated that the pet care market was worth approximately $131 billion and expect the sector to grow to over $200 billion by 2025.
With thousands of followers, TikTok user theofficialgingerspice often shares footage and stories from their job at the daycare center, including dogs playing, getting into mischief and relaxing together.
In the now-viral video, which has had more than 3 million views, one dog manages to open a gate and leads the charge as other dogs follow quickly. All but one Labrador retriever, who stays put on a bed looking confused.
Dog advice site Dog Time says that dog gates and barriers are great for blocking off unsafe areas where you may not want your dog to venture alone, such as dangerous stairways or kitchens with hot stoves, although as the video shows, they are not always foolproof.
When choosing the right barrier for your pup there are a few things to think about. Considering the size of your dog is essential—remember to think about how big they could grow to be if they are a puppy. The site also recommends considering if your dog is prone to jumping, scratching, or if it suffers from any separation anxiety that could make it more determined to get through a barrier.
Choosing the right material, size and the perfect fit for your gate is an important step in keeping your puppy safe. It is also essential to properly fit any gate or doggy door as your dog could quickly become hurt or frightened if it fell.
Delighted by the video, thousands of TikTok users rushed to the comments section to react.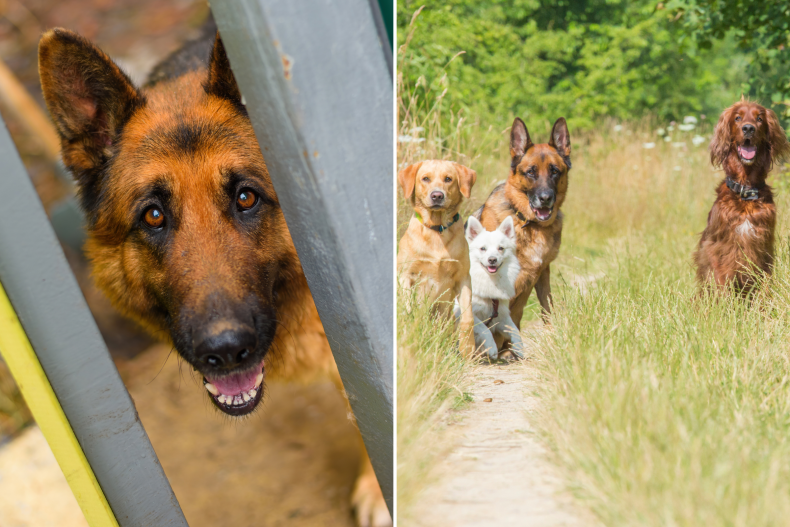 One, reacting to the dog that stayed put, said: "Ole boy isn't losing his bed this time, lmao. He's got his priorities straight."
Another wrote: "The lab knows that he'll be the one getting extra treats for being so good and resisting peer pressure."
One commenter shared a similar story and said: "My gate didn't latch correctly once. All the dogs were out except the eldest chihuahua, who is a snitch. She stood at the gate and barked."
Since the breakout, the TikTok user shared a video featuring the "certified good boy" who stayed put on his bed. Kenobi the dog is celebrating his good behavior with a party hat and colorful neck-wear before he is given a treat while the voice behind the camera says: "You deserve it."
Newsweek has reached out to theofficialgingerspice for comment. We were unable to verify the details of this story.
Do you have funny and adorable videos or pictures of your pet you want to share? We want to see the best ones! Send them in to [email protected] and they could appear on our site.
================

Source link