Two golden retrievers have boosted the internet's serotonin as a video of them chasing each other has gone viral.
In the adorable video shared on TikTok by lifeofsterlingnewton, the dogs can be seen running after each other around a kitchen island and living room.
The comical video shows Sterling and Colin, the pooches, playing chase and it looks like they are even smiling.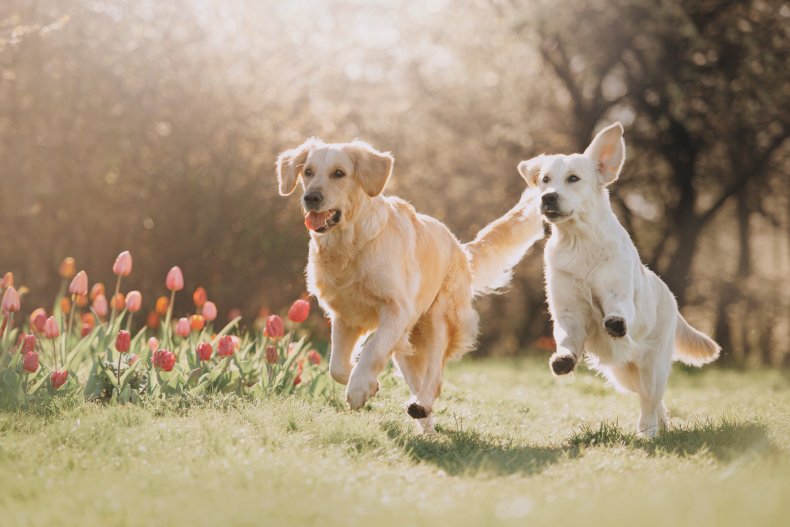 Thousands of TikTokers have flocked to the video, some even asking for "more".
The popular dogs have racked up 270,000 likes and over a million views. You can watch it here.
According to the American Kennel Club (AKC), the golden retriever, described as "an exuberant Scottish gundog of great beauty", is one of America's most popular dog breeds. "They are serious workers at hunting and field work, as guides for the blind, and in search-and-rescue, enjoy obedience and other competitive events, and have an endearing love of life when not at work," it says.
While Sterling and Colin are clearly having the time of their lives, it is important for dog owners to know the difference between playing and fighting.
When playing, dogs voluntarily make themselves vulnerable by "falling" down and exposing their bellies and allowing themselves to be caught when playing chase. They take turns chasing each other, the AKC says. However, if their body language changes and the dog begins to move quickly and efficiently then a fight may break out. If it does, the losing dog will leave the area and won't return to play.
The caption on the "chase" video says "It can go on for ages" which suggests the original poster is provided with a lot of in-house entertainment.
User Sebastián Ochoa said: "Aww that's the best I've seen this day."
TikToker xixparkerxix said: "I play with my dog like this."
Sterling and Colin have certainly become a hit online and have even got their followers thinking about expanding their furry family.
The top comment received over 2,300 likes, with user Daisythegoldiee saying: "So much fun! I need to get my dog a dog."
User Darci Tkaczyk said: "This melts my heart and will be evidence of why my dog needs a fur sibling."
Molly-alice agreed: "And this is the exact reason why I need another golden!"
TikToker K. Sand joked: "I would pay admission to this event."
Many dogs have the desire to chase, but because some dogs enjoy it so much, it can be challenging to train them not to do it, the AKC says.
Two dogs may not be for everyone, so the dog walking app Wag! recommends purchasing a wheely toy for the pup who enjoys being chased.
================

Source link