A female driver learned the hard way to not ignore repeated requests from a police officer.
In a TikTok video published by the account @copspov, which routinely posts police bodycam footage, a driver is pulled over by police for allegedly traveling the wrong way on a one-way road. Her reaction to the claim that ultimately led to her arrest has been viewed over 3.2 million times.
The footage recorded on April 8 begins with an officer attempting to get the driver out of the vehicle. She rolls down her window just enough so she can hear him.
"No, I'm going home," she tells the officer. "I live three streets down. What do you want from me? I don't know you."
The officer explains that he is, in fact, a cop and has the jurisdiction to make her exit her vehicle. The driver then suddenly switches her story, saying she lives four streets away rather than three.
"I'm going to break your window and drag you out of your car," said the officer from the unidentified police department. "I'm legally allowed to do that, ma'am."
Meanwhile, the driver–whose window is still only rolled down about an inch–can be seen using her phone. After being asked for her driver's license and proof of insurance, she is overheard talking to her father, asking him to come help her deal with the situation.
Again, she tells the officer that she is just five streets away from her house.
"Dad, I'm scared," she says into the phone before rolling up the window completely.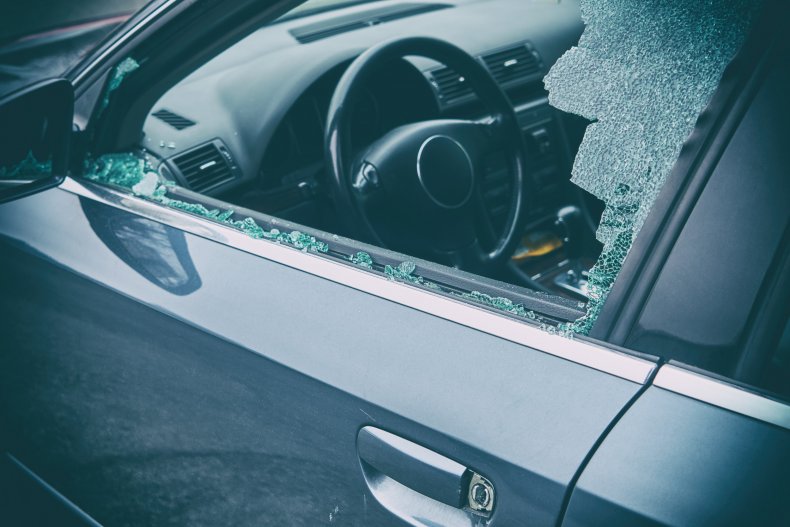 After repeated attempts to get the driver's attention and get the requested information, including telling the driver she will be arrested for obstruction for justice, the officer tries one last time.
"Ma'am, I'm going to break your window and pull you out of your vehicle and I don't want to do that," he says.
As the driver refuses to roll down her window or exit her vehicle, she is recording the incident from inside the vehicle. The officer then pulls out his baton and smashes her driver's side window.
One TikTok user commented that it was "music to my ears hearing that glass shatter."
After being pulled from the vehicle and handcuffed, the suspect asks, "What did I do?" The officer tells her that it is too late for apologies. She then says she lives four streets from home.
"My dad is on his way," she tells police, to which an officer replies, "Well, your dad can see you in handcuffs in the backseat of my car."
The comment section was about as one-sided as it gets in support of the officer on scene, with many users having a field day with the driver's reactions.
"What did I do wrong? He told u 834 times lol," one user commented.
"NEW LAW – Laws do not apply if you are only a few streets away from home," another user said.
"Does she live 3, 4 or 5 streets down?" another user joked. "Lmao she keeps changing it."
The Bureau of Justice Statistics published a report in November 2018 on body cameras worn by law enforcement in the United States, finding that 47 percent of agencies had acquired such cameras–with about 80 percent of larger departments having them. Of the agencies that acquired body cameras, nearly nine in 10 of them had a policy consistent with their usage.
================

Source link