Network data from NetBlocks confirm a near-total disruption disruption to internet service in parts of Kurdistan province in west Iran from the evening of Monday 19 September 2022. The regional telecommunications blackout in and around Sanandaj follows a partial disruption to internet service in Tehran and other parts of the country on Friday when protests first broke out.
The incidents come amid widening protests against the government after the death of Mahsa Amini from Saqqez in Kurdistan province after her arrest by Iran's morality police for allegedly violating Iran's strict hijab headscarf rules.
⚠️ Confirmed: Real-time network data show a near-total disruption to internet connectivity in #Sanandaj, the capital of Kurdistan Province in west #Iran; the incident comes amid widening protests over the death of #MahsaAmini after her arrest by morality police 📉 pic.twitter.com/wZVHJjgpiR

— NetBlocks (@netblocks) September 19, 2022
Users have also reported the disconnection or severe slowing of internet service in multiple cities since the first disruption was registered on Friday 16 September 2022. The network disruptions are likely to severely limit the public's ability to express political discontent and communicate freely.
⚠️ Confirmed: A significant internet outage has been registered in Tehran, #Iran with real time network data showing connectivity at 67% of ordinary levels; the incident comes amid protests over the death of Mahsa Amini and may affect coverage of events on the ground 📉 pic.twitter.com/a8fjaaLoYG

— NetBlocks (@netblocks) September 16, 2022
This class of internet disruption affects connectivity at the network layer and cannot generally be worked around with the use of circumvention software or VPNs.
NetBlocks recommends against the use of network disruptions to counter protests, given their disproportionate impact to fundamental rights including freedom of expression and freedom assembly.
Recent internet shutdowns and disruptions in Iran
Iran has faced a series of network disruptions in recent years, with some attributed to external factors, and others to state information controls or targeted internet shutdowns. NetBlocks investigations have helped identify the root causes of these network outages.
Notably, in November 2019 Iran shut down internet access nationally amid widespread public protests that were met with deadly force by authorities. In that instance, users gradually regained access as connectivity was selectively brought back after a week of near-total outages.
Further reading:
Developing incident: check back for updates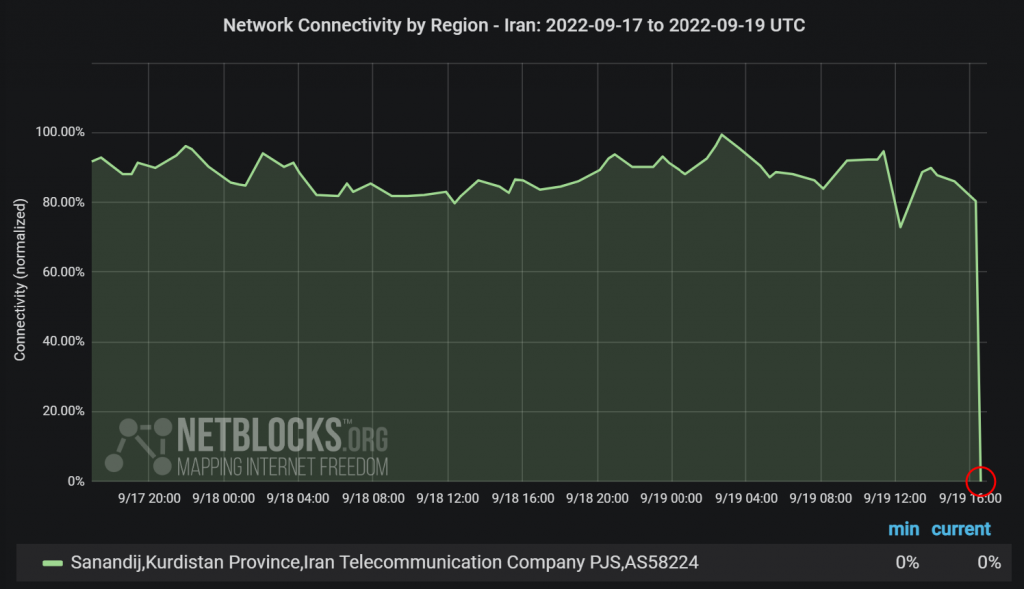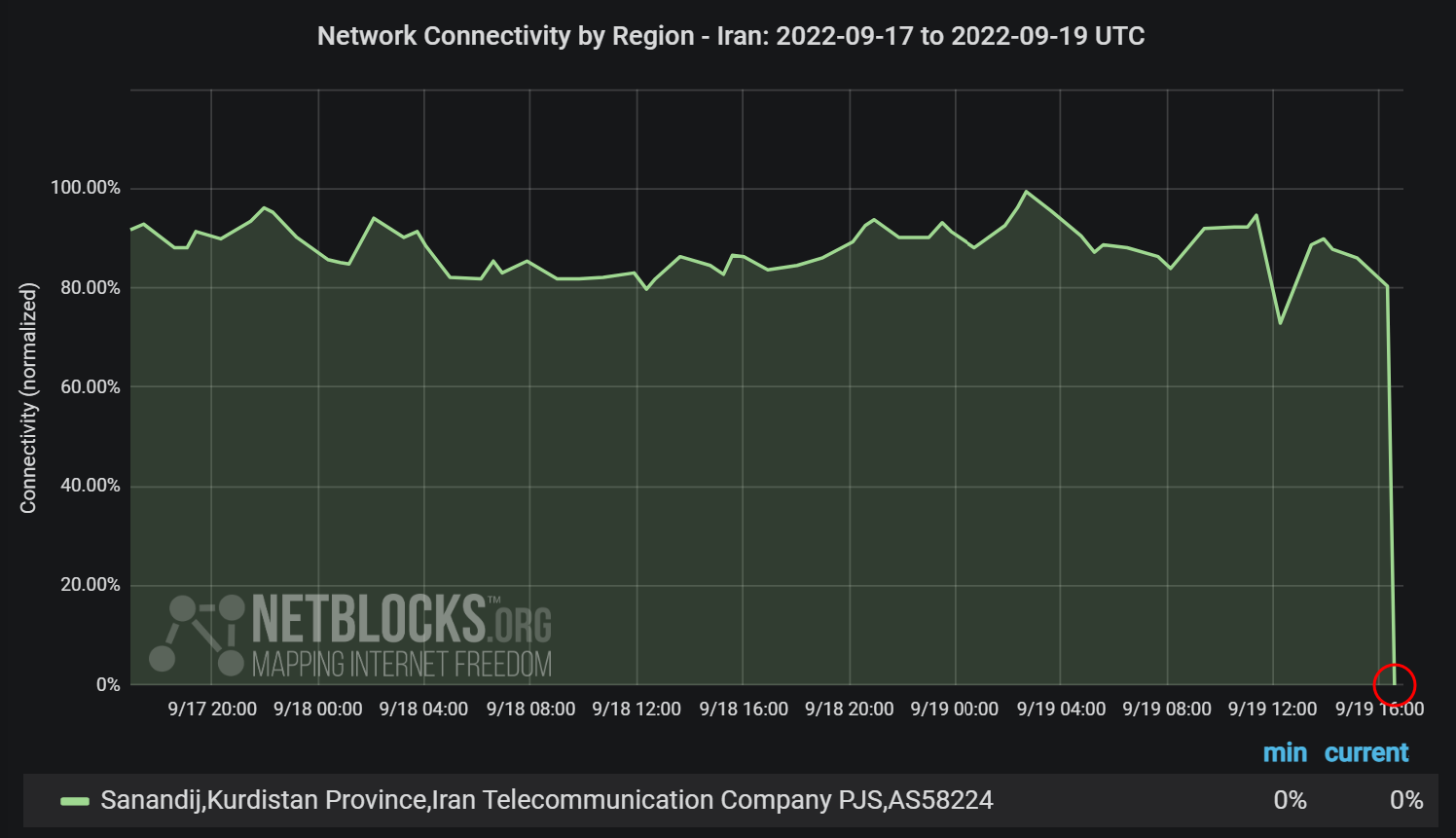 ---
Methodology
NetBlocks diffscans, which map the IP address space of a country in real time, show internet connectivity levels and corresponding outages. Purposeful internet outages may have a distinct network pattern used by NetBlocks to determine and attribute the root cause of an outage, a process known as attribution which follows detection and classification stages.
---
NetBlocks is an internet monitor working at the intersection of digital rights, cyber-security and internet governance. Independent and non-partisan, NetBlocks strives to deliver a fair and inclusive digital future for all.
[ press | contact ] Graphics and visualizations are provided for fair use in unaltered form reflecting the meaning and intent in which they were published, with clear credit and source attribution to NetBlocks. Intellectual property rights are protected including but not limited to key findings, facts and figures, trademarks, copyrights, and original reporting, are held by NetBlocks. Citation and source attribution are required at the point of use.
Core Reporting Sponsor
================

Source link