In 2021, data analytics company Earnest Research reported that online retailer Shein had overtaken H&M, Zara, and Forever 21 to become the biggest fast-fashion retailer in the U.S.
But this weekend, one woman shared how her outfit from the popular retailer seemingly couldn't stand up to the intense Las Vegas heat, in a TikTok video that has now received more than 320,000 views.
Before attending the Lovers and Friends festival in Las Vegas, TikToker eacarrasco spent weeks carefully compiling the perfect outfit.
But the chunky Mary Jane seemingly couldn't shoes couldn't take the heat, appearing to collapse under her feet as she walked in the now-viral video.
Newsweek has reached out to Shein for comment.
Leading the market with a 28 percent share, Chinese brand Shein was founded in 2008.
Valued at $100 billion in a recent funding round, the company is now worth more than H&M and Zara combined. Selling inexpensive fashion and lifestyle products, the site reportedly adds more than 2,000 new styles each day—selling items for as little as $3.
Fast fashion was initially seen as a way of increasing the speed of production, reducing the time it takes to go from fashion design to final product on shelves, and eventually reducing the prices for the end user.
Shocked by the performance of the shoes which were purchased for around $24, TikTokers took to the comments to share their thoughts.
"Note to self, don't buy shoes from Shein," said one commenter. Another joked that the shoes went "from platforms to splatforms."
"Girl you better get your money back," wrote another TikTok user. "Serious question," wrote another commenter: "How hot was the sole of the foot omg."
A 2015 documentary film, True Cost, touched on the environmental impact that fashion is having on the planet. The team behind the film report that the world consumes 80 billion new pieces of clothing every year—400 percent the amount consumed just two decades ago.
Around 60 percent of Gen Z recently said that they have altered their personal spending habits to reduce their personal environmental impact, but in the 2020 Vogue Business survey, more than half of Gen Z members reported buying "most of their clothes" from fast fashion brands.
"I have a pair of boots I paid $400 for," wrote one TikToker: "I've been wearing them for 5 years and will wear them at least 5 more. So much cheaper per wear than $30 shoes."
Other viewers of the viral TikTok video pointed out that the heat in Vegas at this time of year should never be underestimated: "Welcome to Las Vegas where everything melts and it hasn't even reached the hottest temp yet," said one comment.
"I mean it's a festival in Vegas, how'd you not expect it to be HOT," said one TikTok user.
Newsweek has reached out to eacarrasco for comment.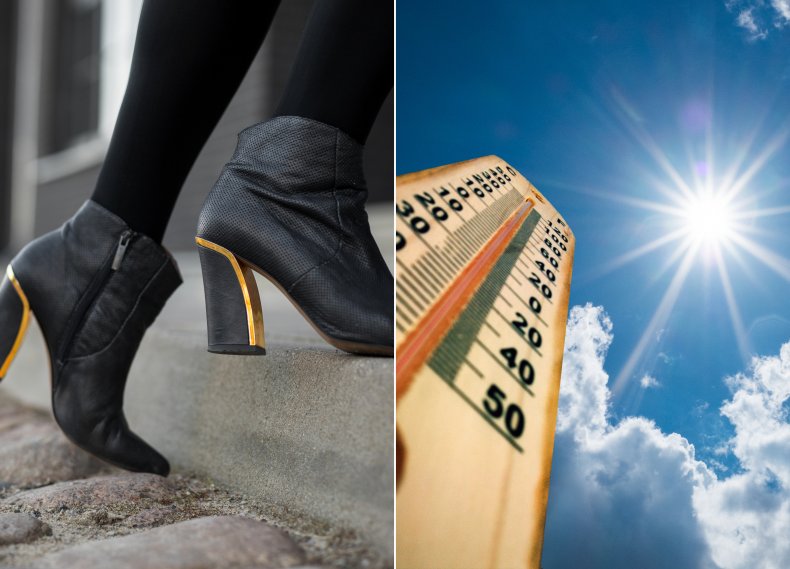 ================

Source link