On social media, the internet has praised Johnny Depp's lawyers on the first day of cross-examination of the ongoing defamation trial between Depp and ex-wife Amber Heard.
On day 16 of the trial, cross-examination began as Johnny Depp's lawyers questioned Heard. Depp is suing Heard for $50 million for a 2018 op-ed she wrote that was published in The Washington Post. Depp sued for defamation as the op-ed allegedly caused him to lose many movie roles. Heard did not specifically mention Depp in the article, however, Depp's lawyers are arguing that it was about him.
Heard is countersuing for $100 million. The trial is set in Fairfax County, Virginia, and is set to conclude with closing arguments on May 27th.
Depp's legal team consists of Ben Chew, Stephanie Calnan, Andrew Crawford, Rebecca MacDowell Lecaroz, Yarelyn Mena, Jessica Meyers, Samuel Moniz and Camille Vasquez.
In a video posted to TikTok, a user under the name @cbatogivename shared a clip from the trial of Heard answering a question when no question was asked. The viral video has over 1.2 million views and 109,000 likes.
Vasquez, who did the cross-examination today, was speaking to the court and not directly to Heard when the Aquaman actress spoke.
"Yes, I was asking for support. That's correct," Heard said.
Vasquez replied, "There's no question yet, Ms. Heard."
During the first day of cross-examination, Depp's attorneys recalled that the actor has not looked at Heard once as she will "never see his eyes again." There were also questions regarding Heard's lack of visible injuries prior to allegedly being abused by Depp. Heard has said that she covered bruises with makeup.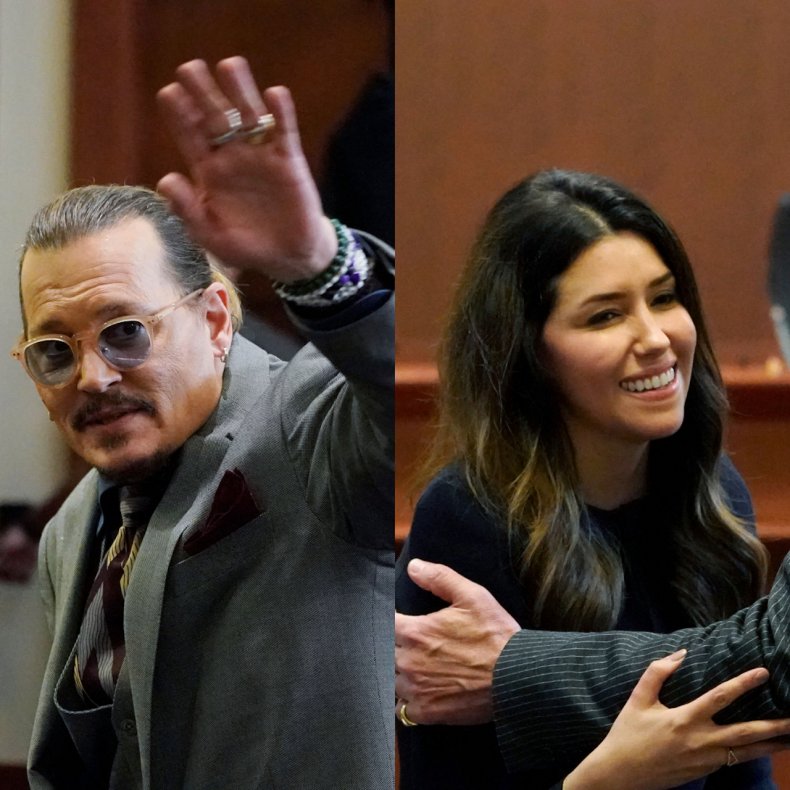 Many users took to the comment section to praise Camille for her questioning.
"Camille woke up and choose violence," one Tiktok user exclaimed.
"Camille was awesome today," wrote another.
"'don't speak unless spoken to" kinda vibes,'" one commenter said.
"Camille Set fire! She slayed," a user wrote.
Another added, "Camille ate and left no crumb."
One exclaimed, "Camille is amazing!!!!"
"I wish someone would defend me like Camille very aggressive and professional. I was waiting for this," murmured another.
"If yall think this was crazy, it got HEATED when she had to fight with Amber to answer one simple question about the $7 mil she never donated," admitted one user.
"She was on point today LOVE HER CAMILLE," exclaimed a TikTok user.
A commenter shared, "an articulate queen!!!!!! Love Camille!"
"As soon as she started my husband and I were cheering. She went in on her," stated another user.
================

Source link