Members of a popular internet forum enjoyed a laugh at one man's expense after he detailed the unforeseeable consequences of going into his wife's purse.
In a viral Reddit post published on r/TodayIF**kedUp (stylized as r/tifu), Redditor u/rbrock3509 (otherwise referred to as the original poster, or OP) said he noticed a pack of Sour Patch Kids while retrieving his wife's cell phone from her bag and detailed the anxiety-inducing aftermath of his decision to enjoy the sweet treats.
Titled, "[Today I f**ked up] by going into my wife's purse without asking," the post has received nearly 22,000 votes and 1,200 comments in the last day.
Writing that he unwittingly ate 11 pieces of candy, the original poster said that after waking up at 3 a.m. to use the bathroom, he quickly noticed something was wrong.
"When I went to go stand up I felt real woozy," he wrote.
Explaining that he thought the dizziness was a side effect of his recently-diagnosed multiple sclerosis, the original poster said he made it back from the bathroom to his bedroom, but "could not hold a coherent thought." Panicking, the original poster also said he alerted his sleeping wife of the situation.
"I wake my wife up and tell her how I feel," he wrote. "I tell her if I don't wake up or if I go crazy tell my kids I love them."
"I was like my wife has good insurance on me so if I die they'll be taken care of," he added.
After pondering his mortality, the original poster said he was able to fall back asleep. The next morning, the original poster said an empty candy wrapper led his wife directly to the cause of the extreme anxiety.
"My [wife] wakes up to go to work the next morning…and sees the empty candy wrapper," he wrote. "Then she asks me, 'did you eat my candy?'"
"I see her holding the empty wrapper of what I thought was Sour Patch Kids gummies," he continued. "They were actually edibles called Stoney Patch Kids."
"Then she starts laughing and says that's what you get for going in my purse without asking me," he added.
In the United States, the last decade has served as a sort of cannabis revolution.
With more and more states passing legislation to legalize cannabis, for medical and recreational use, the U.S. has seen an influx of both acceptance and support.
In 2019, the Pew Research Center reported that two-thirds of American adults supported cannabis legalization—a figure that has doubled since 2000.
However, 22 years ago, only California had legalized cannabis for medical use. Today, the National Conference of State Legislatures (NCSL) reports that the medical use of cannabis is legal in 37 states, four territories and the District of Columbia.
Recreational cannabis use is legal in 18 states, two territories and the District of Columbia, according to the NCSL.
Coinciding with both spreading legalization and support has been a growing interest in cannabis use. Although Pew reports that only 46 percent of adults in the United States claim to have ever used cannabis, more non-users are being converted than anytime before.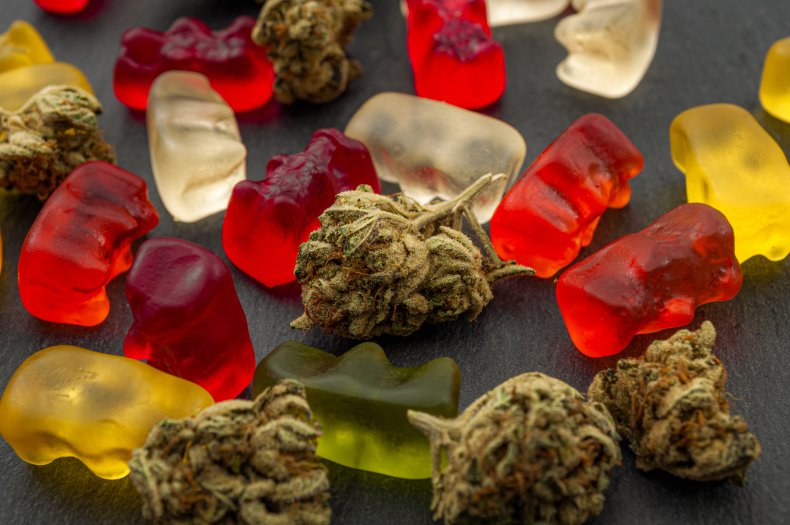 For many first-time cannabis users, edibles are a preferred route into the world of weed. Leafly, an online platform for learning, locating and ordering cannabis, recommends that novices start off eating only 2.5 milligrams of THC-infused edibles at a time.
In his original post, u/rbrock3509 said the 11 "Stoney Patch Kids" gummies he ate totaled up to 1000 milligrams of THC which, in other words, was guaranteed to provide the opposite of an uplifting experience.
Throughout the post's comment section, Redditors responding to the original poster were astounded by his edible experience and eager to share similar stories of their own.
"My mom made a similar mistake going in my aunt's purse," Redditor u/Imakefishdrown wrote in the post's top comment, which has received more than 10,000 votes. "She ate 5 peach rings, thinking they were just candy…they were like 10 or 20mg each,"
"My mom asked her to bring a trash can over as she thought she was going to puke. My aunt scoffed and told my mom to get it herself, thinking she'd had too much of the wine they were drinking," they continued. "My mom exclaimed, 'I can't! I'm just a head!'"
Redditor u/Susan_Werner, who said they hadn't used cannabis since the early 1970s, said they underestimated the potency of modern marijuana and were unknowingly led down the same path as the original poster.
"The pot back then was full of seeds and bits of branches so smoking a joint by yourself would make you giggle for about an hour or so and that would pretty much be the highlight," they wrote. "So I smoked the whole joint by myself."
"Do you know how hard it is to Google 'can I die from a Marijuana overdose' while you're slowly melting into the sofa?" they added.
Newsweek reached out to u/rbrock3509 for comment.
================

Source link