A dad-to-be has been slammed for demanding to give his daughter a "hideous" name, with the mom claiming he'd vetoed all her options.
The mother of three took to Mumsnet to vent her fury over her husband's name choices, posting under username DeflatedBeachball, claiming he'd chosen Prudence Sunita.
The mom, expecting her fourth child, wrote: "My DH [dear husband] is adamant on using a name I quite frankly find hideous.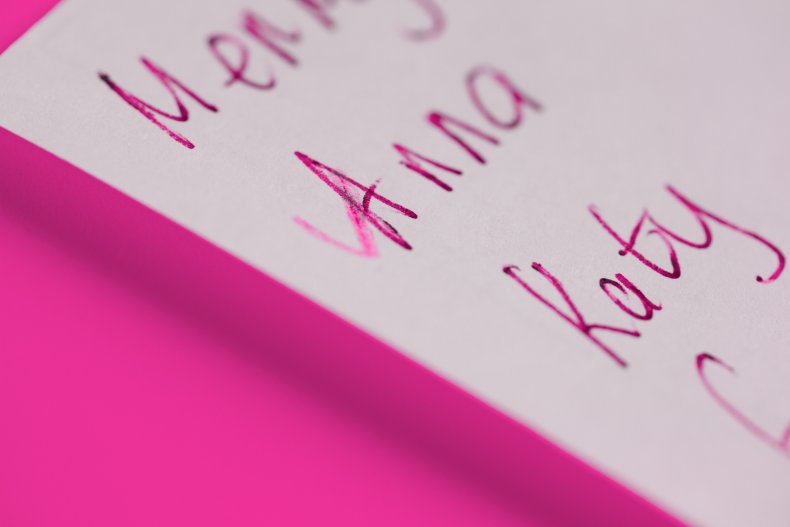 "I would be more open to the idea, if the name what honouring a family member or we even had any link to India.
"But we don't, and he won't budge, any suggestions for names he may be more open to?????????"
The mom, who calls herself Michelle, added more details in the comments, saying: "He has already vetoed my suggestion of Margot Nova. Sad times."
She was open to similar options, such as Primrose, but flatly rejected Prudence, saying: "The name is hideous in my opinion and I'm not lumbering that on my child, he is being quite forceful and manipulating me into choosing the name, so I think the idea is great to register DD [dear daughter] with a different name so he doesn't know."
Her post, entitled "Husband's Adamant On Hideous Names," has amassed more than 100 replies since being posted on Tuesday, and can be read here.
People claimed his unilateral decision wasn't fair, as MartïnDobbins wrote: "At the moment I think any name's better than Prudence Sunita."
Diamondpony80 wrote: "I like Sunita. Prudence is awful though, and they're terrible together."
Scegliere said: "You could also ask friends and family for their opinion, and report back to him so he can see for himself that the name is generally perceived as negative."
MolliciousIntent thought: "I don't see the issue with Sunita as a middle name, middle names are completely irrelevant, so if I were you I'd focus on the "Prudence" thing."
Subbaxeo asked: "This is a wind up surely?"
Whoatealltheminieggs commented: "Tell him to do one! He's not growing it or birthing it and probably won't be doing most of the rearing once it's born. I chose all my children's names."
Peachescariad reckoned: "Both hideous and doubly worse together—Pru will become 'Poo' at school."
Blueuggboots added: "I thought he wanted to call your child Drumroll…..You get to push baby out, you get final say on the name!!"
While FolornLawn said: "Wait, in all the hullaballoo about Prudence Sunita did I see a mention of JANINE?! I can only think the horror of Prudence Sunita has warped your mind, or you're giving birth in 1972. What sort of vibe are your other kids' names, OP?"
In the U.K., where Michelle is thought to be based, the name Prudence was used just 14 times in 2020, down from 21 times in 2019.
================

Source link