A more equal work-life balance is arguably discussed nowadays more than it previously ever has been, though work serves a particular purpose according to a viral video recorded by a job recruiter.
The recent video made by TikTok user and recruiter Emily Durham has been viewed over 5.9 million times and was made in response to a video made by another user with the handle @luluhasfun.
In that video, the user asks, "How am I supposed to find something I actually want to do for the rest of my life if I don't like any job? Absolutely none. I don't want to work and there's not one job you can suggest to me that I'm gonna be like, 'Oh my god, yes! I definitely want to do that for the rest of my f**king life.'"
Durham responded to that video with one of her own, saying that she related to the message, adding, "Our passion doesn't have to be capitalism!"
"You pick a job that you can tolerate that's gonna pay the bills and you don't make that the center point of your life," said Durham, who has about 135,000 TikTok followers. "Your full-time job is doing things that make you happy, and this job is really just there to help you pay for it. We're raised being told that if we love what we do then we're never going to work a day in our life, and that's just bulls**t."
Durham added in the comments underneath her video that she personally loves her job, but those who work in jobs that don't bring joy should "create joy in other places."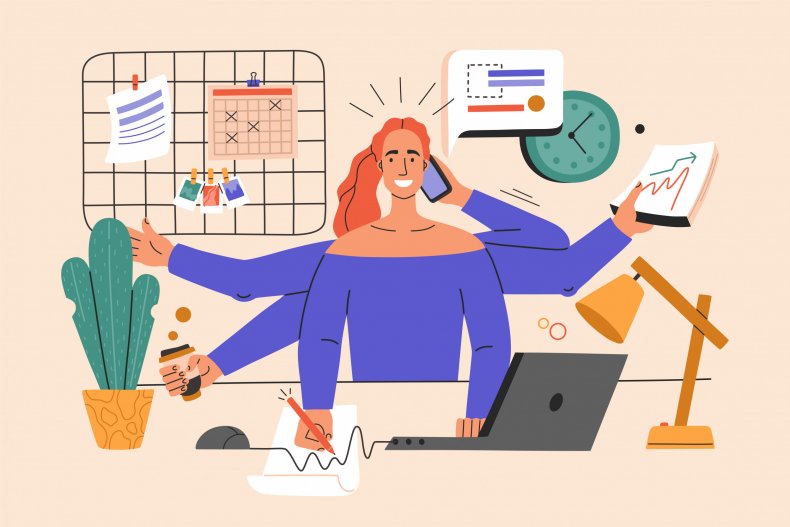 Mental Health America reported that one in four Americans are "super stressed" due to managing heavy workloads, personal and familial relationships, and engaging in personal hobbies or interests.
They recommended different goals that can be accomplished in both work and home settings.
At work, for example, employees can set more manageable goals while maintaining efficiency–even if that means taking breaks or asking superiors for flexibility if necessary. At home, unplugging from technology can be the catalyst for emotional release and allow more time for completing chores, staying active mentally or physically, and treating the body right in terms of food, exercise and sleep.
In January 2021 the Harvard Business Review published a piece detailing nearly 200 interviews with 78 professionals from London law and accounting firms, most of whom were between the ages of 30 and 50.
While most interviewees said their jobs were "highly demanding, exhausting, and chaotic," about 30 percent of male respondents and 50 percent of female respondents indicated a conscious resistance to working long hours due to wanting a better work-life balance.
"At a high level, our research showed that achieving better balance between professional and personal priorities boils down to a combination of reflexivity—or questioning assumptions to increase self-awareness—and intentional role redefinition," the piece stated. "Importantly, our research suggests that this is not a one-time fix, but rather, a cycle that we must engage in continuously as our circumstances and priorities evolve.
So, while some agreed with Durham and called her advice sage, others wondered how to achieve happiness outside the workplace when many already felt overcome by the responsibilities or effects of work.
Some mentioned a lack of sleep, prepping meals for children or dropping them off at school or daycare, commuting to work—and that is all on top of the actual work that brings in paychecks.
"So glad someone said this," one user commented. "Work is not your passion, it's a paycheck. You use that paycheck for travel and hobbies."
"How do you NOT make it the center point of your life when it takes up 90 percent of our time?!" another wondered.
One user was more blunt: "The problem is I can't tolerate any job. I just wanna do nothing for the rest of my life."
Today, one could argue it's more difficult than ever to align passions with necessities, in the form of stable employment—especially when gas prices, groceries and other daily goods continue to soar due to inflation.
Newsweek reached out to Durham for comment.
================

Source link