Internet commenters were left conflicted after one mother recounted her reaction to her daughter's decision to cut her own hair.
Posting on Reddit's popular r/AmITheA**hole forum, Redditor u/Ill-Construction-660 (otherwise referred to as the original poster, or OP) said she went to great lengths to stop her daughter from getting bangs but was ultimately defeated by a determined 10-year-old wielding meat scissors and a how-to TikTok video.
Titled, "[Am I the a**hole] for having no sympathy for my child after she didn't listen?" the post has received more than 10,000 upvotes and 4,500 comments in the last day.
"I normally let my daughter have a say in the choices she makes regarding clothes and hair," OP began. "But on this one I put my foot down because I know it won't look good and she is going to wind up unhappy."
Continuing to explain that her cousin, who is a hairdresser, agreed that getting bangs was the wrong decision, the original poster thought the debate was put to rest until her daughter—and kitchen scissors—disappeared.
"It was only after she'd been in the bathroom a while that I noticed the scissors I keep in the kitchen were missing," OP wrote. "And then I heard her in the bathroom crying."
"She had watched a TikTok compilation of people cutting their hair and tried to do bangs!" OP continued. "It was not good…the hair doesn't lay flat, she cut very unevenly, and she cut too short."
"My daughter is mortified and doesn't want to go in public now. She keeps begging me to fix it even though I've explained to her…it can't be fixed," OP added. "I told her, 'this is what happens when you don't listen…you hid in the bathroom because you knew it was wrong. You have to live with the consequences and wait for it to grow.'"
Considering a recent CNBC report which revealed that 63 percent of Americans between the ages of 12 and 17 use TikTok on a weekly basis, it is no surprise that children across the country are influenced to make poor decisions by an endless stream of viral videos.
Kids cutting their own hair against a parent's advice, however, was happening long before social media even existed.
For some parents, a DIY haircut is a nightmare scenario. For others, it's a funny photo and a story that will last a lifetime.
And for children living with strict parents, or their laissez faire counterparts, performing an ill-advised chop can serve as a learning experience and lesson on patience wrapped into one.
What is learned from cutting their own hair, however, hinges largely upon parental reaction.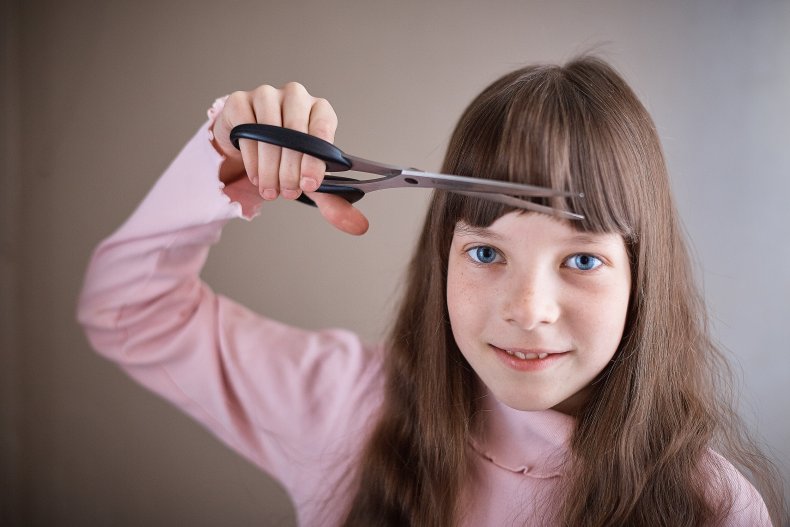 Throughout the comment section of the viral Reddit post, thousands of Redditors went head-to-head, debating the original poster's lack of sympathy for her daughter and arguing over who deserves the majority of the blame for the 10-year-old's failed haircut.
"[You're the a**hole]," Redditor u/nukaati wrote in one comment, which has received more than 2,000 upvotes. "She's 10 not 20.
"She did it, you needn't tell her you're right and she should've listened to you," they continued. 'Way to give a girl mommy issues."
"This is all your fault," Redditor u/Temporary_Badger echoed, receiving more than 1,000 upvotes. "Your kid should be allowed to make simple decisions for herself at this age and bangs is an incredibly minor, simple decision."
Redditor u/4MuddyPaws, whose comment has received nearly 2,000 upvotes, offered the opposite perspective.
"[Not the a**hole]," they wrote. "I, among almost every girl I've ever known in my 65 years has done something like this…you live, you learn.
"She won't likely try anything like this again," they added. "If you'd taken her to a salon she would probably be just as unhappy with the way it looked."
In the post's top comment, which has received nearly 22,000 upvotes, Redditor u/KODO5555 strongly sided with the original poster, sparking a separate debate about why her daughter cut her hair in the first place.
"I can pretty much guarantee that the majority of the [you're the a**hole responses] are not parents or have really young children," they wrote. "10 is old enough to face the consequences of your actions."
"Nope," Redditor u/BlockAcceptable5542 fired back, receiving more than 8,000 upvotes. "OP is an a**hole for 'putting her foot down' about bangs in the first place. Kids should have agency in their appearance as much as possible."
Newsweek reached out to u/Ill-Construction-660 for comment.
================

Source link