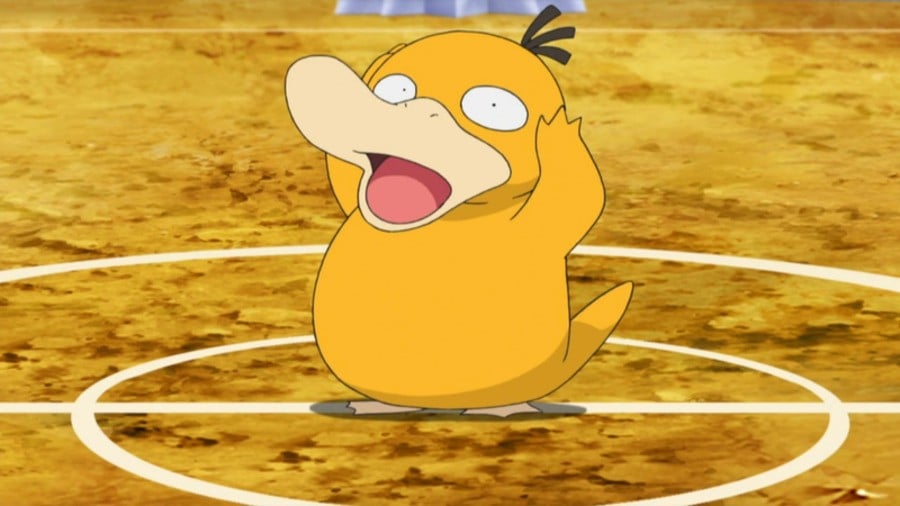 Would you be surprised if we told you that Psyduck is one of Pokémon series director Junichi Masuda's favourite Pokémon? The clueless, dopey yellow duck has a legion of fans for his often confused demeanour in the Pokémon anime. Psyduck is actually a very intelligent Pocket Monster, we'll have you know! Nonetheless, Misty's own little friend has inspired a range of merchandise over the years. But we think we might have found the best.
For Children's Day on 1st June, KFC China is running a promotion where any kids meal come with a free Pokémon toy — either a Pikachu or a Psyduck. And look, Pikachu is cute, but we think KFC China has done a fab job with the duck Pokémon.
weplayswitch on Tiktok shared all of the goodies you can get from KFC China at the moment, and honestly, they're all pretty adorable! But Psyduck is absolutely the star of the show because it dances.
One thing we want to say is that these are pretty darn big for fast food promotional toys. Niko Partners analyst Daniel Ahmad (@ZhugeEX) has shared a video of the little fella on Twitter, which gives you a good look at the little (big?) one's moves. Watch it go!
From the water-type Pokémon bopping up and down to him twisting left and right, Psyduck has understandably captured the hearts of many — especially with the way it moves its hands up and down. These fancy dance moves have lit up Chinese social media, and the dancing duck has gone viral with fans' creative interpretations for the duck. We're going to share some of our favourites here.
First, this Psyduck makes itself very useful in the courtroom — perhaps we'll see them in the next Ace Attorney game?
Someone has strapped Mecha wings to their Psyduck, making the ultimate Pokemon killing machine. Is this inspiration for Pokemon Scarlet & Violet's next gimmick?
Others have dressed up their Psyduck in different outfits, complete with plaid-print scarves, flower crowns, and hula girl skirts.
Or perhaps just a small army of Psyduck toys is all you need for a slice of joy every morning.
There are tons of these videos going around on social media right now — but the toy's popularity has, unfortunately, had some dire consequences. As Daniel Ahmad shared above, because the toy is so popular and KFC stores across China are running out, people have started listing the toy on eBay for over $100, with the most expensive being $120 plus $25 shipping. It's cute, but it's not that cute.
Still, these lovely videos will be enough to keep us going for a few days longer. If you want some more Psyduck merchandise, can we interest you in a Psyduck teapot/watering can?
If you have any dancing Psyduck memes we haven't shared here, drop them in the comments below!
================

Source link