Internet commenters commended one mother's generosity after she revealed why she sent family portraits, complete with photos of herself, to her ex-husband's mother.
In a viral post published on Reddit's r/pettyrevenge forum, Redditor u/blatantlyridiculous (otherwise referred to as the original poster, or OP) said she first considered sending a portrait featuring just her children but was eventually convinced that a full-family photo was the superior option.
Titled, "A picture is worth a thousand burns," the post has received nearly 11,000 upvotes in the last day.
"I had been with 'Ben' for 18 years before I'd finally had enough and asked for a divorce," OP began. "He moved several hours away near his mom…[and] left me to raise our kids by myself."
Explaining that she felt it necessary to have professional portraits of herself and her children, OP said her eldest child asked to send one of the photos to their grandmother—her ex-husband's mother.
OP also said that, in spite of her initial inclination to send a photo of her children alone, she ultimately decided on a photo of her whole family.
"I told her I didn't think grandma would want a picture [with] me in it, but I would be happy to order her a picture of just the kids," OP wrote. "My oldest swore grandma would want me in the pics and always made sure to ask about me and how I was doing.
"[She] calls up grandma right there in the studio and asks her if she'd want a picture with me in it or just the kids," OP continued. "Grandma asked specifically for a picture with all of us, including me. [So] I decided to order her a nice glossy 8×10 that I had matted and framed.
"Apparently she hung it right in the entryway, where every time my ex walks in, he sees my smiling face staring back at him," OP added. "I just wish I could've seen the expression on his face the first time he saw it."
While childless divorces allow individuals to go their separate ways with little interaction afterwards, couples with kids have a much harder time staying out of contact after separation.
And although divorce is usually a result of incompatibility and irreconcilable differences, tension between partners doesn't always translate to sour relationships with former family members.
"Divorce affects so many people besides the two making the decision," Parents magazine said. "An ex-spouse's family is also your children's family always and forever, which makes them your family too."
Even when one partner orders the other to cut ties with their family following a divorce, children are an unbreakable link, serving as the equalizer for loved ones on both sides of the fence.
This can ring especially true for grandparents wise enough to see through marital deterioration and caring enough to put the best interest of their grandchildren before anything else.
Kids in the Middle, an online resource dedicated to helping children through divorce, recommends that grandparents remain a steady presence in the lives of their grandchildren and assist in maintaining cordiality between now-separated families to ensure smooth interactions in the future.
"Don't interfere with your grandchildren's love for either of their parents," the website reads. "The other parent of your grandchild will remain a part of your life on some level…keep your relationships cordial.
"This will make it easier to be together in moments that truly matter like school graduations or even a grandchild's future wedding," it continues.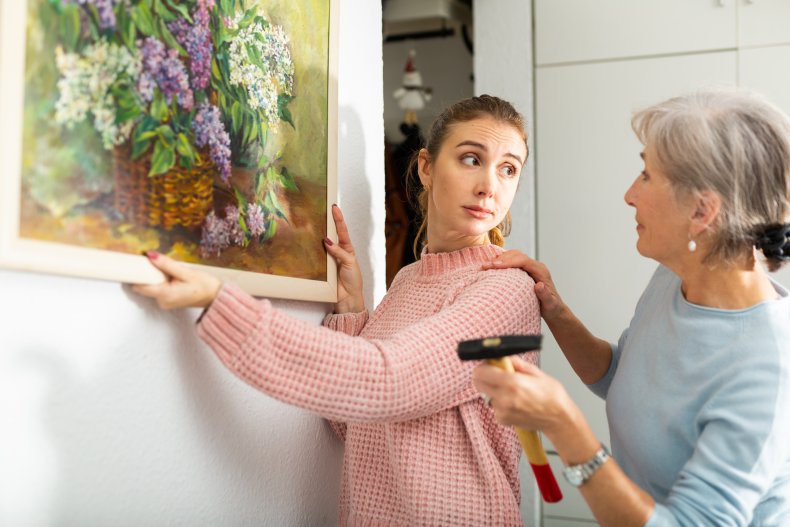 In the viral Reddit post, OP noted that her former mother-in-law scolded her son after he "screwed up the best thing that ever happened to him," and made it clear that she was all too happy to display a photo of his former spouse front-and-center in her home.
Throughout the viral post's comment section, Redditors celebrated that grandmotherly pride and commended both she and OP for keeping their family as intact as possible, despite one man's determination to unravel it completely.
"I love Grandma," Redditor u/OkElderberry4333 commented, "She is shady [as f**k] and I'm all for it."
"That's awesome and I'm glad she still obviously loves and cares about you," Redditor u/Electronic-Price-697 echoed. "This isn't petty, it's rightly [deserved]."
In the post's top comment, which has received more than 7,000 upvotes, Redditor u/ItzNachoname offered a suggestion for the original poster's next family portrait.
"Get a new one next year with her in it," they suggested.
"I agree," Redditor u/ModDue1318 chimed in, receiving more than 2,000 upvotes. "Grandma needs to be in the next family portrait."
Newsweek reached out to u/blatantlyridiculous for comment.
================

Source link