A woman has regaled the internet with the cringeworthy story of the time she spotted someone wearing white at her friend's wedding.
However, she revealed how her sense of indignation at someone committing the cardinal sin of wedding etiquette soon gave way to embarrassment when she discovered the truth.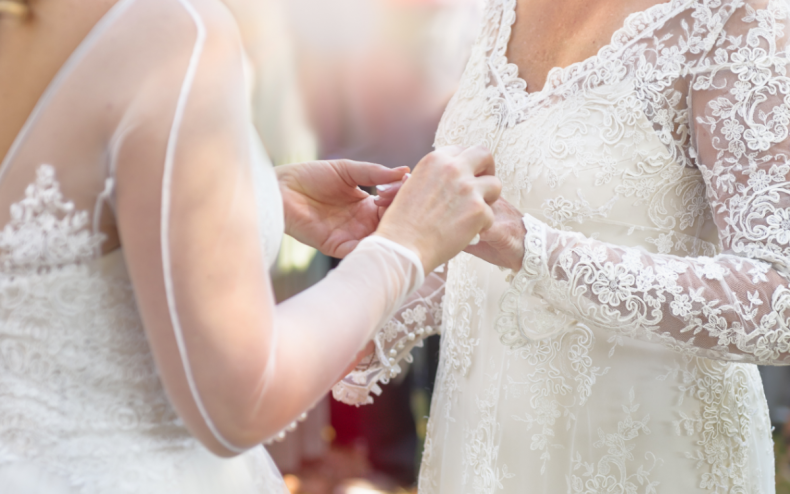 While couples are happy to chop and change many of the traditions associated with a wedding day, one rule that remains firmly in place is that only the bride may wear white.
"It is still generally considered to be 'bad form' to wear all white to a wedding," etiquette expert Jo Bryant told GoodToKnow. "It can be taken as you trying to upstage the bride." She added. "Plus, you may look too prominent in group photos."
That was where the trouble all began for Washington-based student doctor Emily Elizabeth, a TikToker posting under the handle emzieees. It can be viewed here.
In a video which has already garnered 6.7 million views, Emily Elizabeth recalled how someone she knows from college "just got married" and she was "looking at the photos from her wedding" on Facebook when she spotted something she thought was amiss.
"There was a girl in the background who was also wearing white," she said. Emily started looking "harder" and began to find more and more photos where the woman was "definitely" wearing white.
She said she was determined "to figure out what happened" because she is "getting married soon" and was "nervous about anything going wrong."
Eventually she decided to investigate further by looking at her profile page because she had to know "what kind of girl would wear white to another girl's wedding." She quickly discovered the truth. "She also was getting married that day…because they were a lesbian couple," she said. "So congrats."
Elizabeth's obvious embarrassment was palpable. "I was ready to offer to Photoshop her dress a different color," she wrote under the clip. According to Elizabeth, the confusion was down to the fact she was looking at "photos from friends." "I was seeing tagged photos out of order," she said. "It wasn't their official photographer photos, just guest pics."
But while her confession may have been an uncomfortable one, people on social media were suitably enthralled and amused at her honest mistake.
Jayden_1643 wrote: "LMFAOO I'm crying that took such a turn." Livia Ferretti said: "Girl when I tell you my brain went straight to a mess. Me thinking she decided to crash because she used to date the husband."
Cam_monaco thought "it was going to be the toxic sister-in-law." Kendra Wright commented: "My trauma response brain immediately thought it was gonna be the mother-in-law."
Elsewhere, NerdPancake said: "The whole time you were talking I was thinking "please be a lesbian wedding." Littlebrainbeanz added: "I'm a lesbian how did I not think of that."
Newsweek has contacted Emily Elizabeth for comment.
================

Source link