A dog owner has drawn criticism after taking her Yorkshire Terrier to the zoo.
While zoos have been known to court criticism over the perceived treatment of animals, in this instance it was the decision to throw a canine into the mix that seemed to spark anger among a subsection of viewers.
Emily Oakden and her pet pooch Murphy have made quite a name for themselves on TikTok where they regularly post videos from their many walks and days out together across the U.K.
Posting under the handle greatbritishdogwalks, the pair's adventures together have proven popular on social media, with the account currently boasting over 15,500 followers and more than 255,000 likes.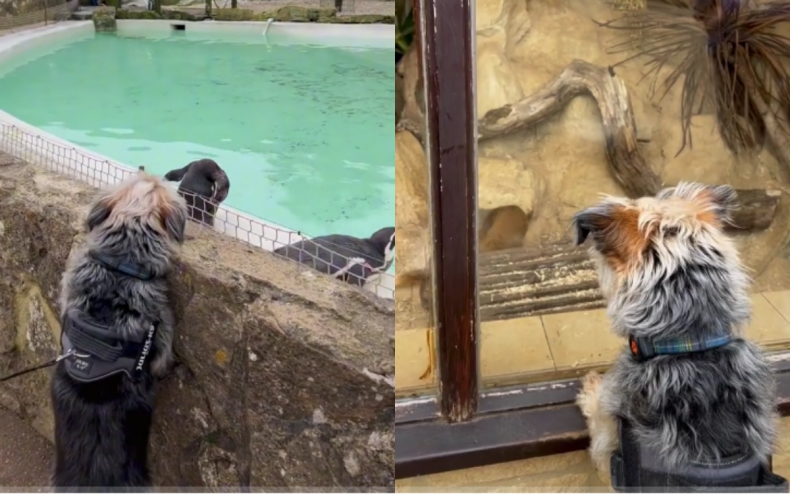 Yet despite the channel's entirely wholesome animal output, it would appear one recent video managed to draw the ire of a certain section of the internet.
It all started last month, during a holiday in the Cotswolds, an especially scenic part of England located in Oxfordshire. During their stay, Emily told Newsweek she decided to treat Murphy to a trip to the Cotswold Wildlife Park.
"I had seen it was dog friendly and so had to pay a visit as it's one of the only dog friendly zoos in the U.K.," she said. "Murphy was absolutely taken with the red panda and it was lovely to see his reaction to all the different animals we saw."
Emily later uploaded a video of their day out to TikTok and then carried on with the rest of their trip together. However, the clip quickly began racking up views—over 2.1 million already—as well as a glut of comments, and some of them were far from positive.
"Why do dog owners feel the need to bring their dogs everywhere? Sad sad people," one user, posting as Osama Gym Laden, said. "Dogs aren't children," they added in another comment. And they were not the only ones to react angrily to the video.
Catfreed1 wrote: "I like the idea of this in principle but as there are so many irresponsible dog owners I just don't think it's a good idea." Those sentiments were echoed by Bign1co who said: "With the best will in the world I feel like this is a bad idea."
Amb_r2 was similarly critical, commenting: "All I can think about is the owner's dogs barking at the zoo animals and freaking them out," while Alicia Wilson wrote: "It's not great for the zoo animals though when people take dogs that bark or try chasing them."
Of course, not everyone was opposed to the idea, with plenty sticking up for Emily and Murphy. "Why are there so many negative comments?" AnnabelleCooperX asked. "Zoos can be a long day out. It's not fair to leave the dogs at home all day and miss out on fun."
Holly Barnard, meanwhile, commented: "I love Cotswold Wildlife Park and never seen a badly behaved dog visiting!" with hayleyb9993 writing: "We took ours when he was with us and he loved it ! Especially the penguins."
Others like JTK1920 couldn't believe how angry some people seemed to be getting. "Never knew grown adults could be so upset over a dog visiting a zoo," she said, with SarahNorris_1 adding: "People hating on dogs. I wish some peoples kids weren't allowed. Messy and noisy."
Emily said that while she was "surprised" by some of the negative comments, she understood zoos, in general, can be polarizing.
"Personally I feel that zoos in the U.K. are an important part of conservation and education, and I can't see an issue with taking your dog as long as they are behaved and on a short leash," she said.
However, she tends to pay little attention to the haters, especially in this instance.
"My dog comes everywhere with me so I was over the moon to be able to experience somewhere like the zoo with him," she said. "I have had lots of people reach out to me to say they have visited the zoo as a result of my video and I'm just happy that I've been able to showcase it to other like minded people."
Ultimately, while she understands this is the nature of social media, she felt it would serve everyone better if people took a more considered approach to their comments before posting.
"TikTok is different to other social media channels because it attracts audiences that aren't necessarily following you already. On one hand that is fab because I get to reach new audiences and like minded people, but it does also mean you sometimes attract the trolls" she said.
"The more I've posted, the more I've found it easier to deal with negative comments. I really do wish though that people would remember there is a real life human behind the screen—please be kind!"
In terms of trips out with dogs, Emily recommends booking in advance, trying to go during the week when it is less busy and maybe packing a picnic to share with your pet pooch in the nice weather.
She's already busy planning more trips with her four-legged friend. "Taking Murph on a steam train has to be on the to do list!" she said. "I also got loads of recommendations from people on my TikTok which is so great. One of them was The Cornish Seal Sanctuary, so we will have to look at a trip there soon too."
================

Source link