… humanity was being played for a fool. I thought to change that…

However, that all went to those idiots. Powerful nations are always like that. They never reflect on their foolishness. They think of it as their natural right to take and learn from the fruits of others.

– いばらの王
Typically, Thanksgiving dinners consist of talk about recent events, sharing of stories… and that one awkward conservative uncle who has to bring up politics at the table. However, this year, coinciding with its vertical leap in Google search interest and massive hype from media outlets like CNBC and Bloomberg, the topic that passed many lips this year was an unusual one: Bitcoin. Nobel prize-winning economists and other financial figureheads have attempted to temper that hype out of legitimate concern, but have nonetheless failed to make a dent in the public's frenzied appetite for Bitcoin.
As a supporter from the beginning, I have always seen the value in cryptocurrencies as a transactional tool and also as a possible store of value akin to gold, but all of this "noise" has spread a lot of false conceptions about the technology, about Bitcoin (OTCQX:GBTC) in specific, and about money in general. It's important not to get caught up and overwhelmed by all of the outside stimuli and to concentrate on the future, not merely the present.
"Valuing" Bitcoin
During its early years, Bitcoin was valued relative to fiat currencies like the dollar or yen because certain "actors" needed to do so in order to better value the "items" they were exchanging in certain underground markets.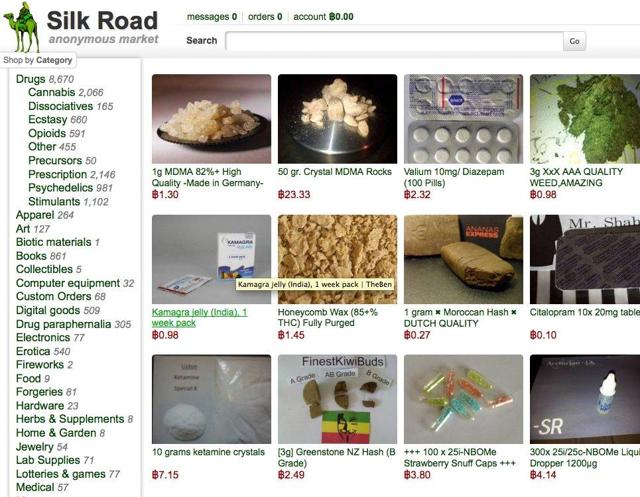 However, as Bitcoin has evolved to be used as a speculative store of value by Wall St. investors, it no longer makes sense to value it in those terms. In the same vein, it would be useless to look at the per ounce price of gold and try to extract any information from that; its "market cap" is what actually matters, its number of users, its acceptability in the marketplace, its liquidity, and its safety.
All of the headlines about record highs – "Bitcoin passes 12k! 13k! 16k!" – contain no information. All of the stories about newly minted millionaires are superfluous; those "millionaires" are not truly millionaires unless they have the ability to convert those Bitcoins into other currencies that can actually be used to buy things. Currently, that is only possible through exchanges vulnerable to hacking, and Bitcoin has yet to be accepted as a payment method for anything significant, except perhaps the online computer parts store Newegg. In fact, numerous outlets have stopped accepting Bitcoin as payment, such as Expedia (NASDAQ:EXPE) or Virgin Atlantic, or more recently the largest global gaming DRM platform Steam, citing the high fees and volatility.
The value of bitcoin is only guaranteed for a certain period of time so if the transaction doesn't complete within that window of time, then the amount of bitcoin needed to cover the transaction can change. The amount it can change has been increasing recently to a point where it can be significantly different.

– Valve (Steam)
Bloomberg Gadfly columnist Stephen Gandel details the reality that, unfortunately, for all the hype, companies really don't want to accept Bitcoin yet, and for good reason. Transactions fees vary wildly, with Gandel estimating they've risen about 2200% this year to about $2.76, and other estimates over $7 per transaction. This makes it infeasible for companies to even attempt to price the costs of processing Bitcoin transactions, because ultimately, the reality is that companies still need U.S. dollars to operate, invest, and finance their activities.
"Bitcoin Futures"
Less than 5% of all Bitcoin "derivatives" trading in the traditional places where Bitcoin has been speculated on, i.e. high-leverage, unregulated CFD brokerages, 'binary contract' dealers, etc., has been on the short side.
In the "real" marketplace for Bitcoin, BTCUSD has gone literally vertical.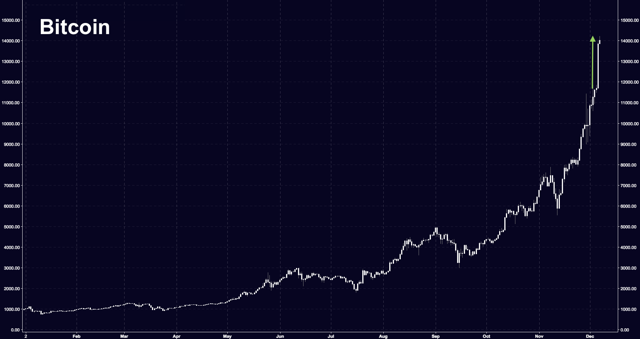 So, the question to ask is: Why in the world would any professional clearing house want to back derivatives in a market so unidirectional?
Unfortunately, it is purely because of client demand and hype rather than actual economic incentives to do so. In fact, when the CBOE, for example, allows official Bitcoin futures trading on December 10th (and if it continues to do so), it will most likely be taking a loss and dealing with many stoppages and client complaints. Clearing houses and brokerages have a hard enough time trying to manage basic equities derivatives with far greater margin requirements. Kurt Dew, always an expert in these financial instruments/derivatives discussions, has a great article about it here (along with some other sources):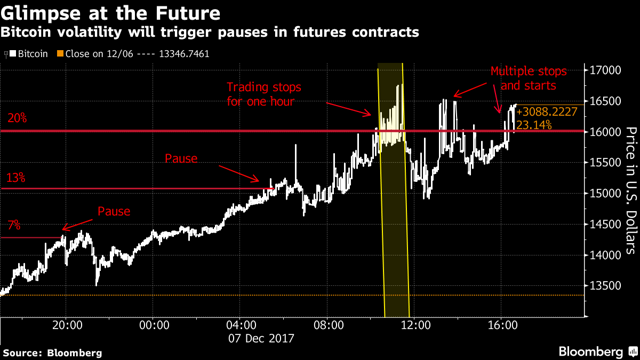 Bitcoin futures is an oxymoron and will do nothing to improve or increase mainstream acceptance.
Wall Street Avarice
It seems to be a fact of life, like death or taxes, that whenever Wall St. gets its dirty hands on something, things go a little haywire. If you've been following Bitcoin for a bit, you know of the failed attempt of the Winklevoss twins' Bitcoin ETF (Pending:COIN) back in March that caused an immediate 20% drop in BTCUSD. But its subsequent recovery in late April caused some heads to turn, especially considering BTCUSD not only recovered but broke above its March highs on the same day before the SEC announced its decision to go back and review the Winklevoss ETF.
There's a must-read article about it in Medium here: "Dear Crypto, You're Being Played By Wall Street".
Wall St. has always used its informational advantages and insider knowledge to profit – that's nothing new. But in this Wild West world of crypto, the line between legal and illegal is very unclear.
When the WSJ got wind that Dalia Blass, formerly from Ropes & Gray LLP – a law firm advising the Winklevoss Bitcoin ETF – was likely to be named director of the SEC's Division of Investment Management in August, Bitcoin immediately rallied. But who was that anonymous source who tipped off the WSJ? Had they used that information to accumulate ahead of time? Would that have constituted insider trading?
These are all legal questions the SEC and other institutions have yet to answer.
Traditional Cryptography Has a Time Limit
Cryptography, which has been around since the '70s, was developed and perfected in a collective effort by universities like MIT and Stanford, companies like IBM Corp. (NYSE:IBM) and Bell Labs, and American and British secret intelligence services like the CIA and GCHQ. If you want to know some history of it, John MacCormick does a great job providing a layman's guide to the history of encryption (as well as indexing, image processing, etc.) in his book Nine Algorithms That Changed the Future: The Ingenious Ideas That Drive Today's Computers.
I'm not going to go over the whole history of RSA or Diffie-Hellman, but it is important to understand this if you are to understand Bitcoin or other cryptocurrencies… because there is a major problem.
Cryptography – that which we use to secure our credit cards, login passwords, e-mails, and bank accounts (virtually everything) – relies on the fact that it would take an astronomically large amount of computational time and effort, e.g. "brute force", to successfully guess someone's information; calling it astronomical actually gives far too much credit to astronomy. It is virtually impossible.
However, quantum mechanics completely breaks that assumption.
In the same fashion as previously described, researchers from all sections of public and private life are exploring quantum encryption methods. I am no expert in it, so I will not even attempt to explain it here; however, the point is that it would render Bitcoin useless. The Bitcoin code cannot be easily altered, especially without creating lots of ruckus as we've seen with the "hard forks"; so, investors would have to move on to some new quantum-proof cryptographic standard.
Bitcoin is temporary.
Conclusion
Bitcoin's life may be limited, but that doesn't mean its impact has been. The entire cryptocurrency industry has altered our perception of what is money, what is a "store of value", and what role governments should have in policing our transactions or influencing monetary policy – something I explored back in 2016 in my article "Monetary Policy In 2016: Looking Forward (In Defense Of Central Banks, New Macroeconomic Thinking, And The Future Of Money)".
In fact, central banks via the BIS have already been deep in research and have explored issuing their own CBCCs ("central bank cryptocurrencies"… somewhat of an oxymoron), e.g. Fedcoin, which probably would be relegated to interbank transactions/clearing or Fed swaps. Blockchain – despite the fact that it has unfortunately been turned into a buzzword by unscrupulous characters looking to cash in on the hype – should not be underestimated or downplayed.
Bitcoin has forced open a public discourse on money and governments.
Whether it will last… we will have to see.
Disclosure: I/we have no positions in any stocks mentioned, and no plans to initiate any positions within the next 72 hours.
I wrote this article myself, and it expresses my own opinions. I am not receiving compensation for it (other than from Seeking Alpha). I have no business relationship with any company whose stock is mentioned in this article.