Square (SQ) was trading back towards the all-time highs near $50 due to more excitement around Bitcoin before the market collapse. The stock valuation remains aggressive considering the limited utilization of the Cash App and the crashing value of cryptocurrencies. Square has now failed on two runs at $50.
Bitcoin Implementation Craze
Square announced interest in implementing Bitcoin going back a few months ago. The stock surged to nearly $50 and a market valuation of around $18 billion based on digital currency hype.
My previous research labeled the rally as irrational and the stock quickly tumbled back into the $30s. Bitcoin has now tumbled over 50% from the highs to only $8,600, yet Square raced back up to the highs on the release of the ability to buy and sell Bitcoin via the Cash App.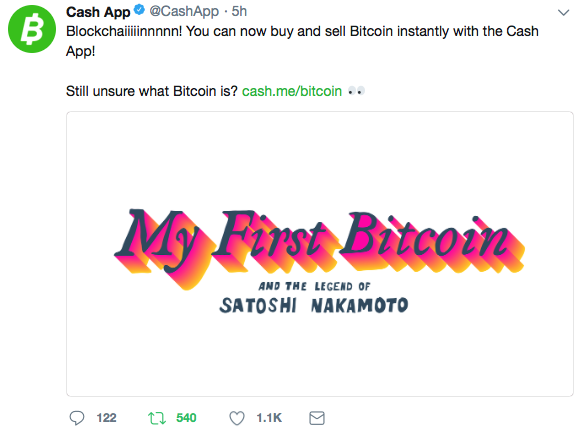 Square remains an innovative payments company so the inclusion of digital currencies should provide no surprise. The Cash App already allows people to immediately transfer money and make payments without needing a traditional bank account and can quickly integrate into the existing financial system.
The one reason for hope is that Coinbase estimated that revenues topped $1 billion last year. Square though doesn't have any clear indication of how the company will earn money based on customers buying and selling the cryptocurrency. Coinbase charges a fee on each transaction and reportedly had over 13 million accounts.
Based on the FAQ, customers will pay a margin or spread with each transaction and presumably Square will keep a portion of that amount:
Crazy Valuation
The Cash app is a small portion of the business at Square where transaction volumes on mobile payments dominate. The addition of Bitcoin trading could drive demand and investors will want to watch for such indications.
Net revenues are targeted at $1.28 billion in 2018 and $1.65 billion in 2019 after hitting $950 million last year. The stock has a valuation of nearly $15 billion even after the market sell off.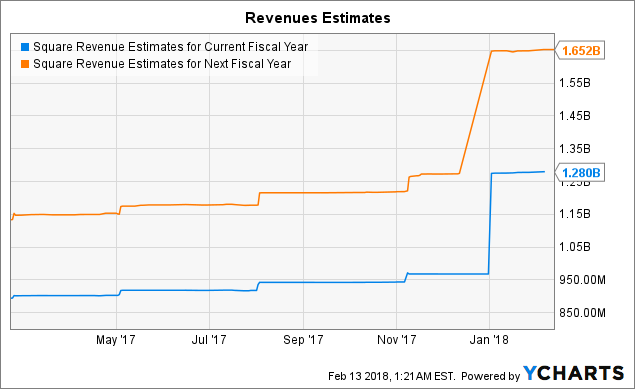 The success of Coinbase adds some indication that cryptocurrency volumes are now large enough to drive revenue growth, but the innovative Square might actually be behind the curve. Coinbase already has 13 million accounts and allows customers to trade in additional currencies like Bitcoin Cash, Litecoin, and Ethereum.
The more sophisticated and larger buyers are likely to stay with the leader in the sector than shift assets to Square. For this reason, Bitcoin trading will remain a marginal business for the mobile payments provider. Even based on the 2019 revenue total that factors in 29% growth, Square already trades at 9x those revenue estimates.
Nomura placed a $64 price target on the stock, but the key that investors need to understand is that the stock doesn't deserve such a valuation. Square doesn't deserve a market value in excess of the current $15 billion valuation unless animal spirits re-emergence due to the Bitcoin craze.
Takeaway
The key investor takeaway is that Square has made two irrational runs above $40 due to the Bitcoin craze. Without Coinbase type volumes that are unlikely, the stock can't justify trading into the $40s.
Disclosure: I/we have no positions in any stocks mentioned, and no plans to initiate any positions within the next 72 hours.
I wrote this article myself, and it expresses my own opinions. I am not receiving compensation for it (other than from Seeking Alpha). I have no business relationship with any company whose stock is mentioned in this article.
Additional disclosure: The information contained herein is for informational purposes only. Nothing in this article should be taken as a solicitation to purchase or sell securities. Before buying or selling any stock, you should do your own research and reach your own conclusion or consult a financial advisor. Investing includes risks, including loss of principal.