A nearly $1 million project promises to bring reliable, high speed internet to Amesville, which currently experiences among the slowest internet speeds in the county.
"We have a fairly low cost of living in our area and beautiful countryside, so I think instead of young people moving away, I could see more people deciding to live here and start businesses," said Amesville Mayor Gary Goosman. "I think young people will do a lot of innovative things because they have access to high-quality broadband."
The Appalachian Regional Commission awarded a $750,000 grant to the Athens County Commissioners for the project, with the county providing $216,320 in local funds according to a press release from U.S. Senator Sherrod Brown's office. Athens County Commissioner Chris Chmiel said local funds will be provided through the county's American Recovery Plan Act dollars.
In a statement, Senator Brown said, "By expanding access to broadband internet, we can make it easier for Ohioans to make a living, learn online, and keep in touch with loved ones. Especially now, amid the COVID-19 pandemic, connectivity is more important than ever. This new investment will help provide diverse opportunities to many in the Amesville community."
According to the release from Brown's office, the project will add 9.8 miles of fiber-optic network and ultimately connect 124 households and 16 businesses in Amesville to high speed internet.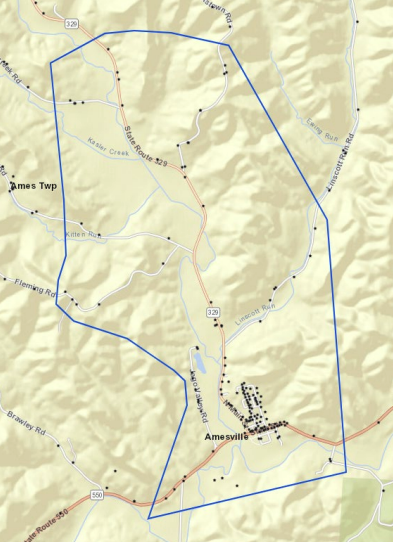 Paul Isherwood, the Athens County broadband coordinator at Hocking Athens Perry Community Action, said the project will bring "reliable, high-speed fiber to the home that will provide reliable broadband connection for decades to come."
Reid Consulting Group President Tom Reid, who focuses on broadband and helped the county secure its grant from the Appalachian Regional Commission, said the project will extend beyond the village into some areas of the township. Reid said the project will see the Amesville area transition from having among the slowest internet speeds in the county — at less than 10 megabits per second — to among the fastest.
"We think it will have a pretty big impact on Amesville to bring them out of the 1930s in terms of their telecommunications capability, and into the modern world," Reid said. "There's a tremendous impact that this will have on the economy, job prospects, education and healthcare."
Goosman has worked to bring broadband to his village for many years and said he expects a big impact on residents.
"I know the people in the village will be happy to have faster and more reliable service, and they'll be able to do more with the internet," he said.
Given the lack of cell phone service in the area, Goosman said high-speed internet will provide an added benefit by enabling internet use of phones.
The mayor said he expects the availability of high-speed internet to attract new businesses to Amesville as well.
"Those who want to start small businesses will have the high speed to put inventory online and do business and transactions through the internet," Gooseman said.
Chmiel said high speed internet will also allow people to work remotely in Amesville.
"People would love to live in Athens County if they could find a place to work and if they could work remotely," Chmiel said. "They just need broadband. And it's happening."
As the Amesville project moves forward, Reid said the county will accept requests for proposals from internet service providers and contract with the provider that submits the highest quality proposal.
Isherwood said the Amesville project is only "one piece in a complicated jigsaw puzzle" to provide high-speed internet access across the county.
According to data from Connecting Appalachia, 79% of Athens County's populated areas and 36% of households do not have access to a minimum of 25 megabits per second. Including Amesville, 53.3% of areas in the county representing 18.1% of households experience internet speeds under 10 megabits per second, the slowest speed category tracked by the advocacy group.
Reid said many other areas in the county and region will ultimately need the kind of investment Amesville is now set to receive.
"I think it's great we're addressing the Amesville problem, but there's a lot of other communities in Athens County and in Appalachian Ohio that need the same sort of attention," Reid said.
Isherwood said the county is currently exploring multiple additional funding opportunities with the ultimate goal of bringing high speed internet to every resident, which he said will necessarily be accomplished piecemeal.
The Amesville project represents an important step toward this larger goal, according to Reid.
"Broadband is infrastructure, so it costs tens of millions of dollars to do broadband when you're talking about an area the size of Athens County," Reid said. "Everybody agreed that Amesville would be a good target for this relatively small grant opportunity."
As The Athens Messenger previously reported, other governments throughout the county are exploring opportunities to bring broadband to residents through federal recovery dollars, including Ames Township, Troy Township and the City of Athens. Chmiel said the commissioners intend to make broadband a major priority with the remainder of their ARPA dollars as well.
Officials in Rome and Ames townships previously expressed skepticism toward working with the commissioners on broadband projects. Ames Township Trustee Lyle Fuller questioned the extent to which these investments would benefit people in outlying areas.
Chmiel said that while targeting more densely populated areas is more economically viable, he hopes to work with internet service providers to ensure outlying areas are reached as well.
================

Source link