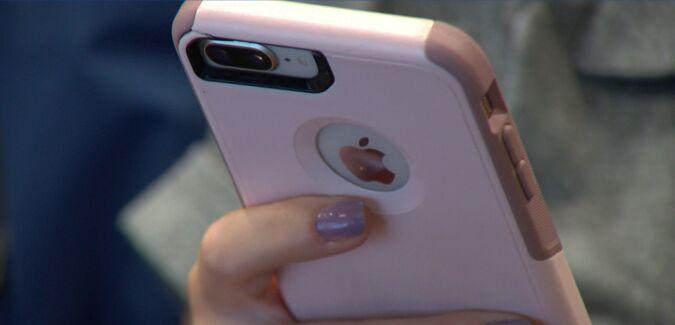 TERRE HAUTE, Ind. (WTHI) – Have you ever thought about wiping your name completely off the internet?
If you have, you are not alone.
According to a recent survey, over half of Americans say they would delete themselves from the internet that is if they could.
Whether it is embarrassing moments, old pictures or past relationships, there are many reasons why people want to go offline.
One former Indiana State student and his girlfriend are famous on TikTok.
They say even though they love being online personalities, the pressure of social media can sometimes be too much.
Paolo Vasquez, also known as "Torvas" on TikTok and his girlfriend Lo Hoffman, also known as "Baldiebihs" both have quite the following on TikTok.
Hoffman has 2 million followers and Vasquez has 3.2 million.
That is more than the population of Chicago, the United States' third-largest city.
Despite their large following, the couple says they are just like any other social media user.
"I still don't believe it sometimes, and the reason why I think most people want to delete their social media is because of all the pressure it takes. And trust me, I have those days where I'm like 'man, I'd just like to get off social media,'" Vasquez said.
Hoffman says burnout can come from spending a lot of time online and being easily recognizable in public, which can create some challenges.
"We can't go out of the house without people recognizing us. I feel bad if I don't have a full face of makeup on when people meet me because that's what they expect. Not just me in my pajamas at Publix," Hoffman said.
While the upkeep of a high-profile TikTok can be challenging, Hoffman and Vasquez both are thankful it has given them their careers.
"You really do dedicate the rest of your casual life to your work. And you really don't have much of a casual life, and I wish I could have that back, but I'm really grateful for what I do have," Hoffman said.
If you could – would you delete yourself from the internet?
Despite some challenges, Hoffman said he appreciates everyone he has met along the way.
"You get a lot of love. People are always nice when they meet you in person. You know, they're very friendly. I get to travel. I met her on social media, and it's a great experience overall," Vasquez said.
While Vasquez and Hoffman understand the want to delete social media, they say it can also be just as fun to get into it.
Vasquez also credits his time at Indiana State for helping him grow on TikTok.
"I love Terre Haute. Everyone there has been super friendly. I haven't had a bad experience there. My fraternity brothers, shoutout to Lambda Chi Alpha, have been super supportive," Vasquez said.
To follow Vasquez on TikTok, click here.
To follow Hoffman, click here.
================

Source link