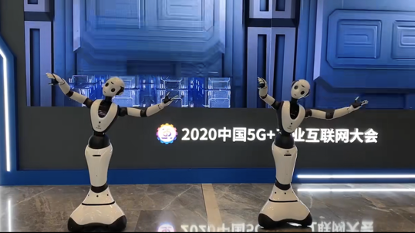 As China accelerates rollout of 5G networks, the nation's industrial internet is entering fast lane, and a typical application of 5G is robots, which are becoming increasingly smarter.
At the 2020 China 5G + Industrial Internet Conference, which concluded in Wuhan, Hubei province, on Saturday, two smart robots caught the attention of many visitors.
"What's your name?" "My name is Xiaozhi. Zhi (in Chinese) means the wisdom that connects all things" "My name is Xiaorong. Rong (in Chinese) means the integration of the future". The two robots, which enthusiastically greeted visitors of the conference, are from Chinese cloud robot and service company CloudMinds. The company is dedicated to operating smart, cloud-connected robots for people.
In addition to voice interaction, Xiaozhi and Xiaorong also displayed physical abilities, such as shaking hands, hugging people and dancing. Powered by artificial intelligence, cloud computing and 5G technologies, they also can recognize people's emotions, and engage in dialogue with people, which enable them to undertake tasks such welcoming guests, guiding people to their destinations and offering interactive entertainment.
Xiaozhi and Xiaorong are smart because they have "brain" on the cloud. Their "brain", or a cloud platform, can issue instructions to the robots which will act accordingly in real time, thanks to cloud technologies, 5G and robot controllers, CloudMinds said.
Earlier this year when Wuhan was hit hard by the COVID-19 outbreak, CloudMinds' robots were used in Wuhan's hospitals to help reduce the workload on front line medical staff. The robots can offer guidance on some outbreak-related questions, take temperatures of patients, and accompany them to dance, which has helped the patients have a relatively good mood when being hospitalized in isolation, CloudMinds added.
===========
Website of source