A home office DIY project has gone viral after the crafty owner shared her results on the popular discussion network Reddit.
In a post shared on Tuesday, which has so far reached over 49,000 upvotes and almost 1,700 comments, the owner, who goes by the username u/Carley536, shared a post including a before-and-after picture of her home office, saying how proud of her work she was.
"My home office got an upgrade! Feeling proud of this DIY project we completed today," the post read. The pictures show how u/Carley536 completely renovated her office from a black and white room with a [P]eloton [bike], to a cozy working space complete with a sofa and a cat."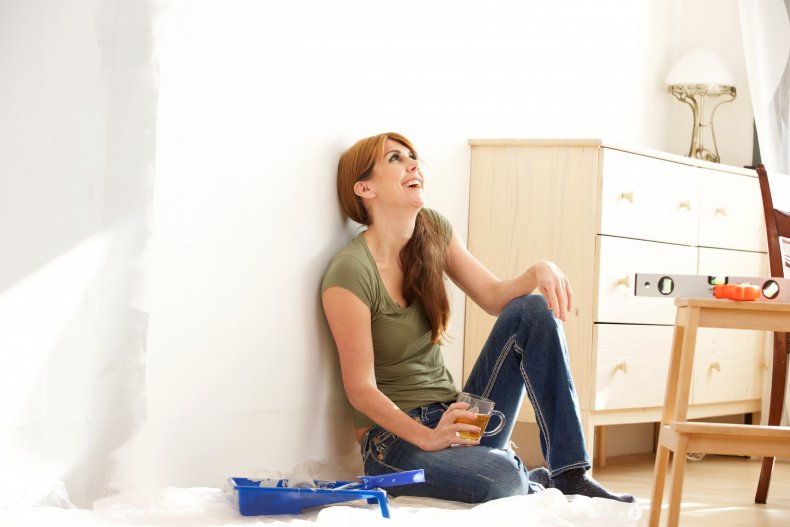 DIY has become very popular in the last few years, especially during the pandemic which forced most of us to isolate ourselves at home for months. According to data gathered from Statista, 76 percent of Americans had made at least one improvement to their home during the coronavirus pandemic in 2020.
Further data has shown that during the pandemic 12 percent of Americans planned to upgrade their high-speed internet, followed by 11 percent of people planning to upgrade their home office, 9 percent a home gym and 8 percent an outdoor pool.
Most users loved the DIY upgrade, like Tim_Out_Of_Mind, who commented: "Swapping out the Peloton for a couch and cat was the right move." Or Totendax12K, who added: "Im really impressed by the difference the wall color and the carpet do too. Holy shit the second image is such an improvement. Like the room got a personality and a cozy atmosphere." Bubbabearzle wrote: "That is an amazing transformation! What did you use on the ceiling?"
Other users suggested further improvements. Hxc_ wrote: "Please get a better chair. Yours sincerely, your back in 15 years." To which Carley536 answered: "Currently on the hunt for a better one! That's the last thing I need and it's proving to be somewhat difficult." And Adeeprash suggested: "Pick up a used herman miller aeron off craigslist/marketplace, i work 12+ hours in mine a day and have no issues. best chair imo"
Other users joked about getting the post all wrong. B-AP said: "Plot twist. Pic 1 is the remodel!"
And 0b0011 answered: "I do remember one a while ago where someone did a home remodeling and everyone was like wow it looks so much better and it turns out he had the pictures swapped and he had just fucked it all up." G8kpr said: "Honestly, since this is reddit, I honestly didn't know which is the before and which is the after. Both rooms look nice."
Another user, JitteryBendal, joked: "How did you turn your [P]eloton into a couch, what a cool trick!"
================

Source link