Ever heard of the "thrift shop gods"? TikToker Cameron Curry has. And it seems they were looking down on him with kindness recently, when he went out looking for second-hand picture frames to turn into a bespoke tabletop greenhouse.
And, perhaps inevitably, the TikTok video Curry subsequently uploaded with instructions on how to do a similar project yourself went viral.
The video, which has garnered over 700,000 views, was uploaded to Curry's TikTok account, @Marketbotany. It begins with Curry in one of his local thrift stores, piling picture frames into a cart.
Curry then explains that the first step is to remove all the matboard, glass, any mounting hardware, and stickers from the frames.
"We want bare wood," he says in the video. "The frames were pretty beat up and different colors, so I'm giving them a sand to remove the finish."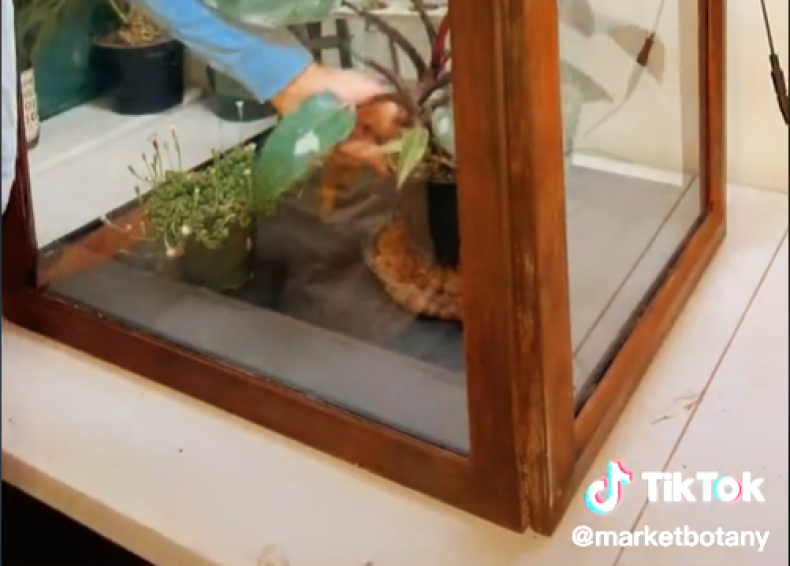 Curry proceeds to secure the frames together into a box shape, using corner brackets. Then he fills in any seams with wood-binding epoxy, that he sands smooth after it dries.
"Now trust the process here," he says, after bringing out the paints. "I'm layering an undercoat, finishing with the dark tones, and a clear coat to bring this dark wood to life."
For those in the dark, not every plant needs to be cultivated in a greenhouse. However, a glassy home for some of your plants can be incredibly useful for a number of reasons, according to the Royal Horticultural Society.
More exotic plants, like okra or melon, often require a little extra heat. And through the summer months, tender crops such as cucumber, egg-plant, peppers, or tomatoes will thrive in a greenhouse.
You might want to use a greenhouse to start off your vegetables before planting them outdoors. You can also use them to get an earlier harvest of certain crops, such as French beans.
After Curry attaches a door handle, he refits the glass using a marine-grade silicone, and a little more epoxy in each corner. He notes that it's "a long process" to ensure that the glass all stays in place: but the results are spectacular.
TikTok user @Helena responded "Wait this is BRILLIANT."
Another user, @mairibreagh, wrote that she plans on making one herself. "This is so cool!" She wrote. "So much more character than the store bought ones."
TikToker @$_$ commented that they're an employee of a thrift store and expressed joy at the fact that Curry's video might encourage more people to purchase second-hand picture frames.
"Glad this video is popular," they wrote, "because … we get more frames than we know what to do with."
In response to a question from another user over the project's budget, Curry responded "$12 on frames, $10 on hardware, and I already had the silicone and paint, but less than $30 total."
Other users commented "looks like I have even more of an excuse to grab frames when I thrift lol. This is smart," and "I may steal this idea."
Curry, who tagged the video with hashtags like #diy, #thrifted, and #upcycle, ended his transmission by saying "It may not be the coolest new greenhouse cabinet that everyone else has, but I like to think it's pretty cool to use the things that I do have to make something that's one of a kind."
In response to a user asking if he could make one that's a little taller to accommodate larger plants, Curry wrote "Only If the thrift shop gods allow."
================

Source link