Can you spot the husky hiding among the inflatable dogs?
That's the question being asked by one pet owner, who took to TikTok to share a video showing a room full of blow-up canines.
The catch is that among those inflated four-legged friends sits one dog who is full of more than just hot air. That might sound easy enough, but for the 21 million people watching the clip, it has proven trickier than you might think.
The video can be watched here.
Dogs love hiding places. According to Jessicka Jake, a CATCH Canine Academy certified dog trainer based in San Diego, California, for dogs a hiding place can often feel like a safe space.
"That's their fun little fort to relax in," she told the American Kennel Club. "They like the little den environment." Hiding in a specific place in the house, like behind a couch or under a bed, can be comforting in part due to the permanence of such objects in the home.
However, every pet is different and has their own personality. Jake said that the key is to "Get to know your dog and know what's normal and not normal."
Maybe that's why Sky the husky didn't seem all that distressed about cozying up in a room full of inflatable dogs.
After all, her owners have made something of a habit of having her and her fellow dog friend Kakoa star in a selection of unusual and hilarious videos, which have then been shared on their TikTok account The Husky Fam.
In fact, they recently hosted a doggie birthday party with all of the pretend pooches serving as guests. This latest video is a little different though with the camera scanning across a living room filled with inflatable dogs. Some appear to be German Shepherds, others are Dalmatians and a few fake Huskies are also included for good measure.
Part viral video, part blink-and-you'll-miss-it puzzle, the footage has left many pet owners with mixed feelings. On the one hand, what they are watching is evidently rather unusual. On the other hand, they would quite like to be able to spot Sky.
One social media user, posting as Haileyandpippa, admitted it was tricky. "It was honestly kinda hard," they said. "Had to watch it twice." Another, writing as KK_Kay_KK, endured similar struggles. "I had to watch this a couple of times," they wrote. "I thought you were messing with us."
A third, brooklyn_likes_frogs, also found it difficult, commenting: "That took me 5 minutes to find her." GraceLove042, meanwhile, said they were "going to see the eye doctor" after failing to find the dog.
IkerbeargamingTT, meanwhile, appeared to have gone badly wrong, claiming they "found 6" dogs in the clip.
Some fans had questions about the video.
Itspaige321 said: "The real question is how did you get your dog to stand still in all of that?" Lei_lani_200, meanwhile, wrote: "I don't even wanna ask why you have all these."
Newsweek has contacted The Husky Fam for comment.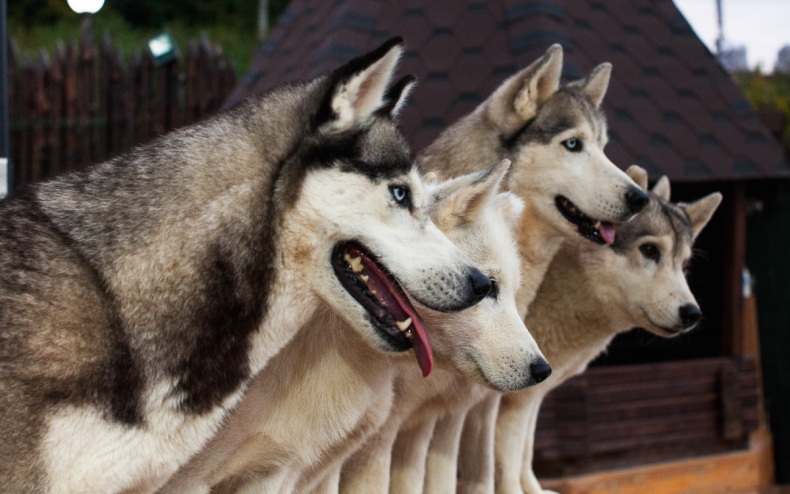 ================

Source link