COLUMBIA − Columbia and Boone County officials advocated for their respective ballot initiatives during the Columbia Chamber of Commerce's election candidate meet and greet Wednesday.
Columbia Public Schools Superintendent Dr. Brian Yearwood spoke about the school district's bond issue that will be on the April 5 ballot. It is a no-tax increase bond issue that will fund maintenance, construction and building projects within the district.
The bond is worth a total of $80 million:
$25 million would go toward the construction of a new elementary school on the campus of John Warner Middle School,
$28 million for a second new elementary school, but that location has not yet been determined,
$15 million for renovations and additions at the Columbia Area Career Center,
$4.5 million for an addition at Battle Elementary School.
In addition, bond money will go toward upgrading accessibility for disabled individuals, as well as improve security enhancements. 
Yearwood said these renovations are important because CPS is growing. There are over 18,000 students in the district – 10,000 more than 10 years ago. 
"So we should see, I would say in 10 years, we're going to be hitting well over 20,000 based upon our projections," Yearwood said.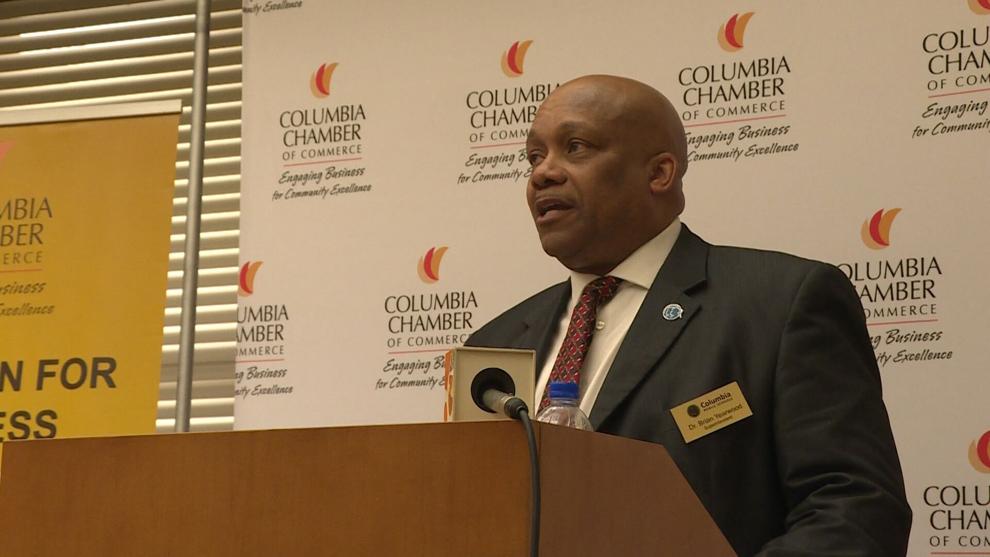 In the district, there are 16 buildings that are over 50 years old and a few are almost 100 years old, Yearwood said.
"As a result of that, there's lots of deferred maintenance that has to occur. We can't afford to not have buildings where the environment is truly conducive to learning," Yearwood said. 
Yearwood emphasized that the bond money would help get rid of the portable buildings. Right now, CPS has 20 portables. 
"They become dilapidated very quickly, and they also tend to be infested with rodents, and it's just not safe," Yearwood said. "They're typically at the back of the school where scholars have to walk outside, sometimes in rain and snow to get to them. We are on a mission to remove every portable in Columbia Public Schools."
The bond must have 57% approval for it to pass. To see the specific ballot language for the bond issue, visit the district's website. 
Boone County Commissioner Janet Thompson also spoke about Proposition 1. Prop 1 is an internet use tax that will be on the ballot for both Boone County and Columbia residents. 
Residents in the city of Columbia would pay a 2% sales tax on online purchases made from out of state vendors. Boone County residents would pay a 1.75% tax. If someone lives in both Boone County and the city of Columbia, they will pay a combined 3.75% tax.
The city of Columbia already collects a 2% local sales tax on goods and services purchased from local businesses. But, purchases made online are not taxed toward the city of Columbia, and Prop 1 would change that.
Thompson explained that "the way we shop has changed."
"And certainly in the pandemic, it has changed dramatically. Over 50% of all sales now are made online," Thompson said. 
Thompson said the use tax will help even the playing field for local businesses, compared to online businesses. 
"Let's make it better for all of the local businesses so that you all can compete so you don't have an uphill battle," Thompson said. 
Thompson said residents must vote yes on both use taxes if they want the proposition to pass. 
Mayoral candidates Barbara Buffaloe, Tanya Heath, Randy Minchew and David Seamon all spoke in favor of Prop 1.  City council candidates Nick Foster, Roy Lovelady and Erica Pefferman also showed their support for use tax. Pefferman said all of the city council candidates support the tax. 
================

Source link