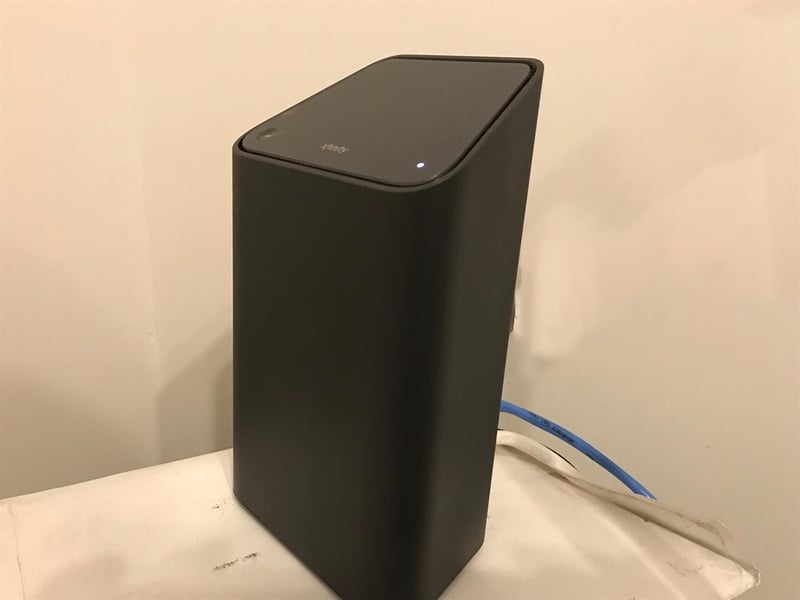 New cable modem needed for 1 gigabit internet service. (Photo: Bob Grip)
Comcast will launch ultra high-speed internet service in Mobile, offering speeds up to 1 Gigabit-per-second to all residential and business customers, according to Alex Horwitz, Vice President of Public Relations. "It uses the existing wiring inside the customer's house or business.  There's no digging or construction," Horwitz said. The rollout of the new service will take place in late May.
Comcast says with a 1 Gigabit connection, customers can:
Download a 5 Gigabyte HD movie in 40 seconds;
Download a 600 Megabyte TV episode in four seconds;
Download a 150 Megabyte music album in two seconds; and
Download 15 Gigabyte video game in two minutes.
Higher speed internet comes with a higher price.  Residential 1 Gigabit service will cost $139.95 a month without a contract. Comcast says bundled product pricing is also available.
Horwitz told FOX10 News anchor Bob Grip that higher internet speeds can help the local economy. "In markets where we've announced this type of product, faster speeds for a city usually equates to making it a more desirable location for prospective residents and businesses," Horwitz said.
Customers interested in this new service will need a DOCSIS 3.1-capable modem to achieve the faster speeds. New and current customers can visit www.Xfinity.com/gig to learn about the new service and request additional information.
Comcast joins AT&T in offering very high speed internet service in the Mobile/Baldwin county area.
All content © 2018, WALA; Mobile, AL. (A Meredith Corporation Station). All Rights Reserved.
Related