MARYVILLE, Mo. — Local leaders and internet service providers met with community members last week with a single purpose: to discuss local and regional internet needs with an eye on the future.
The meeting, hosted by the Northwest Missouri Regional Council of Governments, was one of five held in the participating counties: Atchison, Gentry, Holt Nodaway and Worth. Each county had a separate emphasis. In Worth County the discussion centered on entrepreneurship. In Holt County the talk emphasized e-learning. In Gentry County the discussion involved telehealth. In Atchison County, precision agriculture was discussed.
In Nodaway County the 1½-hour conversation varied from growing into a digital community to future manufacturing needs.
Nodaway County Economic Development Director Josh McKim started the conversation noting that the pandemic has shone a light on why the region needs better internet: students needing to connect for schoolwork, patients needing to connect with health specialists and more.
He continued noting that while the pandemic has been very negative, it has also provided an opportunity for many people who realize they can telecommute and possibly do that from anywhere.
He said statewide, it started people thinking about the need to make sure everyone has better internet.
Gov. Mike Parson's plan for American Rescue Plan funds allots $400 million in funding for broadband internet. A news release estimated 400,000 households in the state don't have access to high-speed internet, and providing infrastructure to those locations could cost more than $1 billion.
McKim said broadband internet is available in Nodaway County, but that "it is an issue throughout the five counties. … If you get outside of Nodaway County, and especially if you get outside of our five counties then service becomes much, much less robust."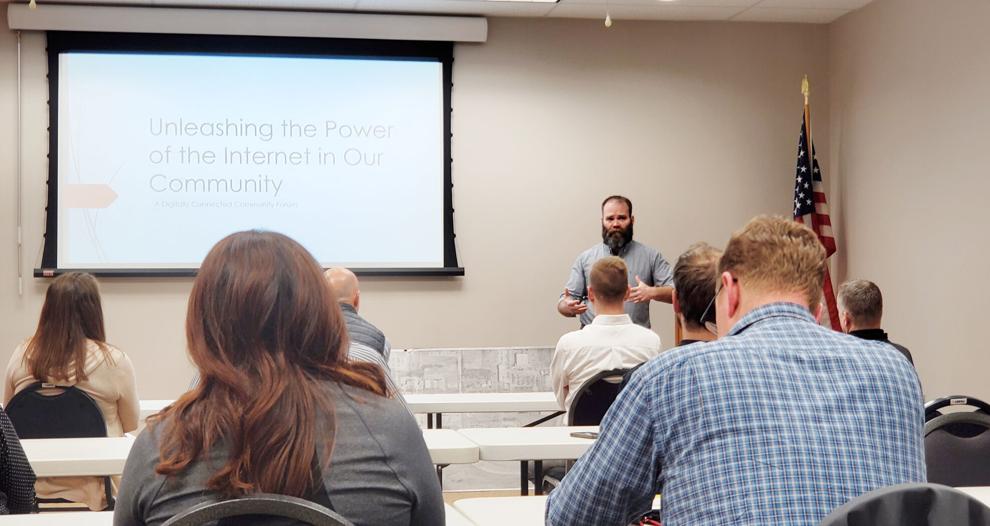 He continued with a question about just what does a digitally connected community look like? He offered out a suggestion of someone walking around downtown, and being able to open a laptop, opening a browser and having a pop-up stating "Your internet provided by …"
Chris Wallace, Nodaway County Extension Council member, said he thinks it is a community with internet speeds that allow anyone to work for anyone, anywhere at any time.
"Really to me it's more of a quality-of-life thing," he said. "I want to live in Maryville because it's a great place to live. I want to live in Nodaway County because it's a great place to live. Because of the connectivity, that means all of the options are open."
The discussion continued with Travis Kline, internship coordinator at Northwest Missouri State University, saying whatever it ends up looking like, it needs to be affordable.
"I think it's not just access, it's affordability because telecommuting jobs typically pay 85 percent of what an in-person job does nationwide," he said. "… That's what I see for Nodaway County's biggest issue, is we have really good internet options, but they're also a substantial cost per month."
Darren Farnan, COO of United Electric Cooperative and United Fiber; Mitchell Bailey, CEO of GRM Networks; and Roger Bundridge, general manager of NorthwestCell talked about affordability vs. availability. Each discussed different aspects of what goes into deciding where a fiber line or cell tower can be placed based on the number of people attached to the line.
Bundridge said his tower with the lowest usage sees less traffic in an entire day than his highest traffic towers do in just one hour. This makes it difficult for companies to justify placing towers in certain regions.
"Everything costs money and with our population declining 2 percent a year it gets really hard to put them into these areas where there's not enough people there to justify the expense of it," Bundridge said.
He and the other two providers agreed that placement and mapping are key components to finding the best way to service people throughout the region.
Bailey said mapping has always been a difficulty in the region, because what the map shows and what the company knows to be accurate are often different. He said the state is working to refine those maps in order to help ISPs build a more feasible business plan for finding these pockets of underserved areas.
"I know GRM and United Fiber are trying to do our part, even outside of available funding, to try to fill in those gaps and cover those unserved and underserved areas," Bailey said. "Unfortunately this is a hot topic, not just in our communities, but all across the country. … Of course it doesn't matter how affordable it is if it's not available, and it doesn't matter that it's available, if it's not affordable."
Farnan said he thinks it will be important "to compartmentalize availability from affordability whenever socioeconomic functions pop up. It gets all muddled. … They are two very separate things." He said United Fiber is really focused on access right now and utilizing federal funding to expand its coverage region.
On the manufacturing side, McKim said Nodaway County residents and northwest Missourians do a great job working with their hands, and while he is not one of them, he joked, there has to be a way to help those makers shift their businesses online.
He offered two examples, Missouri Star Quilt Co. in Hamilton, Missouri and MDT Woodworks in Fairfax, Missouri. The two northwest Missouri startups shifted their main business into an online space and saw their business explode in popularity.
"Why can't other communities do that?" McKim asked. "What are some things that we should be doing as a community that would help build that opportunity?"
Wallace suggested possibly offering classes in digital marketing. The group discussed internships and possibly finding consulting firms that would be interested in working with businesses in this region.
With regard to larger manufacturing, McKim told a story about a facility with poor internet in a northwest Missouri county. In order to receive large documents a person had to go to the parking lot, download the file to a phone, then upload it to a computer.
That process has since been rectified he said, but it was only two years ago they were dealing with that type of connection issue.
Nickolas Freeman, regional technology coordinator with Mosaic Life Care, agreed that these types of internet difficulties are still occurring. He said internet at one of Mosaic's clinics in Iowa has gone down for an entire day. There's only one internet provider in the area and no way for the clinic to acquire a redundant system.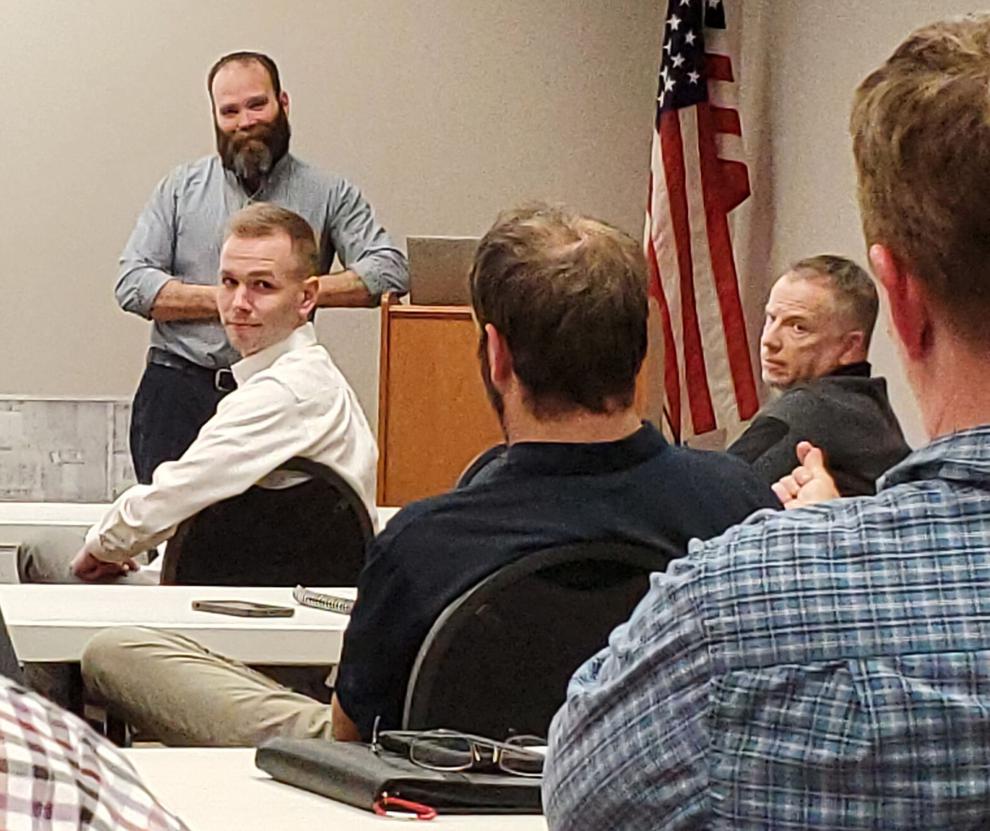 McKim said several manufacturing sites are looking for employees in the region and not finding them and because of that, it's likely their future is in automation. He asked the group if there would be enough bandwidth for them to build up that part of their facilities.
Farnan and Bailey agreed, saying that once the fiber is there, it's only a matter of upgrading the equipment on either end to provide the kind of speed and service necessary.
"Future-proofing with fiber," McKim said he's heard it called.
The Northwest Missouri Regional Council of Governments has two surveys available for the public to help pinpoint "bubbles" of underserved internet areas in the region, and assist in planning efforts to expand affordable and reliable broadband access in northwest Missouri. Two QR codes attached to this story will allow cellphone users to access the survey.
The council of governments encourages individuals and families to complete the survey in their homes from various devices connected to fixed and wireless devices. The survey includes speed testing and should take approximately five minutes to complete. The survey can be accessed at: bit.ly/NWMOIndividualSurvey and are separated into businesses, nonprofits and local governments; and individual and family.
Business owners and managers are encouraged to complete the businesses, nonprofits and local governments survey to describe how their business currently uses and plans to use broadband access in the future. If you own or operate a business in one of the counties mentioned above, the five-minute survey and speed test is available at: bit.ly/NWMOBusinessSurvey.
================

Source link