Many people have looked into different ways they can incorporate more sustainable practices into their everyday lives, and one couple shared some insight into how they plan to make their wedding sustainable in several viral videos.
Anna Masiello posted the videos to her TikTok account, @hero_to_0, which inspired some viewers to take note of the tips that were shared.
In Masiello's first video, which was viewed more than eight million times, she shared that guests won't throw rice or paper confetti.
"We are drying leaves and making confetti for everyone," she explained as she showed the heart-shaped confetti. "They are super cute and naturally zero waste."
The couple is testing different tree leaves in addition to petals from tulips and orchids.
In addition to the confetti, Masiello noted in a second video viewed more than 100,000 times, that she had a few different options for her wedding gown. They included renting a dress, getting one secondhand, and using materials that already exist.
Text over the video revealed that she chose to use materials that already exist, and she planned to use dusty rose-colored linen.
"I found this deadstock linen in the color I was dreaming of," the text stated. "The dress design is SO cute."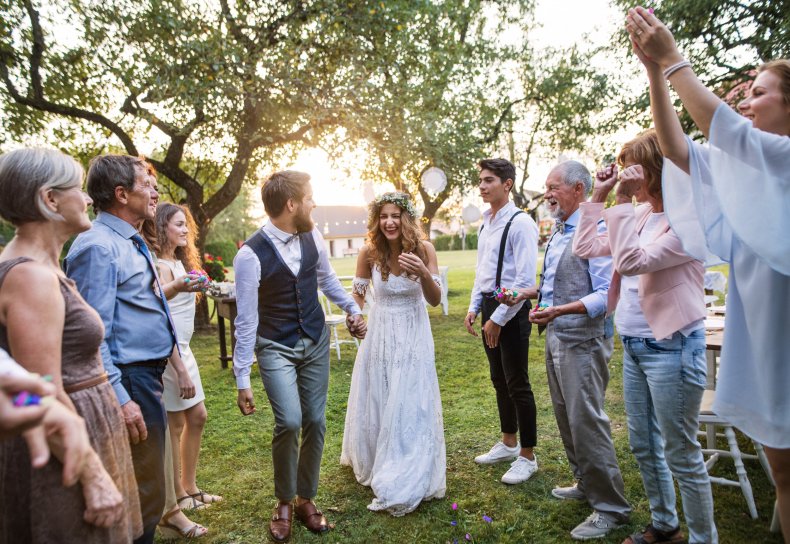 The couple will also reuse old glass jars for table decoration as seen in another video viewed more than 800,000 times. And, rather than getting flowers, they will use aromatic plants like rosemary and laurel that guests can take home and use for cooking.
Viewers expressed their delight with the insight that was shared in the videos.
"I'm not even in a relationship, but if one day I'm going to get married I need this," a viewer wrote.
One shared that one of their friends threw local wildflower seeds during her wedding in her garden.
"They had so many flowers to remind them of their special day," they wrote.
Another commented that their flower girl tossed heart cutouts of different colored leaves.
"Yes girl what an amazing idea," a viewer wrote. "No waste, no pigeons dying! And is even more cute cause is heart [shaped] leaf confetti. Love it."
TikTok users were also eager to see what the wedding dress would look like and commended the couple for the idea of reusing what they already own.
"I live for these ideas," a comment read. "I get married next year and hope to use a lot of these thank you."
"This looks way better than half the non-sustainable weddings I've been to," a viewer wrote. "Props to you, good luck!"
Newsweek reached out to Anna Masiello for further comment.
Wedding tips, tricks and insights are commonly found throughout various social media platforms, including a couple's viral TikTok video that shows the transformation of their backyard into their wedding venue.
One bride's video shows the custom-made Crocs she had for a wedding, while another sweet video captured a couple's first dance together with their dog.
================

Source link