Ludhiana
Posted at: Jan 1 2016 1:54AM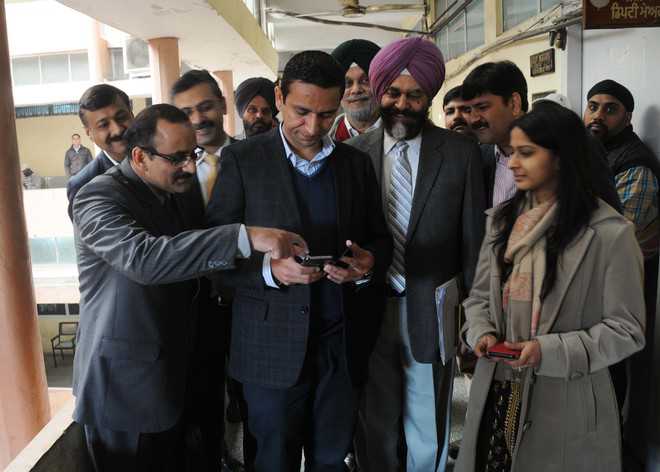 Our Correspondent
Ludhiana, December 31

The Municipal Corporation, in collaboration with a private telecommunications company — 'Connect Broadband, has started free internet facility for people visiting the MC Zone A office at Mata Rani Chowk here. The company has installed the Wi-Fi routers in the office building where the visitors can use the Internet at 20 MBPS speed. The facility was formally launched by MC Officiating Commissioner Ghanshyam Thori today.
While speaking on the occasion, Thori said the free Internet facility had been started for the visitors for their benefit. He said any person who wanted to use this facility would first have to send an SMS by typing 'connect' to phone number 9653444555.
"Once the SMS is sent, the person would get a username and password that would be required to access free Internet facility. Thereafter, the visitors could simply have to connect their mobile phones or laptop/desktop computer with Wi-Fi and login by using this username and password. Once successfully logged in, the person can access free Internet for a period of 30 minutes," Thori stated.
He said on the completion of 30 minutes, one could login again by using the same method and the Internet facility would start again. He said the user could keep logging in for as many times as he or she wanted, but every time, the connection would be for a duration of 30 minutes only.
On further expansion of the Wi-Fi facility, Thori stated that very soon, this facility would be started at the MC Zone D office in Sarabha Nagar, Sarabha Nagar Main Market (Kipps Market), besides some other places. 
"The company has agreed to provide this Internet facility totally free of cost," he informed.
Sanjay Behl, Marketing Head, Connect Broadband, said their focus was to provide high speed Internet to the city residents. 
He said the company planned to install the Wi-Fi routers in other parts of the city as well and the residents would not be charged for this purpose.
Prominent among others present on the occasion included Shena Aggarwal, Additional Commissioner; PS Ghuman, Joint Commissioner; KK Sharma, Chief Technical Officer (Emerging Business); Farid Alam, Operations Head; and Vishal Mehta, Assistant General Manager (Enterprise Services). 
All readers are invited to post comments — responsibly. Any messages with foul
language or inciting hatred will be deleted.