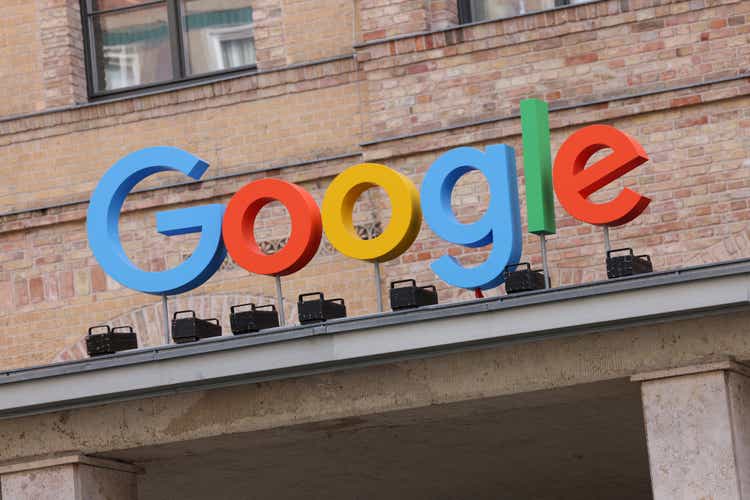 Alphabet (NASDAQ:GOOGL) is a large tech giant that continues to dominate internet search with 85% of searches performed via Google. The firm has a "duopoly" on the online advertising market with a 27% market share, along with Meta Platforms, formerly Facebook (FB). However, what differentiates Google from Meta is their dominance in search and they also own the world's most popular web browser (Chrome at 64% share) and the world's number one mobile operating system (Android), which has a 71% market share . This makes Google the backbone of the internet and gives them the ability to call the shots.
The firm recently announced to be removing third party tracking cookies from their chrome browser. This may not seem like a big deal but as a Digital marketer & Investor, I know this is huge. Their main advertising rival Meta Platforms (Facebook) uses third party (pixel) cookies in order to track users and improve advertising results. The firm has had to rethink their entire tracking system, in order to combat the change. The way this change sent shockwaves through the internet, is testament to the power Google has.
The really special thing about this company is their internet search dominance is just the tip of the iceberg. From a high growth cloud business (44% revenue growth in FY2021) to "Moonshots" such as autonomous driving (Waymo) and Quantum computing, the firm is poised for continued growth & has lots of "optionality" for the future. Given the firm has been buying back shares aggressively ($50 billion in 2021), they are poised to become the most valuable business on the planet. Let's dive into the reasons why, my valuation and risks.
Note: I will use the words "Alphabet" and "Google" interchangeably in this post to refer to the firm, for easy reading.
Dominant Business Model
1. Advertising (~90% of revenue)
Alphabet is the true backbone of the internet via:
Google search (85% of search traffic)

Chrome (64% market share)

Android (71% market share)

YouTube (World's Most Popular Video Platform)
Google Services also includes Google Maps, the most popular mobile map app by downloads and Gmail which is the most popular email client. Google's dominance in the internet ecosystem is unmatched. These dominant monopoly-like "backbone" platforms are monetised via Google in the form of advertising, which makes up over 90% of the firm's revenues.
2. Google Cloud (7.4% of revenue)
Alphabet has a thriving Cloud unit, Google Cloud which made up 7.4% of revenues, but is the fastest growing part of the business (44% revenue growth FY2021). Google Cloud is currently the third largest cloud provider (10% market share) behind Amazon AWS and Microsoft Azure.
3. "Moon Shots" (0.2% of revenue)
Google has always had a culture of "experimentation" and taking "calculated bets", such as Waymo, the self-driving car unit and even Quantum computing. These types of bets are called "Moonshots" by Google and although not generating significant cash flows yet, they represent heaps of optionality in the stock. Alphabet is currently investing over $31 Billion per year in these "Other Bets". This is a large amount of capital but still only makes up a slither of revenues, 0.2% of annual turnover.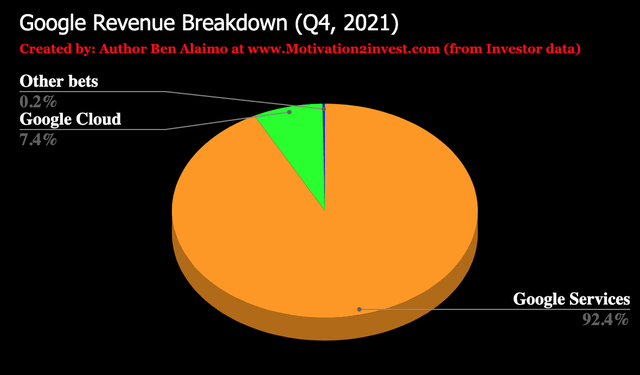 Waymo, is one of the business units that could disrupt the entire transport industry with its self-driving vehicles. The global autonomous market was valued at $76.13 billion in 2020, and is projected to reach a ginormous $2.1 trillion by 2030, which is a massive CAGR of 40.1% between 2021 to 2030.
Waymo is a leader in the industry and not just a "theoretical" firm like many others out there right now. The firm already has working autonomous vehicle operations right now in Arizona, for the average person. Yeah, that's right. You can download Waymo One, the ride hailing app and hail your very own self-driving vehicle with no human driver. But that's not all. Waymo announced very recently (March 30th 2022) they are rolling out self-driving operations in San Francisco. Employees of Waymo and people who sign up for the "Trusted Testers" program can now hail fully autonomous vehicles. This is a game changer as similar to the "traditional" ride-hailing business such as Uber & Lyft, market dominance is determined by capturing the major cities. I also noticed Waymo's marketing has improved substantially on their website and it is now truly offering a strong consumer value proposition.
The firm also has Waymo Via solution for autonomous trucking, which is set to address the major logistics challenges, such as truck driver shortages & dangerous accidents. Waymo recently announced a partnership with C.H. Robinson, one of the world's largest logistics platforms, which will give the firm vast access to data & testing lanes.
Quantum computing is another "Moonshot" which is further away but offers huge optionality for the future. A couple of years back Alphabet created a quantum computer which achieved "quantum supremacy", outperforming a traditional computer for a specific complex calculation. More recently Google opened a quantum computer data center and R&D lab , where they plan to build a commercial grade quantum computer (1 million qubits) by 2029.
In addition, Alphabet recently announced the acquisition of Madiant, a leader in Cyber Security for $5.4 billion. This expands Alphabet's reach into another high growth, high TAM market, as well as helping to protect their own core business.
Strong Financials
Alphabet's Financials are tremendous, the firm brought in $257 billion in 2021, up an astonishing 41% year over year. For a company of this scale, that is truly astonishing. Operating profit nearly doubled also from $41 billion in 2020 to $78 billion in 2021, with a high 33% operating margin. The firm has a strong Return on Capital of 26% and Return on Equity of 32%.
Google Cloud is also getting closer to profitability and if they continue to grow at a similar rate, they will hit a $100 billion in revenue run rate by 2025. If Google Cloud can achieve a 20% operating margin, which is lower than AWS at 30%, they would add an extra $20 billion to Alphabet's income.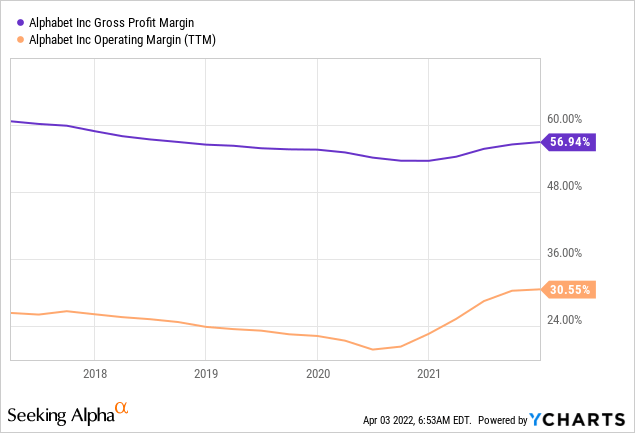 The firm's balance sheet is a fortress and they have what I believe to be the largest cash position of any other stock on the planet, with $139.4 Billion as of Q42021. Amazon comes closest with a merger of $96 billion in cash & cash equivalents. This large cash position has been criticised by many on Wall Street, however this does offer the opportunity for continued buybacks (over $50 billion) in 2021. This would put Alphabet on a similar path to Apple (AAPL) which has invested close to $500 billion in buybacks, reducing their stock by 35% which helped to boost their market cap to $2.84 trillion.
Is the Stock Undervalued?
I have valued Alphabet using my advanced valuation model, which uses the discounted cash flow method of valuation. This takes into account the companies R&D investment, lease obligations, employee options and more.

I have been very conservative with my estimates of growth, estimating 10% for next year and 8% for the next 2 to 5 years. I have predicted the pre-tax operating margins to hold steady at 33%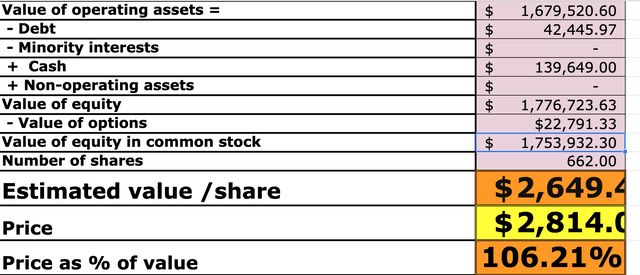 From this calculation I get a fair value of Alphabet of $1.7 Trillion, with a stock valuation (pre- split) of $2649. The stock dropped below this fair value to $2597/share just a few weeks ago but has now spiked up by 7% as the market recognised the discount. Today the stock trades at 6% over the fair value, as of the time of writing.
In terms of a relative valuation against other FAANG stocks (excluding Netflix), Alphabet trades at one of the lowest PE Ratios 24, which is lower than both Apple (PE = 28) and Amazon (AMZN) (PE = 67). Only Meta Platforms trades cheaper (PE Ratio = 18), but they have recently had user growth declines.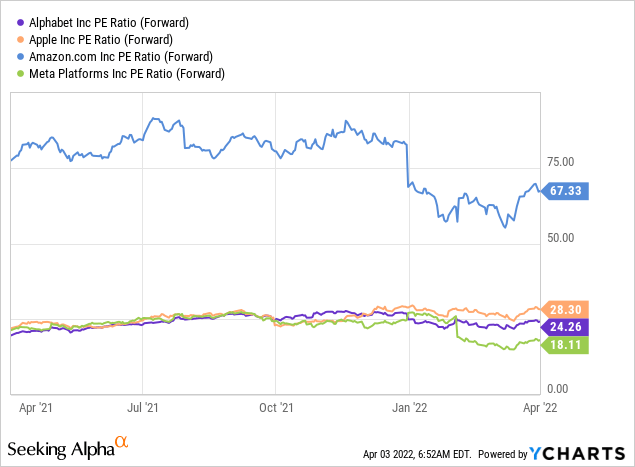 The same story is true for EV/EBITA multiples with Alphabet trading at the 2nd cheapest (EV to EBITA = 14) compared to other big tech stocks, Amazon (EV to EBITDA = 19) and Apple (EV to EBITDA = 22).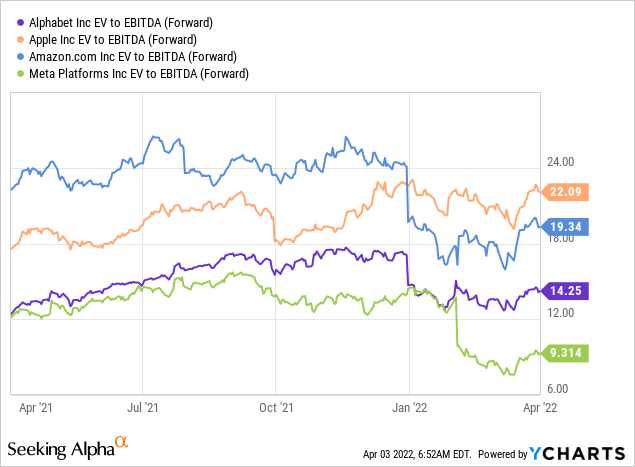 Risks
Revenue Not Diverse
Alphabet currently makes over 90% of their revenues from their advertising business. Now although this has been a great cash generator so far, the firm's revenue base is not diversified and that is a major risk. This risk became apparent in 2020, when the global pandemic caused advertisers to reduce ad spending, which caused the stock to sell off. I personally saw this as a buying opportunity, but it still is a risk moving forward. The firm's other business units such as Google Cloud and even a few Moonshot bets are starting to pay off. So I expect this risk to get less moving forward.
Advertising Competition
The advertising market is vast and competitive. Google dominates along with Meta (Facebook), however, their market share is starting to be eaten by Amazon Ads. From the graph below, it is clear to see a declining trend in Google's market share from 31.6% in 2019 to an expected 26% by 2023, while Amazon's Advertising market share is expected to double to 14.6%. Then there are disruptive social Media platforms such as Tik Tok and programmatic advert providers such as Taboola and Outbrain, which are starting to gain traction.
Antitrust Regulation
Large tech firms globally are in the sights of regulators & governments, who are intent on challenging their market power. Google faces multiple antitrust cases, including one which alleges the firm abuses its market power on the mobile app store. There is a violation tracker online which shows the multiple fines and lawsuits Google has been given, one of which was $500 million!
I personally believe the large amount of cash on Google's balance sheet makes the firm a greater target. Despite the amount of lawyers & legal compliance the firm goes through, there will always be this "cost of doing business". You could call this "death by 1000 paper cuts", which is a real threat to gigantic firms and could stifle innovation.
Final Thoughts
Alphabet is a tremendous tech giant which is the true backbone of the internet. Google has a virtual monopoly on internet search and a strong core advertising business. The firm's cloud business is growing fast & is expected to become profitable in the next few years. Whereas Google's "Moonshot" opportunities are starting to hit major milestones, with the likes of Waymo making strong progress in major cities. Alphabet's Financial position is powerful and they have what I estimate to be the largest cash position of any global firm. With a series of immense buybacks lined up and many tailwinds ahead, this firm has the potential to become the most valuable business on the planet.
The stock is currently trading at 6% above my fair value, but is still relatively cheap compared to other large tech firms. Thus, Google is an ideal company to park cash in, as a long-term investment, despite being slightly overvalued. However, should the firm have another pullback that will offer a greater opportunity to load up the truck.
================

Source link