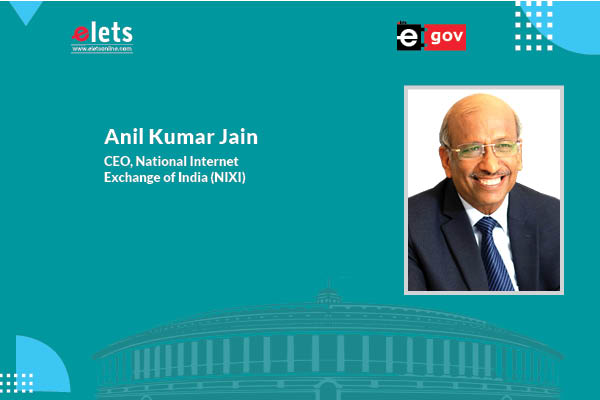 Digitalisation is reshaping the future of governance and access to the internet lays the foundation for this transformation. Sharing his insights on India's internet scenario and the future roadmap, Anil Kumar Jain, CEO, National Internet Exchange of India (NIXI) interacted with Nisha Samant of Elets News Network (ENN).
What role does NIXI play in bolstering the Government's IT infrastructure contributing towards making India AatmaNirbhar?
NIXI – the National Internet Exchange of India – is a not-for-profit organisation, working since 2003 with a mission to make the internet accessible to the citizens of India. We were the first to set up Internet Exchanges across the country, through which internet data is exchanged among ISPs and CDNs to ensure that the data gets routed locally instead of travelling out of the country, which would increase costs and latency and put citizen's data at risk. We also established in registry, which gave millions of Indians a unique, global identity through in and domains as well as we maintain NIR registry IRINN, which manages the allocation of Internet protocol Resources. (IPv4/IPv6)
India is going through the most significant phase of its digital revolution right now. A larger portion of the country has adopted digital payments and is fine with making video calls. Considering the new normal, educational institutions are shifting education to the internet. Beyond the mainstream, people are looking at other alternatives to conventional means of life. NIXI brings together ISPs, CDNs and other organisations on the same network facilitating the exchange of domestic Internet traffic thus improving the quality of the internet, making it more resilient, faster, and cheaper. It also enables efficient use of international bandwidth, saving foreign exchange. Since December 2012, NIXI was also given the responsibility to manage National Internet Registry to delegate Internet Protocol Addresses (IPv4 and IPv6) and Autonomous System Numbers to its affiliates. NIXI is also authorised by the Government of India to sell and manage . in and domains and has been instrumental in popularising the .in domain and has been working tirelessly to make the internet more inclusive by bringing out IDNs in 22 official Indian languages.
Though we have rapidly adopted digital modes, especially during the COVID times, a major sect of the population is still deprived of internet connectivity. How are you bridging this gap?
The objective of opening Internet Exchange Points (IXPs) is to lower the cost of broadband internet for Internet Service Providers (ISPs) by providing the content available in the metros right at the doorstep of these ISPs located in Tier2 and Tier3 cities. This enables ISPs to pass on the cost-benefit to their end- users making cheaper, faster and reliable internet in these cities a reality.
We hope that Internet Exchange helps to expand internet reach and will make the internet more affordable for those who right now are not able to have a broadband connection.
On the previous Republic Day, NIXI offered free domains to people in 22 local languages. How this move does benefit the citizens? Further, what steps are you taking to remove the language barriers for internet users?
Organisations and individuals were able to create a digital identity for themselves or their businesses by creating their own websites and establishing their own digital footprint, with this NIXI strongly upholds the vision of the Indian Government to be self-reliant and promote the homegrown brands and services.
Ensuring that language does not become a barrier in utilising technology is key for digital inclusion and growth. Offering free domain registrations with free email addresses in regional languages was NIXI's contribution to making modern communication tools accessible and easier for all.
What measure NIXI is taking to ensure Safe and Secure Internet connectivity to the governments and the citizens across the country?
India, with more than 1.4 billion citizens, 1.2 billion mobile users, and 800 million Internet users, demonstrates the growing Internet culture in the country.
E-Governance and Cyber Security become of paramount importance in such a scenario.
The Government took the initiative of starting the Indian chapter of the Internet Governance Forum (IGF) which facilitates the discussions between intergovernmental organisations, private companies, technical community, academic community and civil society organisations that are involved in Internet governance-related public policy issues to make internet inclusive, safe and secure.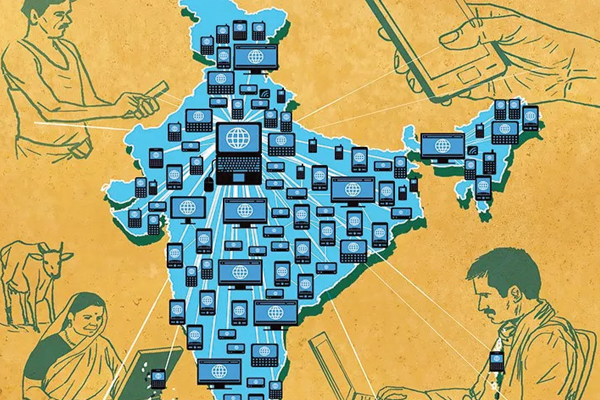 This policy dialogue is carried out on a co-equal basis through open and inclusive processes. This mode of engagement is referred to as the multistakeholder model of Internet Governance, which has been one of the key reasons for the Internet's success.
NIXI through IRINN has been working tirelessly to promote Route Origin Authorisation which is cryptographic. Digitally signed object that tells us which Autonomous Numbers (ASN) is authorised to originate a particular IP address prefix or set of a prefix. This prevents hacking of the network by preventing route hijacking. The percentage of IP prefixes that had enabled ROA in September 2020 was 12 per cent which currently stands at 58 per cent. These efforts are likely to enable a more secure internet ecosystem in the country.
What is the roadmap of NIXI in the near future?
NIXI's mission is to be the leader in internet facilitation and provide citizens of the country with an inclusive, affordable, safe and secure internet environment in the country.With both businesses and consumers preferring regional flavours of the internet, India is growing its economy by promoting local businesses and aligning themselves with the clarion call by our Prime Minister of being "AatmaNirbhar". In order to capture the regional customer, it is imperative that businesses localise their content in Indian languages. NIXI is enabling this by promoting IDNs in 22 different regional languages and giving free emails to enable citizens who only speak these regional languages.
================

Source link