Sleeping on the job is normally frowned upon, but one company is encouraging it, and the internet is applauding the idea.
Wakefit, a sleep-based company headquartered in India that makes mattresses and pillows, announced Wednesday that employees would be provided a daily afternoon block strictly devoted to naps. This comes as a study found that as many as 70 million Americans suffer from chronic sleep disorders and wakefulness.
In email correspondence from Wakefit co-founder Chaitanya Ramalingegowda to employees, with the email subject line of "Announcing Your 'Right to Nap,'" he said the company has been in the sleep business for over six years "yet failed to do justice to a crucial aspect of rest: the afternoon nap."
Employees will be able to take naps daily between 2 p.m. and 2:30 p.m. He said work calendars will reflect the change and that no work needs to be done during this half-hour.
"We have always taken naps seriously, but starting today, we will be taking things up a notch," Ramalingegowda said.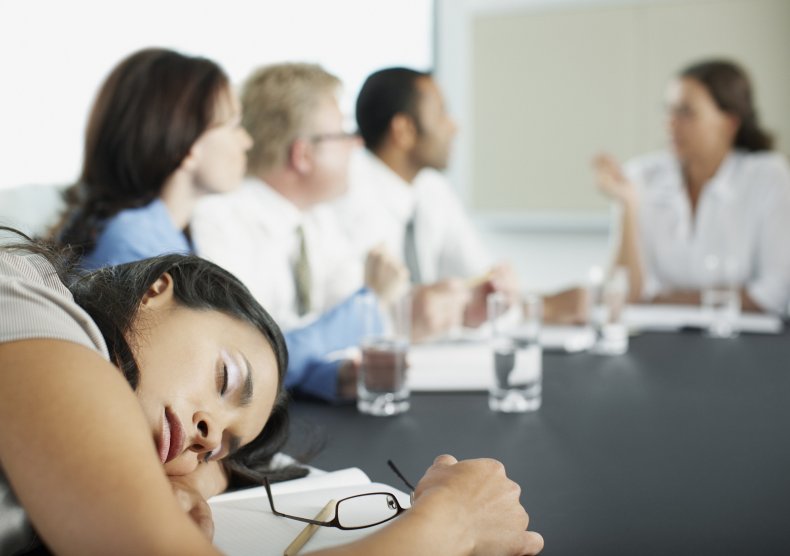 His email said that research shows that afternoon naps help with memory, concentration, creativity and productivity. He cited a NASA study that found that pilots who slept in the cockpit for 26 minutes showed alertness improvements of up to 54 percent, in addition to a 34-percent increase in job performance, compared to pilots who did not snooze.
Ramalingegowda also mentioned a study conducted by researchers at Harvard University and Harvard Medical School, which involved participants performing visual perception tasks in four 60-minute sessions.
Some participants were allowed to take naps between 30 and 60 minutes following the second session. It was discovered that participants who took 30-minute naps maintained an identical performance level throughout all four sessions, while those who napped for 60 minutes had a more exemplary consistent performance.
Wakefit's new daily sleep regimen comes almost one full year after the company advocated for weekend naps to help reduce fatigue, increase awareness and alertness, enhance mood, and improve memory and work performance.
Ramalingegowda's email was posted on LinkedIn by Prateek Malpani, head of brand at Wakefit. It was "liked" almost 12,800 times.
"Hahaha! What just happened," Malpani posted. "Quite truly walking the talk. This is for REAL. We just announced official nap time. I can proudly say I am getting paid to sleep at work!"
He provided an update to his post with a photo of his work schedule, with the specified 2 p.m.-2:30 p.m. time blocked out for "official nap time."
The email sent to Wakefit emails was also posted on Reddit's "Anti-Work" forum, where it has been upvoted over 25,000 times. The thread was titled, "Companies need to treat employees like real people."
"My office has nap rooms and massage chairs, and those really help," one Redditor said. "When I am stuck doing some CAD for hours on end, a 10 minute nap will totally restart you, and those massage chairs do wonders after you've been on your feet running some experiments in the lab for half a day."
Some Reddit users were skeptical, however, both at the Wakefit policy and whether someone from the company posted the notice on the website. However, as one poster said, the policy is more important than the cynicism.
"This employer is definitely leveraging this policy in order to look better," that poster said. "But on the other hand, instituting nap times is a step in the right direction, no matter how the company brags about it."
Society has progressed in the sleep-at-work realm since the days of George Costanza sneaking in naps under his desk in Seinfeld.
Google, Facebook, Ben & Jerry's, Cisco, Zappos and Uber are some of the companies that not only allow but encourage employee naps, according to Sleep.org. Google has become notorious for installing private rooms with pods for comfort, while Uber's San Francisco headquarters features a living room space, kitchenette and focus rooms that double as nap rooms.
In 2019, Wakefit made headlines when it hired "sleep interns" to test out its sleep aid products, paying each intern over $1,400 for nine hours per night for 100 nights. Interns were reportedly provided with a mattress and fitness tracker by the company.
If a nap sounds good about now, these meditation teachers say these sleep meditation exercises can help you get quality sleep.
Newsweek reached out to Wakefit for comment.
================

Source link