A former receptionist was flooded with praise this week for the story of her clever, cool-headed response to a combative boss.
Sabrina Spellman, posting with the username u/SabrinaSpellman1, shared her account on Reddit's "Malicious Compliance" forum Tuesday. Her post has gone viral with nearly 30,000 votes.
Spellman explained that the incident unfolded when she was 19 years old, working as a receptionist at a U.K. lawyer's office. A family lawyer whom she called Anna joined the office to focus on aiding domestic violence victims.
According to Spellman, Anna excelled at her job and worked hard to advocate for abused women's restraining orders, emergency hearings, police interviews, safe housing and custody of children. However, a feature in the press went to her head and she became "arrogant and snappy," Spellman said, with "little put-downs to the secretaries and other workers."
The receptionist let the behavior slide since she knew her boss was stressed and doing important work.
That was until Anna viciously berated her. Twice in a row, Spellman was cursed out and belittled in front of clients for bringing faxed documents to her boss an hour after their delivery timestamps—even though she had rushed the papers to Anna's desk as soon as they came through the fax machine.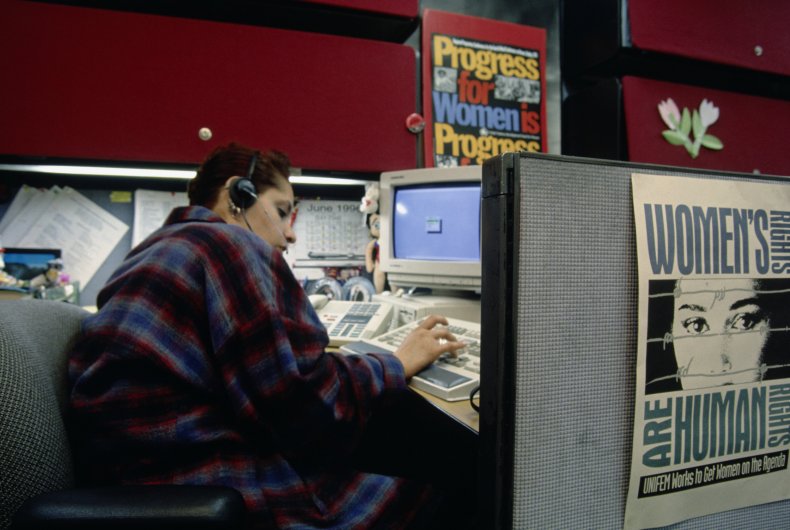 The second time, Anna followed her out of the room while screaming insults. "[She] started yelling at me that I had no respect or kindness in my heart for these women and I was lazy, utterly incompetent, and ridiculously not right in the head. I cried in the toilets," Spellman wrote.
A few days later, Anna suddenly realized why the timestamps on the documents were wrong. She coolly told her boss, "The reason why the documents appeared to be an hour late was because the clocks have changed for daylight savings time, I should have realized that when the ink was still not dry as I handed them to you." The fax machine was old and had not updated the time.
Anna reluctantly apologized, but Spellman went on to execute her "malicious compliance": after every single call she logged from domestic violence victims, she wrote an individual Post-It for Anna, sometimes going in and out of her office 10 times in an hour.
"Her desk was flooded with [P]ost-[I]ts that just said '10am call from husband to client X,'" Spellman said. "She was annoyed but this was what she asked for. I wasted a lot of [P]ost-[I]ts."
The story wrapped up with an incident that ended up bringing the receptionist and her boss much closer. As Spellman recounted, a woman in a shelter with her daughter called the office to say that she was reconciling with her husband and wished to drop her domestic abuse case.
Spellman told Anna to call the police. After talking to clients on the phone every day, she recognized that the voice on the other line was not the wife's. The receptionist's suspicion was confirmed after the office called for a welfare check: "Sure enough, her husband had taken her forcefully back home and had his older daughter call the office pretending to be her," Spellman said. "He was arrested."
Anna, grateful for her receptionist's quick-thinking interference, gave Spellman a bottle of red wine and a thank you card. She finally apologized properly, saying that Spellman could stop with the Post-Its, as her message had been received.
Below Spellman's Reddit post, readers lauded both her clever revenge and her effort to save the life of a domestic violence victim.
"I'm glad you finally got your proper apology," said one comment. "Lots of happy endings too. Good job, OP."
"Hats off to you!" agreed another reader. "Kinda odd someone who works so hard advocating for abuse victims is a bit abusive herself. Glad she changed her tune."
U.K. police recorded 845,734 domestic abuse-related crimes in England and Wales between March 2020 and March 2021, up 6 percent from the previous year, according to the Office for National Statistics (ONS).
Demand for the National Domestic Abuse Helpline in England shot up 22 percent over the same period. This increase does not necessarily indicate a greater number of victims, but could signify "an increase in the severity of abuse being experienced, and a lack of available coping mechanisms," the ONS reported.
Newsweek reached out to Spellman for comment.
================

Source link