A bride-to-be has vented her frustration after learning her fiancé's ex-wife is staying at a hotel near their wedding venue, so guests can periodically spend the day with her.
Lux523 shared the bizarre arrangement to Mumsnet, revealing she and her husband-to-be, Bob, are both tying the knot for the second time.
Bob was previously married, for almost two decades, to Anne and they share two children who are now teenagers. They have a "calm relationship," while Lux523 claimed she and Anne "get on well."
Although civil, Lux523 claimed she'd been told it was "not a good marriage," but stressed: "Their marriage was an arranged one and they simply weren't compatible.
"They did try for their children but it was basically a s*** show; until Bob initiated the divorce, 4 years ago. He left A with a sizable settlement enabling her to purchase a £500,000 [about $675,000] house.
"He sees and spends time with his children EoW [every other week] and he pays maintenance at a hefty level and pays for all of their hobbies. He really isn't an a**ehole and neither is his ex-wife."
She gushed "I am completely in love with my fiancé and cannot wait to marry him," but explained mutual friends of both Anne and Bob had appeared to be "picking sides."
"What has happened since the wedding being planned, people have said they will be spending the day of the wedding with Anna so she is not alone. Bob is feeling increasingly hurt by this as he feels relationships that were very important to him (and to Anna), are being eroded," she revealed.
As their wedding day approached, she vented: "My issue is, Anne's friends who were going to be spending my wedding day with her, (their husbands are attending without them), have now said they will all attend the reception with their families and Anne will be there too but she won't attend the venue itself, she will instead stay in a hotel nearby."
She clarified that Anne will be booking a hotel room near the venue "where she will stay while her close friends attend the wedding. The theory is that she then won't be alone at home on what is going to be a hard day for her."
Lux523, thought to be based in the U.K., went on to say: "The friends' husbands (very close male friends of Bob) are all attending, their wives are showing 'solidarity' with A and doing the hotel thing but dipping in and out of the reception, while keeping her nearby so they can 'support' her."
The bride-to-be continued: "Everyone at the wedding will know she's in a hotel nearby and I cannot imagine people celebrating our new chapter while she's sat sad up the road.
"And someone asked is she upset, she doesn't love him anymore but she's found my arrival hard because Bob and I are very much in love and the kids all get on. I appreciate it's hard for her to see him happy when they really weren't happy during their marriage."
She acknowledged she "can't control her whereabouts," but added she was "floored with the strangeness."
"I understand she may be struggling with the fact that Bob is getting married but surely being up the road in a hotel, where everyone will know that's where she is, including her children, isn't going to help anyone," she wrote.
Her post has amassed more than 250 comments since being posted on Saturday, as others also questioned Anne's reasoning behind staying nearby.
Kbyodjs commented: "That's really bizarre; I'd be tempted to say that if they aren't coming to the whole day then their spaces go to someone else as it's rude to just decide to dip in and out. His ex is acting like a child to be honest."
Inspectorslack wrote: "You've no idea what happened in their marriage. Tell those that aren't coming to the wedding that you're giving their space to someone else."
Phishy commented: "As the women have declined, tell them there is no space for them anymore. Don't let them ruin your day."
Juniper68 thought: "I'd just be going off and getting married. This sounds ridiculous."
While hopeishere added: "That is just bonkers. A is determined to remain a drama Queen and attention seeker. Be firm with the flitters they are welcome to attend the whole thing or not but not dip in and out."
In the modern world it's common for people to have ex-wives and husbands, and the question of inviting them to second weddings has reared its head more than once.
Issuing advice over the delicate issue, wedding website Hitched spoke to etiquette expert, William Hanson, who claimed ex's should be off the guest list.
He said: "I would say it's pretty much a hard and fast rule not to invite an ex to your wedding. It's just going to be awkward for them and you.
"Unless, that is, it was so long ago and you have moved well into the 'friend' zone and there are, hand on heart, no feelings towards them from your side then perhaps it is acceptable.
"But your wedding is not the chance to show off to previous partners as to what they missed out on."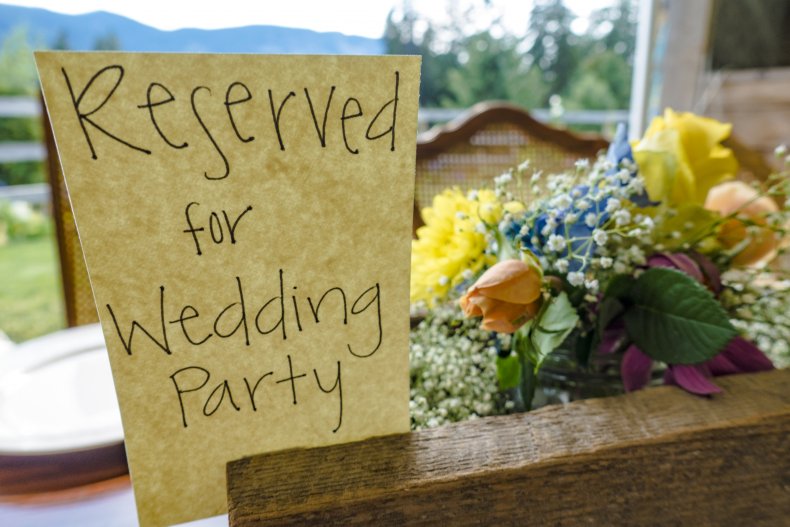 ================

Source link