A bride-to-be has taken to Reddit with a wedding-planning dilemma: her fiancé is insisting that she include one of his close female friends as a bridesmaid. The only problem? She and the bride don't actually like one another.
The post has gone viral in Reddit's "Am I the A**hole" forum, amassing over 9,500 upvotes and 1,559 comments.
The Redditor is far from the first person to encounter this type of issue amid wedding planning. However, in recent years, many couples have strayed from the tradition of single-gender bridal and groom's parties in favor of simply choosing whoever best fits the role.
Brides Magazine, per Glamour, discussed this particular dilemma back in 2013. "Generally, bridesmaids are family members or close pals," noted the publication. "If your fiancé's friend is neither, and you don't feel comfortable including her in your party, why not have her stand up on his side instead?"
According to the 26-year-old Redditor, known as u/throwra58374, her fiancé, 28, outright rejected the unconventional solution, insisting instead that his friend be made a bridesmaid.
The Redditor began her post by explaining that she and her fiancé have been together for four years. Meanwhile, her future husband has been friends with a woman named "Maya" for six years. "They're fairly close but she doesn't like me much," explained the bride. "It's usually not an issue, some people just don't mesh. We don't mesh."
She added that while they "don't actively hate each other," they "prefer not to hang out together."
Since the Redditor and her fiancé recently became engaged, he has reportedly expressed his wish for Maya to be a bridesmaid. "He wants her in a dress matching my bridesmaids, on my side, participating in the things we're doing," she wrote.
"I said absolutely not," said u/throwra58374, citing the fact that Maya "doesn't even like [her]." She added: "I've seen wedding photos where one bridesmaid clearly doesn't want to be with the bride and I don't want that. Plus I really only want the women closest to me as bridesmaids."
As a possible solution, the Redditor "suggested she wear a black dress to match the men's [tuxedos] and be a groomsman"—but her fiancé said he thought that would "look dumb."
"Because he's dead set against including her on his side with the men and their activities and I'm dead set against having her with me and my bridesmaids, he's said I've effectively said she can't be in the wedding," concluded the bride. "I argued he's just as much at fault for not budging as I am but he said I'm the one being unreasonable."
Commenters were quick to side with the Redditor, and many said that they felt the situation was a "red flag."
"Girl, you're absolutely entitled to not want her in your wedding. She doesn't like you, you don't like her, why would you be in the wrong about not wanting her?" commented u/taway425698.
"There are plenty of mixed wedding parties now, and if he wants her in the wedding, it should be on his side," echoed u/mfruitfly. "He doesn't care about your comfort or even the fact that his friend doesn't like you that much.
Others wondered if Maya would even be interested in participating as a bridesmaid in the first place. "I say that because it's really unlikely Maya wants to be a bridesmaid anyways and really wouldn't like coming to all the bridal events (just like you don't want her there)," commented u/KraftyLikeAFox.
Newsweek has reached out to u/throwra58374 for additional comment.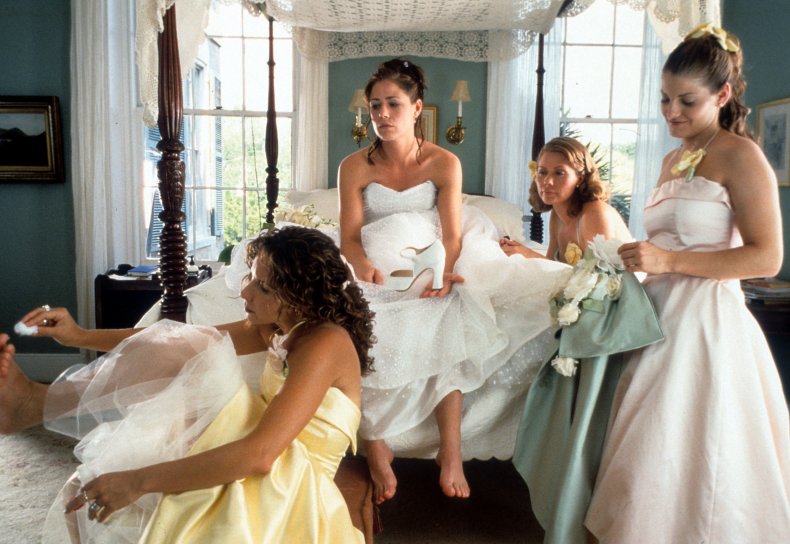 ================

Source link