The internet is behind a man whose sister asked if he'd walk her down the aisle at her wedding, even though their dad feels slighted.
Redditor u/acringeymotorcycle asked the infamous r/AmITheA**hole subreddit if he should acquiesce to his formerly estranged father's request, and got nearly 5,000 upvotes and 600 comments for his trouble.
In the post, he says that he was 14 when his mother died in childbirth 20 years ago. Though his little sister, Elise, was only a baby, their father blamed her for killing his wife. He became an excessive drinker, and the original poster (OP) stepped in to take care of his three siblings with the help of his aunt and some family friends.
"My dad was almost never in the picture, he fell into a heavy depression and almost died of overdose three times, I knew he wanted to be involved, I tried to help him as much as I could but it hurt to watch," he wrote.
When Elise first started talking, she would call her eldest brother "Dada." Though he tried to get Elise to stop calling him that, he eventually gave up.
"I reasoned that if she saw me as her dad then I was doing something right," he wrote.
But when Elise was about 5 years old, their father overheard her call her brother "dad," and accused him of trying to take his place, adding that Elise "doesn't deserve to be apart of this family after she killed her mom." Shortly after his outburst, u/acringeymotorcycle moved out with his siblings into a small apartment with the help of his aunt.
Since then, their father has been sober for a decade and tried to start a relationship with Elise a few years ago. Though the relationship is beginning to mend, following her engagement, Elise asked her brother to walk her down the aisle instead of her dad.
At a planning dinner, he cracked a joke about needing a nicer suit since he'd be the one walking Elise down the aisle. Though everyone else laughed, his father asked what he meant.
"Elise cut in and explained that she wanted me to walk her down the aisle since It felt right because I always walked her to school everyday her entire life," he wrote.
Though the rest of those gathered "thought it was sweet," their father and paternal grandmother later took u/acringeymotorcycle aside to say that he should have refused because the role traditionally belongs to the father. They told him that he "[knows] how hard my dad has been working to be a good father to Elise." While u/acringeymotorcycle said he'd think about it, since then, his grandma has repeatedly called to say he shouldn't "take this away" from his father.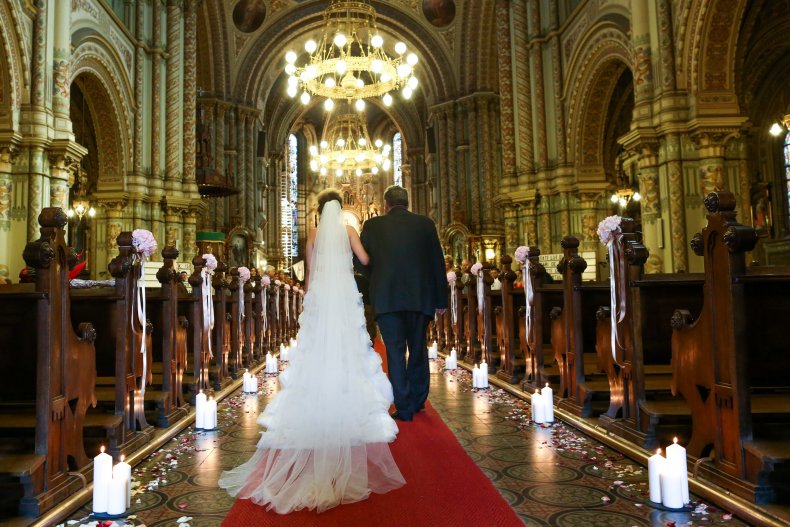 The tradition of a father walking his daughter down the aisle stems from when arranged marriages were more common, according to Brides magazine. Wedding historian Susan Waggoner told the magazine that in those days, brides were a "financial liability," but now, she says, the custom is seen more as a father providing support for his daughter.
In some ceremonies, the officiant asks the father "who gives this woman to be married to this man," but Brides says, it's fine to ask the officiant just to thank the bride's father for walking her up to the altar. In cases where the father is out of the picture, the bride will usually ask another important person in their lives to walk them down the aisle—or even walk alone.
Reddit solidly backed u/acringeymotorcycle, telling him that he's the right one to walk his sister down the aisle, as he's the one she asked for.
"[Not the A**hole]…Tell your dad and [Grandma] that Traditionally a man accepts responsibility for their children and doesn't blame them for things out of their control. Traditionally men don't become alcoholics and force children to become parents. Tell them that Traditionally, it falls on the person whom the BRIDE wants," u/The_Fires_Of_Orc wrote in the top rated comment with 11,100 upvotes. "I forgot to add… you are an awesome person and you should definitely walk down your 'daughter' on her special day. Family isn't just biological, it's who you choose."
"And if the dad takes this away from OP, he's proving that inside he's still that drunk loser who only cares about himself. It'll show that he doesn't really respect Elise or her wishes," u/AllButACrazyCatLady added.
"This is what's called 'too little, too late'. The moment he screamed at his 4 year old that she killed her mother, he lost any claim to fatherhood and any of its privileges. That's like saying he's responsible for her death by impregnating her, it's sad OP's mom took the best part of him with her when she died," u/randomusername71175 wrote.
Newsweek reached out to u/acringeymotorcycle for comment.
================

Source link