A young adult is being praised for refusing to pack her brother-in-law's lunch, a situation recounted on Reddit that has provoked harsh criticism for both the teen's in-law and her mother.
The Reddit post, titled, "AITA for packing my dad's lunch but not my BIL [brother-in-law's] and refusing when [demanded] to," has been upvoted 14,000 times since it was shared on May 3 to the subreddit "Am I The A**hole."
Statista reported that in a 2016 survey, 43 percent of females believed sexism was "very common" in the United States. In addition, 24 percent of males felt the same way. However, only 2 percent of females felt that sexism was "not at all common" in the country, and 3 percent of males agreed.
Redditor @Tiny-City-9550, a 17-year-old female, shared the post that has received over 900 comments since being posted. The original poster (OP) revealed that her parents are in the process of remodeling their home and that her father "tore" a large "chunk" in the back of the house. The OP's brother and her sister's husband, a 27-year-old, have been cleaning and picking up the area.
The OP mentioned that she doesn't like her brother-in-law, and that he's "misogynistic, disrespectful, and has no boundaries." However, she said her brother and father are "nothing like that," and they believe he's "wrong." But there is only so much that they can do when the OP's sister says she's "happy" with the behavior.
The Redditor revealed: "I try to interact as less as I can with him, and I feel uncomfortable in his presence because [up] until a few years ago he used to [make] fun of me for anything I did. He's also used to [having] my sister or my mom do things for him like cooking, serving him his own plate, laundry, [childcare], anything."
After working on the house, the OP's father and her brother-in-law usually leave at the same time to go to work. The Redditor has been making her father's lunch for the last two years since she started to like cooking.
The OP continued: "I cook dinner for all of us, and I only pack some for him. For example, during this instance, I made enchiladas, so I packed him a few with a side of lettuce, sour cream, and green salsa in small containers, a bag of chips, and a few chunks of sliced fruit (apple and pear). I also packed him water and Coke."
When everyone came into the kitchen one morning along with the OP's mother, she told her dad that his lunch was in the car, and her brother-in-law asked, "What about me?"
The OP shrugged and said she left a container in the kitchen, and he was "more than welcome" to pack his lunch, and that there were also waters and Cokes in the refrigerator.
"He gave me a dirty look and asked why I didn't do it for him, and I said, 'You're not my dad so….," the OP recounted. "My mom got in the middle and told me to start [packing] my BIL's lunch, and he smirked when she said that. But I just sat with my plate and said, 'No,' that he could pack his own lunch or buy something at his job."
The Redditor's mother interjected, saying that her daughter was "embarrassing" her, but the OP's father then told his son-in-law to "stop fighting and pack his own stuff" as the OP had already cooked for all of them.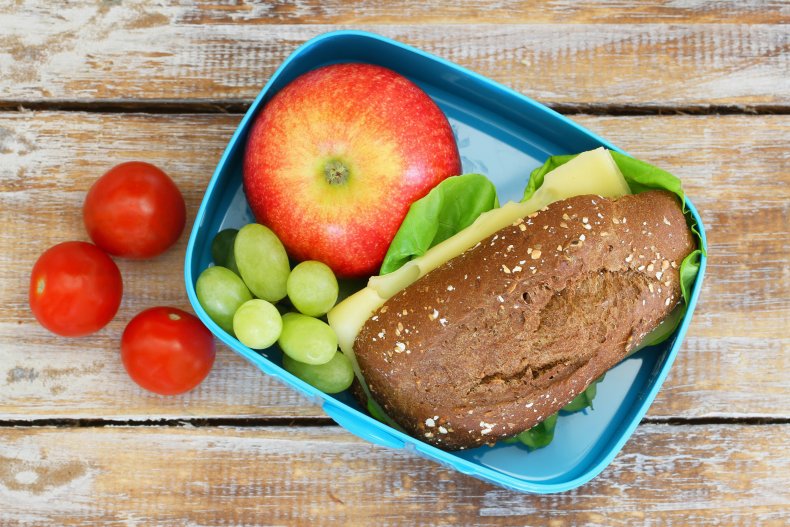 "He ended up saying he would eat something at work and left early," the OP continued. "My mom tried to berate me, but my dad cut her [off] and said that my BIL is already an adult."
Her mother replied, "But she packs your lunch," and her father added, "Yeah, but I don't demand it."
However, when the OP's father left, her mother called her an [a**hole] and added that she had "raised" her better.
Over 900 comments poured in over the OP's refusal to pack a lunch for her brother-in-law, and people thought she was completely right to refuse.
One comment received 16,700 upvotes on its own, and the Redditor didn't think the OP was in the wrong at all, adding that the teen's brother-in-law isn't her "responsibility," and that "he's an a**hole." They also added, "Nothing requires you to serve him. Your mom can pack his lunch if she wants that so badly."
Some people praised the OP's father for standing up for her. "NTA [not the a**hole], and way to go dad for having your back," a Reddit user weighed in. "Next time mom says she raised you better, reply with 'No, dad raised me better. He taught me self-respect.'"
Another person believed the OP's brother-in-law was the a**hole, and they wondered why he would "demand" a teenager or anyone at all "to pack your lunch, especially when he treats you like s**t. Your mom and your sister are enabling his disgusting behavior. One hundred points to your dad for defending you."
A Redditor asked why the OP's mom was "enabling" the behavior in the first place. "I understand why your sister is putting up with it," they reasoned. "She married into that trash. But your mother should not be lowering you to his standards of living. Good thing your dad is there to stop the BS."
Another user, who felt the OP wasn't the a**hole, believed her mother "has some outdated notions about gender roles, but it is wonderful that your dad has your back and wouldn't let her push you. Your BIL can pack his lunch."
Some people thought the situation had to do with culture, and the OP, who said in another comment that she's "Latina," added in another comment where her in-law is getting his "sense of entitlement."
"I think it's a cultural thing as people said," she wrote. "He's a man, and here men are everything. He has always had someone catering to him and usually, my mom does too. It's not a secret that I don't like him or enjoy his presence."
Newsweek reached out to Redditor @Tiny-City-9550 for comment.
This isn't the only viral post involving relatives. The internet dragged a husband for buying children's toys for his wife's birthday gifts. A woman was bashed for calling her fiancé a "jerk." In addition, a partner was backed for "spraying water" in their wife's face to wake her up.
================

Source link