A woman who works from home has been urged to stand firm after angering her unemployed husband by turning his gaming room into an office.
The COVID-19 pandemic forced many of us to do our jobs remotely and research suggests a large number of Americans are keen to keep doing so.
A Gallup survey conducted last September found that 45 percent of full-time employees in the U.S. were working from home on either a full-time (25 percent) or part-time (20 percent) basis. Another Gallup study carried out last summer found that 91 percent of the 9,000 employees polled hoped the option to work remotely would continue after the pandemic.
While working from home has obvious benefits in terms of saving time and money, it can have a disruptive effect on the household.
An example of this was posted to Reddit on Tuesday by a work-from-home mom. According to the woman, her other half has been out of a job "for months now and doesn't have any money because he spent it all on gaming gear and animals."
She wrote: "I'm the breadwinner right now and recently was given a work-from-home job. We have 2 kids that understandably make a lot of noise, so there's not a quiet spot in the house except the bedroom."
She said her husband had refused to let her work in their bedroom, however, saying it made her "look unprofessional" and he didn't want to be "restricted from this space."
Thankfully, the woman hit upon the perfect solution—or, at least, thought she had. "I asked if he'd let me take his gaming room and turn it into an office temporarily, he said no," she said. She then offered a compromise whereby they shared the room, but he again refused.
Frustrated by his reaction, the woman decided to take things into her own hands by moving his gaming kit into their bedroom. This infuriated her husband, however, and he branded her "irresponsible and a dictator."
The woman was unmoved. "I firmly told him that this is part of the house, that is my space too, but he said 'No no no!!! Your space is the kitchen,'" she wrote.
She has so far stuck to her guns, despite her husband's "ranting" and complaints that their bedroom doesn't have the "atmosphere" his gaming room has.
Perhaps unsurprisingly, readers on social media were united in their support of her actions. Goldilock1454 told the woman: "You're the only breadwinner and he should be grateful to you. How old is he, like 16? He's extremely immature. He should be job hunting, not playing games."
Another Redditor, posting as latoofarabumba, couldn't believe what they were hearing. "When you decide to become a parent, you don't get a freaking gaming room anymore, sorry you don't have time for that," they wrote.
Vimse85 agreed, posting: "Honestly never understood and never will understand why it's perfectly fine for men to have their 'personal rooms/area/space' but nobody else in the house has it."
Hellhoundsden went further, commenting: "As long as he doesn't have a job his place is to take care of the stuff around the house. The cooking the cleaning the childcare. You as the breadwinner need a place to work without being distracted. And a home office for work trumps a gaming room."
GrWr44 struck a slightly more sympathetic tone, explaining that the gaming room was a "symbol" of her husband's "career success" and, given his unemployed status, that might be the reason why he was being so difficult.
"Your husband needs to take concrete steps to get his career back on track," they wrote.
Not everyone was quite so forgiving, though. Users such as Yessir5455 urged the woman to re-evaluate her marriage. "Spouses are supposed to help you make it through life, not make life more difficult," they said. "Why are you putting up with his unreasonable behavior?"
Newsweek has contacted the original poster for comment.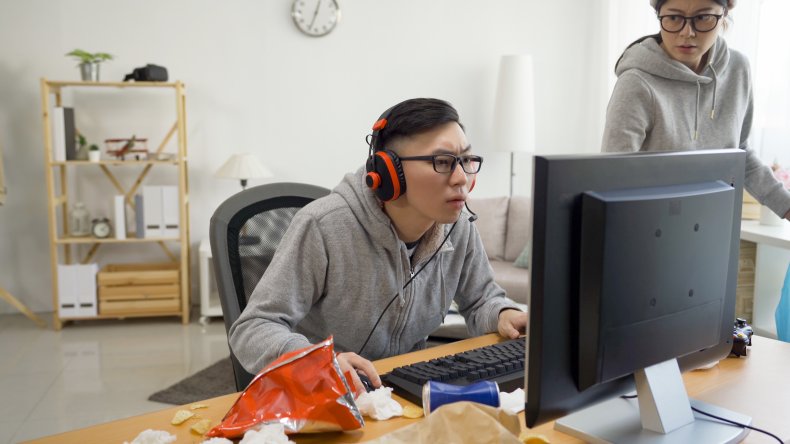 ================

Source link