Keeping your stuff safe is important, but one home has gained viral attention on TikTok for taking things to the extreme after a real estate investor shared footage of the home with a TV, fridge, and entertainment system glued into the walls.
Shared on TikTok by real estate investor Michael Gallagher—who uses the handle michael_gallagher_cbus—the video has received more than 300,000 views and has thousands of likes.
Gallagher, who is based in Columbus, Ohio, shared his discovery in March when he filmed the space. In the video, he says: "It's glued to some extent that's for sure. We've got a whole entertainment center and fridge just… just glued into the walls."
The video shows an old Philips television set, a DVD player, and speakers connected to the walls with a small fridge that looks like it is part of the wall.
In stitches at the strange addition to the home, TikTok users headed to the comments to share their thoughts.
"This person has been robbed in the past," joked one commenter. While another said: "They thought, well this cutting edge technology will never go out of style!"
Another TikToker joked on the bleak nature of the decor: "Is this prison."
Other viewers felt a little nostalgic at the old-style technology: "Oh man, I had that surround system back in the day. Mine wasn't wall-mounted though," to which Gallagher replied: "It's more wall embedded!"
While this homeowner might have missed the mark slightly, Good Housekeeping recently reported their predicted home decor trends for 2022 which included traditional details like pattern mixing and antique furniture and 1970s-inspired colors, and mid-century furniture.
Meanwhile, others have embraced the throwback style of yesteryear in their homes. In March the internet was delighted over a perfectly preserved teen bedroom that served as a time capsule of the year 2000—complete with chunky TV, VHS tapes, and pictures of NSYNC.
Heading even further back, one woman has gained a huge following online sharing her "house the 70s threw up on," featuring nostalgic style packed with color, prints, and thrifted furniture.
"Wow," wrote another commenter on the TikTok video: "What if the TV broke a week later?"
Another TikTok user said: "Thank you for that laugh," and one amazed viewer wrote: "I keep coming back to this video. I need to meet whoever created this masterpiece."
"Somebody was so proud of themselves when they built that in 1998," said another commenter.
"Don't take that out, it's a load-bearing fridge," joked another commenter.
Other TikTok users were actually pretty impressed with the decor choice. One user said: "This looks like an installation art piece," and another wrote: "I want that house. That's dope."
Newsweek has asked michael_gallagher_cbus for comment.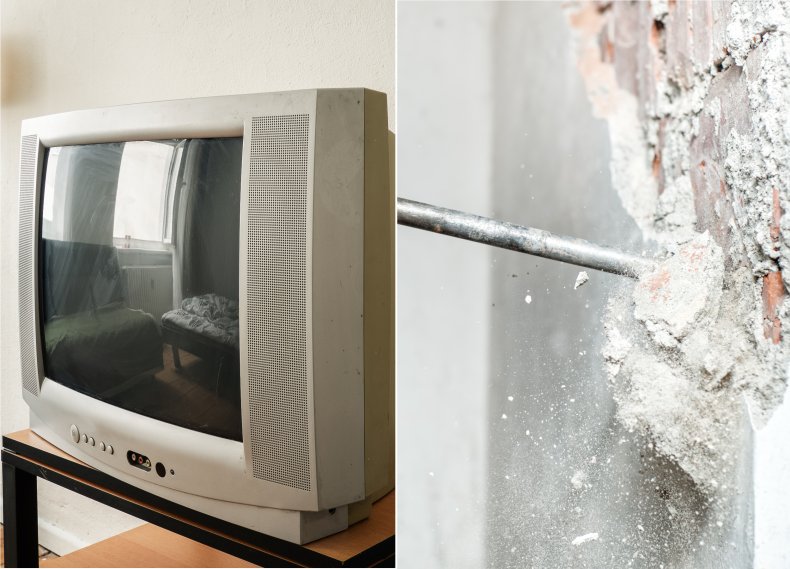 ================

Source link