A controlling husband has been slammed online for hindering his wife's efforts to lose weight by throwing out all of the special diet food she bought for herself.
Dieting to lose weight is one of the hardest things you can do.
According to Scientific American, around 80 percent of people who shed a significant portion of their body fat will ultimately fail to maintain that same degree of weight loss over a 12-month period.
One 29-year-old woman recently took to Reddit's "Am I The A**hole?" forum to share the story of her own struggles with weight gain.
"I weighed over 200 when I graduated high school and it went up during college," she wrote. " I did not grow up in the best family life, my parents worked crazy hours and the only food that they could feed my brother and I was junk and fast food."
After graduating college, she decided to make a concerted effort to lose weight. She joined a gym, switched up her diet to healthier options and succeeded in losing much of her excess weight.
Eager to keep the pounds off, she took advice from a friend who suggested she sign up for a diet plan that provides her with specially made frozen meals and snacks.
"The plan is not cheap, but I do feel that a structured diet is best for me," she said.
Everything seemed to be going to plan until her husband tried one of the meals.
He told her the food was "disgusting" and said she was "wasting money" and would be better off "purchasing meals from the store." Matters came to a head one evening when she returned home from work to find all of her meals "opened in the garbage bin."
She angrily confronted her husband over the wasted meals but he remained adamant he was right to throw the food out telling her "I did a good thing for you" and explaining she could now "start eating regular non-processed foods."
Her husband said he was left shocked by her angry reaction to his actions and insisted he was doing it to "help" her-but Reddit disagreed. Responding to the post, which has racked up over 10,000 upvotes, users were unanimous in their condemnation of the husband's unsupportive actions.
Lostalldoubt86 wrote: "He owes you the cost of the wasted food. Is this the only way he tries to control you?" The woman responded: "He has asked me to cancel my gym membership, which I never did. He also has ordered food for me when we go out." That prompted another user, posting as mizfit0416 to reply: "He sounds like a control freak. Got any divorce money saved?"
Hellsxqueen was similarly scathing of the husband's actions. "He isn't supporting her in her decision to take off the weight so that she feels comfortable again," they wrote. "Also, throwing food away is more of a waste of money than buying the food." SnipesCC said the husband could be "trying to keep her at a weight he prefers" or "thinks that if she is fat she will have to stay with him."
No_personality_2673 accused the woman's partner of "sabotage" while darwin_wins wrote: "Feel like your husband doesn't want [you] to lose that weight. Lose him instead if he doesn't want you to lose for your sake."
Newsweek has contacted the original poster for comment.
Last year a woman went viral after taking a photo of herself every day for six months to document her dramatic weight loss.
On the flip side, a mother earned praise online after stopping her husband from controlling her young daughter's portion sizes.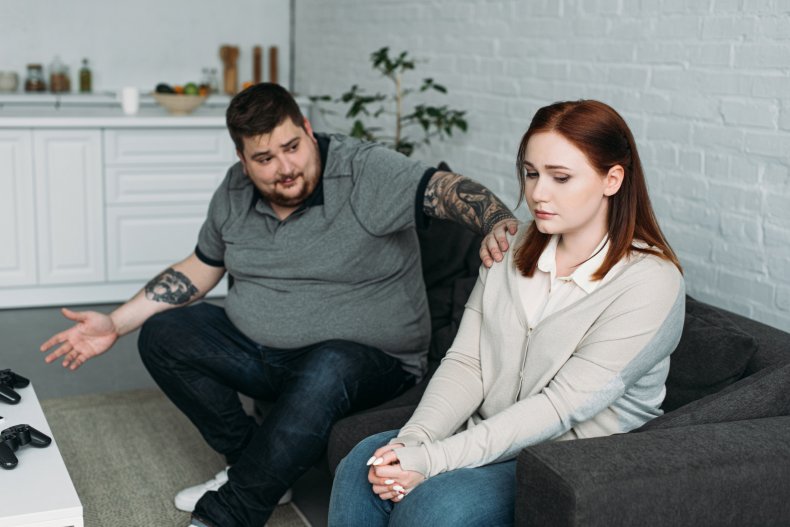 ================

Source link