Comedian Chris Rock is scheduled to perform his first show following the Oscars award show, prompting internet users to speculate on how he will speak about the recent incident with Will Smith.
"If you were Chris, what would be the first joke you'd tell, assuming you'd want to acknowledge Will Smith's slap?" a user asked in the popular AskReddit subreddit. The post has over 47,000 votes and more than 5,000 comments with an array of responses.
The question posted on Reddit comes ahead of Rock's show on the evening of Wednesday, March 30, at The Wilbur Theater in Boston, Massachusetts. The now-sold-out show will be the comedian's first time on stage since he was slapped by Smith at the 94th Academy Awards after making a joke about Smith's wife, Jada Pinkett Smith.
The joke, which was been widely reported, prompted an array of different reactions, including an apology from Smith. However, Rock has yet to comment on the slap since the awards show on Sunday.
After the question was posed on Reddit, users flooded the comment section to share their takes on how Rock will address the incident.
"Well after my busy schedule of producing Will's biggest hit in years, I was able to make it here tonight," Reddit user akujiki87 wrote.
Reddit user fyrefawx wrote, "Now before we start, does anyone here have a wife with a medical condition that I need to be aware of."
Prior to being slapped by Smith, Rock made a joke about Pinkett Smith's shaved head, and since she's been vocal about her alopecia diagnosis, the joke fell flat with the couple. Rock referred to Demi Moore's character in the movie G.I. Jane and he said, "Jada, I love you. G.I. Jane 2, can't wait to see it."
One Reddit user pointed to his joke at the Oscars and said that Rock could open his show on Wednesday by saying, "So. I guess you've all heard that GI Jane 2 probably isn't happening."
Another Reddit user said that Rock should thank Smith "for all the extra ticket sales" following the slap.
While it is unclear how Rock will exactly open his show on Wednesday night, Newsweek previously reported on how ticket sales prices increased by over a hundred dollars until the point that the show was sold out.
On Wednesday, Michael Silveira, a spokesperson for StubHub, the popular ticket re-sale website, told Newsweek that "48 hours from Sunday evening, it's evident that demand for Chris Rock shows has jumped dramatically, based on our ticket-buying trends on StubHub."
Newsweek reached out to Chris Rock's public relations for comment but did not hear back in time for publication.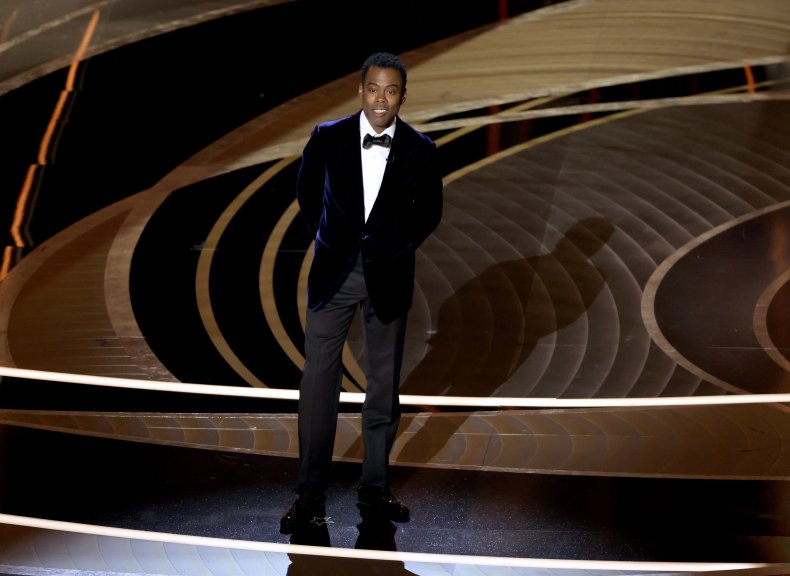 ================

Source link