Commenters were delighted after one woman's viral internet post about a positive pregnancy test ended in the best way possible.
In a Reddit post published on r/tifu (which stands for Today I F****d Up), Redditor u/Exact-Candy372 (otherwise referred to as the original poster, or OP) said she recently learned she is pregnant with her third child and detailed her husband's great confusion upon learning that news himself.
Titled, "[Today I f****d up] by not telling my husband that I was pregnant and making him think I was cheating on him," the viral post has received more than 30,000 votes and nearly 1,500 comments in the last day.
Writing that she and her husband share a 4-year-old daughter and 1-year-old son, the original poster said a recent bout of intense nausea prompted her to use an at-home pregnancy test.
"I was feeling the nausea HARD and used a pregnancy test that I still had from the box from the last time I thought I was pregnant and, boom, baby in the oven," she wrote.
"I found out on April 2nd and decided to wait until the 25th because that's my husband's birthday and thought it'd be the best birthday gift ever," she added.
After throwing the positive test into her bathroom trash can, the original poster said she was struck with the realization that her husband always takes out the trash and that her surprise baby reveal could be in jeopardy. But after two weeks without mention of the test, the original poster said she thought her husband hadn't noticed, until the couple went grocery shopping.
"We're grocery shopping and suddenly my husband starts crying and goes to the bathroom," she wrote. "I call him on the phone and he, still crying, asks if it's his baby."
"I manage to get him out of the bathroom, we go outside, I tell him my plan and give him a hug and apologize," she continued. "He's laughing so hard he can't breathe and then tells me to never do that again before he apologized for running to conclusions."
"Then we went to get frozen yogurt," she added. "Food for the soul."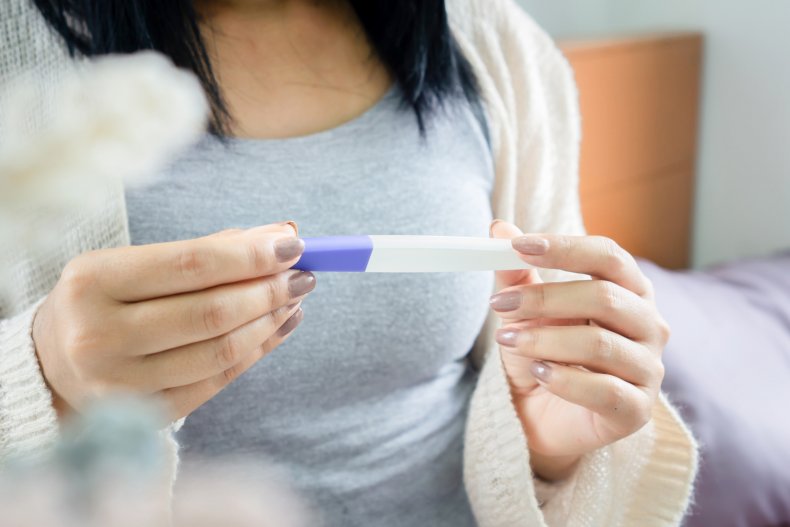 Surprise pregnancy reveals are not a new phenomenon, but throughout the internet era, they have gotten more and more creative.
In fact, one Google search will reveal hundreds of fun and unique ways for expecting couples to tell family and friends their big news, as well as countless ways for expecting mothers to inform unsuspecting fathers.
From a scavenger hunt with baby-related clues to a surprise message left inside a box of supplies for raising a newborn, parenting outlet Mom Loves Best recommends that women "put on [their] thinking caps," when considering how to reveal their pregnancies.
Mom Loves Best also recommends that expecting couples do their best to enjoy the special moment, no matter what that moment looks like—a message commenters responding to the viral Reddit post agreed with.
"That's sad he was upset," Redditor u/Satiricallysardonic wrote in a comment which has received nearly 2,000 votes. "But damn he must love the sh*t outta [you] if he worked himself up this hard for two weeks."
In a separate comment, which has received more than 3,000 votes, Redditor u/PARANOIAH congratulated the original poster and her husband on the newest member of their family.
"Congrats for being pregnant again!" they wrote.
"Congrats on the new addition and omg! I don't even know how it is even possible to keep that a secret," Redditor u/Lovehatpassionpain chimed in.
"So happy for you and glad hubby feels better!" they added.
================

Source link