Members of a popular internet forum were quick to show support for one woman who revealed why she left her fiancé on his own while he recovered from open heart surgery.
In a viral Reddit post published on r/AmITheA**hole, Redditor u/Legitimate_Ad3818 (otherwise referred to as the original poster, or OP) said that she had been caring for her husband for weeks, but explained how relentless comparisons to his mother ultimately caused her to take refuge with a relative.
Titled, "[Am I the a**hole] for letting my fiancé fend for himself after he constantly compared me to his mom?," the viral post has received nearly 10,000 votes and 1,800 comments in the last 9 hours.
Beginning with the explanation that she had never had a good relationship with her mother-in-law, the original poster said her fiancé was a helpful mediator in the past.
"Since the beginning of my relationship…his mom would constantly try to compete with me," she wrote. "She always claimed she would be the first woman in my fiancé's life because she birthed him and raised him."
"My fiancé stood up for me and established some boundaries with his mom," she added.
Following his heart operation, however, the original poster said her fiancé completely changed his tune and began parroting his mother's harmful rhetoric.
"He started comparing me to his mom," she wrote. "He gives backhanded compliments to the foods I make and says 'It's good, but not like my mom's.'"
"He sometimes also snaps at me because I won't do something quick enough or properly enough and he will tell me words like, 'I wish my mom was here, she wouldn't be so useless,'" she added.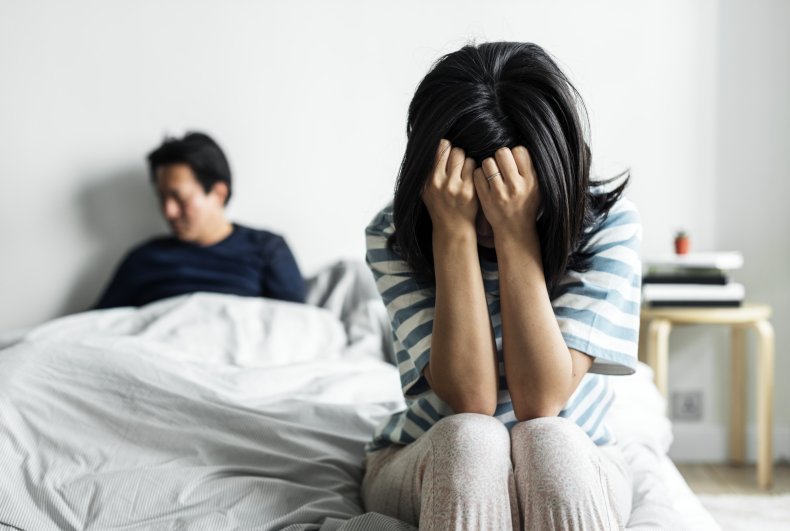 After a myriad of insults and comparisons to her mother-in-law, the original poster said the last straw came when her fiancé said he was wrong to set boundaries with his mother, and that he should have distanced himself from OP instead.
"He told me that his mom was probably right when she said she should be the first woman in his life, since she'd care about him better than I do," she wrote. "After this comment, I didn't think twice, I just packed…clothes in my handbag and left and went to stay at my cousin's house."
"He called me and said I'm an [a**hole] for leaving him home alone while he's recovering and that I should've at least called his mom," she continued. "I told him he should call her and it's none of my business anymore."
Repeated comparisons to a parent can serve as a major red flag in relationships.
Families.com, a website dedicated to parenting and family advice, reports that for many women, direct comparisons to a partner's mother can be especially damaging.
"One of the hardest things that a woman can hear…is a comparison to her husband's mother," the website reads. "When your husband refers to you as not matching up or being as good as his mother it can hit hard."
These comparisons are often a result of childhood households in which strict and traditional gender roles were enforced, according to Psychology Today.
However, the expectation that women should act as caretakers for male partners can be destructive, and simply identifying the source of that expectation is insufficient in creating healthy and fair relationship dynamics.
"Recognizing the root of these behaviors is not enough," Psychology Today reports. "People do not have to accept these roles and can become aware of them and alter them before the relationship is damaged."
Throughout the comment section of the viral Reddit post, Redditors responding to the original poster assured her that she was justified in leaving her fiancé to "fend for himself," and agreed that if he thought his mother could provide better care, he should have called her himself.
"Go back, pack the rest of your stuff and leave him for good," Redditor u/jlnbtr wrote in the post's top comment, which has received nearly 15,000 votes.
"He's showing his true colours," they added. "A mama's boy will always be a mama's boy, and you'll always come second."
Redditor u/Just-a-Pea, whose comment has received more than 4,000 votes, offered a similar response.
"Call off the wedding," they wrote. "He can marry his mom since he doesn't get the difference between wife and mother."
"If he can call you he can call his mom," Redditor u/Helpful-Internal-486 added, in a comment which has received more than 2,000 votes.
Newsweek reached out to u/Legitimate_Ad3818 for comment.
================

Source link