A cat, who rose to social media stardom for her uniquely round, enormous eyes and clumsy feet, will serve as the next mayor of a small town in Michigan.
On Sunday, Jinx the black cat will briefly reign over Hell, Michigan, a community 20 miles northwest of Ann Arbor that has a reported population of about 72. The town's website says that anyone can become "Mayor of Hell" for a day or even an hour. But Jinx, entering office with 736,000 followers on TikTok, 402,000 on Instagram and 248,000 on Twitter, will be Hell's first feline leader.
Jinx lives in California with her owner, Mia, who told MLive that she rescued the cat in 2018. Jinx was only about three weeks old when Mia discovered her in her backyard.
As time passed, Mia noticed that the feline's large eyes were not getting any smaller as she grew. The cat also had large feet that made her slightly clumsy. It was only a year ago that she learned how to land on her feet, the owner said to MLive.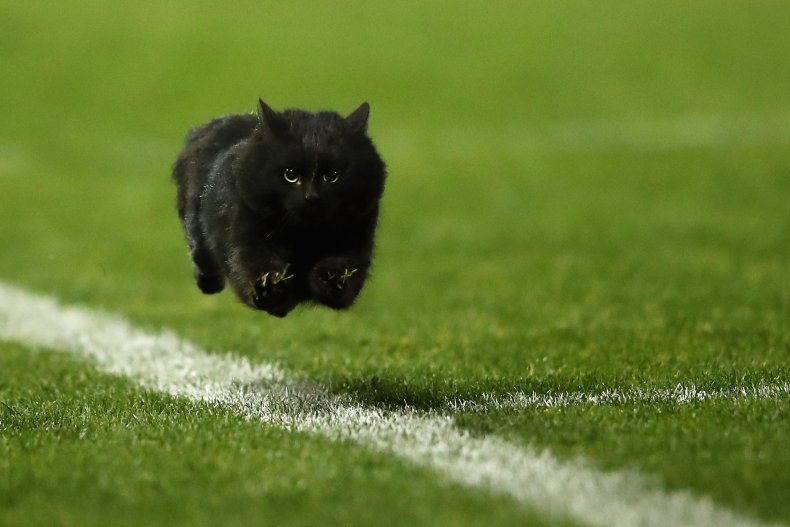 Mia took her to the vet, who said the pet was healthy—she was just born with defects that made her look different from other cats.
Those same birth defects gained Jinx a large following on social media, with her audience fascinated by videos and photos that shared her unique appearance and everyday life.
On April 8, Mia wondered aloud on the internet if her beloved cat could ever become mayor. "Isn't there some town that made a dog the mayor?" she asked on Twitter. "Can we make Jinx mayor or something somewhere?"
Lo and behold, responses came in from Hell, Michigan, where anyone—human and now feline, too—can become mayor for one day, with a donation of $100 to the town. Becoming mayor for one hour is just $25.
"Jinx is going to be mayor in three days," Mia announced on Twitch on Thursday. In the livestream, the cat's fans suggested decrees for her consideration, including mandatory salami, banning big dogs and criminalizing not following Jinx on social media.
The one-day mayorship comes with horns, a T-shirt, a mug, a badge and a mayoral proclamation certificate, along with a certificate of impeachment at the end of the day. The mayor also receives property ownership of one square inch in Hell.
In 2017, comedian Elijah Daniel became mayor of Hell and managed to fit outlawing heterosexuality into his one-day term.
Newsweek reached out to Mia for comment.
================

Source link