A dog that ended up with a very different haircut than requested after a trip to the groomers has left the internet in stitches.
In a video posted to TikTok, owner Sarah—who uses the handle inputcoffee—shared that she had taken her Goldendoodle Scott to the local groomers in San Diego and "left with a new dog."
With more than 371,000 views and thousands of likes, the video has brought big laughs to social media.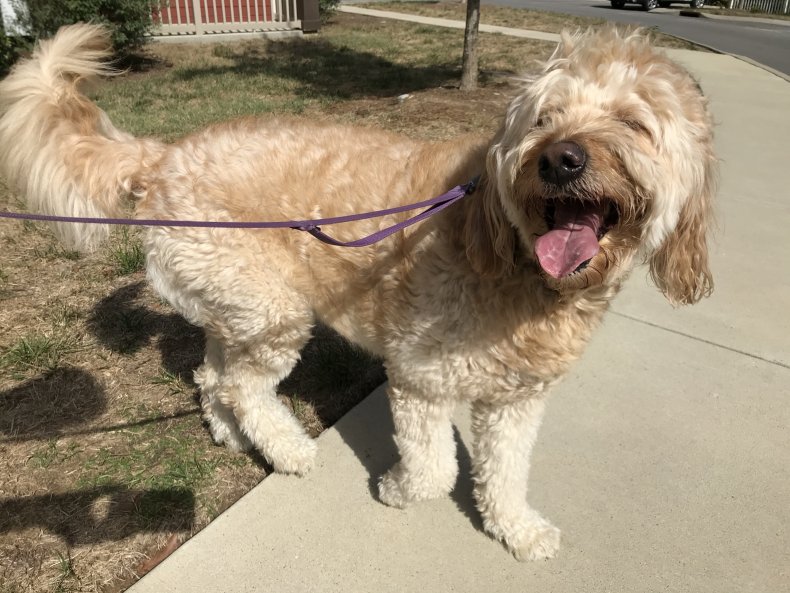 "That poor puppy," said one commenter: "They did him dirty!" While another TikTok viewer wrote: "Oh no! I hope his fluffiness grows back quickly."
A Goldendoodle is a cross-breed not recognized by the American Kennel Club (AFK). The hybrid is a cross between a Poodle and a Golden Retriever. With the personality and temperament of the Golden Retriever and the low-shed traits of the Poodle, the medium-sized dog has a shaggy soft coat and is lauded as a perfect family pet.
The breed first appeared in the 1990s to provide a larger alternative to the much-loved Cockapoo—a cross between a Poodle and a Cocker Spaniel. While the Goldendoodle is not recognized by the AKC or other purebred registers, they can be registered with the American Canine Hybrid Club.
​​But the Goldendoodle does require some coat maintenance. Expert site Happy Goldendoodle says: "Grooming is an essential part of caring for our Goldendoodles. While all dogs need regular grooming to keep their coats clean and free from dirt, the adorable Goldendoodle requires more grooming than some other breeds that naturally rid their coat through shedding." As a general rule, owners should aim to brush their Goldendoodle every day, and they should have a trim or full groom every 6-8 weeks.
Data from home management platform Thumbtack reports that the average cost of a dog-grooming session in the U.S. is currently around $70–$90, but can cost as much as $120 depending on the dog's individual needs.
On TikTok, Sarah explained that she had asked for a lamb cut—with a shorter style around the body and more fur left on the legs—showing the groomer photographs of Scott's previous haircuts, but instead when she went to collect her pup found that he had been given an all-over short cut.
"That's a different dog," said one commenter on the viral TikTok video.
Another viewer said: "They did the same thing to my dog one time and I started crying when they brought her out."
"I am very sorry for laughing at your dog," said another commenter, while another said: "The cackle I let out oh my god," but Sarah replied: "It's ok, I can laugh at this now too."
Newsweek has reached out to inputcoffee for comment.
================

Source link