A Highland calf has gone viral after scaring a goat into 'fainting' in a video, garnering a lot of laughs and atppreciation from viewers.
The eight-second TikTok video, shared by user @sierraroberts20, featured a calf running across a field of grass towards a bunch of goats on the other side as MC Hammer's hit song "U Can't Touch This" plays in the background. It has been viewed 10.9 million times and liked 1.6 million times since it was posted on April 3.
According to the clip, the calf runs close to the group of goats, heading the other way once it gets near the fence. The calf gets pretty close to one goat, however, and suddenly, the camera pans to that same goat, who appears to faint from being scared in all the commotion. The camera zooms in for a closer look before the video concludes.
"The bottle calf thinks it's a fun game to scare the fainting goats," the screen read in the text overlay.
Fainting goats have taken the Internet by storm for their reactions to being scared. According to National Geographic, these types of goats are called Myotonic goats, but they have other names such as Tennessee fainting goats.
The goats have a genetic condition called myotonia congenita, which makes the animals' muscles stiffen for a short period after being startled. Despite the 'fainting' tag, the goats don't faint or lose consciousness during the episodes.
Over 7,300 comments came in over the viral moment, and many people find the situation humorous. "I don't know why I love fainting goats," a viewer admitted. "Funniest thing."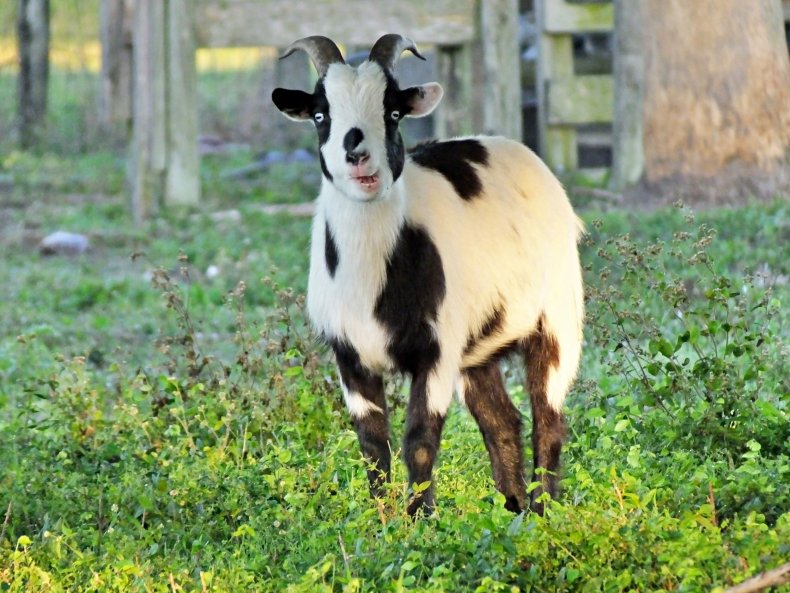 Some think there's a lot of drama going on. "All parties involved are being very dramatic," a TikToker said.
Other comments of appreciation included things like, "This is the video I didn't know I needed," and "How can you not love animals?"
A commenter called the goat "dramatic," adding that the calf "didn't even touch him and gonna fall down like he got whacked."
One viewer related to both animals. "I am the calf on Friday night and the goat on Monday morning Lol," they said.
Another called the goat their "spirit animal," adding, "I need him in my life."
Not everyone was fixated on the goat, however. "Aw, this is awesome," a viewer said. "I've never seen a cow so happy."
Newsweek reached out to TikToker @sierraroberts20 for comment.
The footage of the calf and goat isn't the only animal clip to go viral lately. In a TikTok video, a cat seems to recognize itself in the mirror. Meanwhile, a Labrador retriever also turned some heads with the canine's reaction to hearing the word "cows." And a TikTok clip of a dog playing and jumping up and down on an iPad has divided commenters.
================

Source link