A dog owner has wowed the internet after sharing a picture of their pups recreating a famous scene from the 1992 movie Alien 3.
Shared on Reddit's popular r/funny subreddit on Thursday, user WartJrs posted a side-by-side comparison of the picture of two dogs next to a screencap from the iconic film.
In the picture, a bulldog can be seen looking down at a Chihuahua—which looks amazingly like the scene in Alien 3 when Sigourney Weaver's Ellen Ripley is being hunted by a xenomorph.
With more than 35,000 upvotes, the picture comparison has delighted internet users.
One Redditor commented: "That photo has meme potential," while another said: "This looks adorably horrifying. Cheers."
Another commenter joked about the Boxer dog and said: "As an owner of a boxer-bulldog mix, I can confirm that the amount of drool these dogs can produce is equal to a xenomorph."
In the original 1979 Alien movie, Ash—portrayed by Ian Holm—says that the famed and terrifying xenomorph is: "The perfect organism. Its structural perfection is matched only by its hostility."
Originally portrayed on screen by 6'10" graphic design student Bolaji Badejo after he was spotted in a pub in London, the iconic xenomorph is hailed as one of cinema's most terrifying extraterrestrial iterations.
Another Redditor joked about the Chihuahua and wrote: "Pretty sure the Chihuahua is the xenomorph in this situation. At least they believe they are."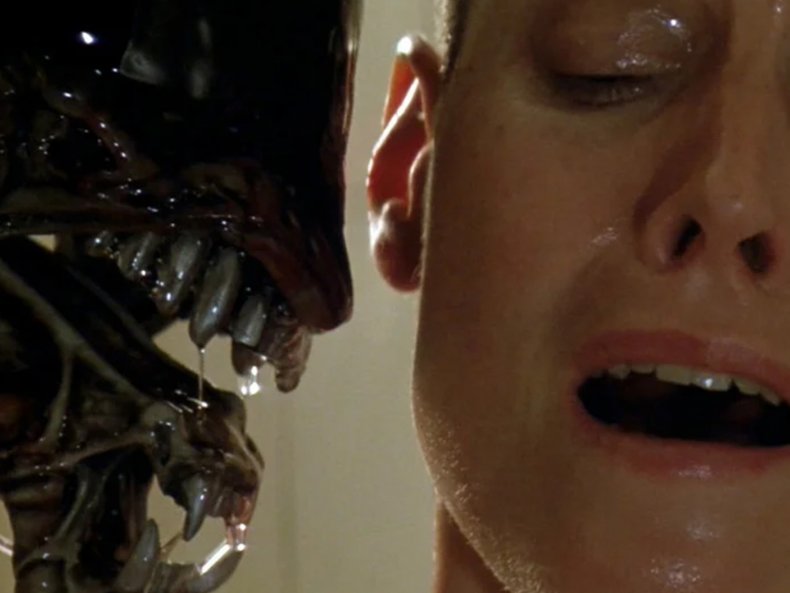 One commenter agreed, joking: "The Chihuahua is the most evil thing in these photos."
First recognized by the American Kennel Club (AKC) as a breed in 1904, the Chihuahua is a small dog with a big personality. The AKC says that the Chihuahua is a graceful dog with a terrier-like demeanor. "Chiauhuas possess loyalty, charm, and big-dog attitude," says the AKC: "Even tiny dogs require training and without it, this cleve scamp will rule your household like a little Napoleon."
Many Reddit users rushed to the defense of the miniature breed, one commenter wrote: "Chihuahuas get a lot of (sometimes deserved) hate, but I have a special place in my heart for those tiny little balls of hate."
While another user said: "Veterinary professional nearing 15 years here and I love a Chihuahua. Sweet baby Chihuahua, spicy 18-year-old in a belly band chihuahua, all of them are the best."
"This is phenomenal," said another commenter on the viral Reddit post. Another wrote: "[I] almost woke up my son because I lol'd!"
This week, another pup captured viral attention for her similarity to movie character Weasel from The Suicide Squad.
Newsweek has reached out to WartJrs for comment.
================

Source link