A husband has been branded "abusive" and "manipulative" by his wife after going behind her back to turn her home gym into an office for himself.
In a post shared to Reddit's "Am I The A**hole?" which garnered just over 8,000 upvotes and nearly 2,000 comments, the man explained that he recently landed a job that requires him to work from home and "needed a quiet space" in their three-room apartment away from their two kids.
However, when he suggested turning his wife's "workout" room into a workspace for himself she said "no" with "no discussions" and "no compromises" on the matter.
Her response angered her husband considerably, given the circumstances. "I thought that she was being unsupportive and unappreciative of the fact that I'm trying to make us money to provide for the family," he wrote.
So he decided to take matters into his own hands. "I waited for her to leave the apartment, then had all her workout stuff [moved] out and turned the room into an office away from the noise and distraction," he said.
According to the man, his wife promptly "lost her s***" upon returning home to discover what he had done and accused him of being "inconsiderate of her struggles with keeping fit and healthy since she has a number of disorders that she only manages via working out."
He argued back that he has a "stronger" reason for needing the room as he needs to earn money to "keep a roof over our heads" but his wife flat out rejected that suggestion.
"She called me manipulative and abusive for going behind her back," he wrote. She "demanded" he put everything back but the husband refused to comply, accusing her of "throwing a temper tantrum" and telling her she needed to be more "accommodating" to the fact he needed the room to work.
In a follow-up post, the man also expressed anger at his wife for using "her struggles" and "disorders" to justify her actions. "I just got tired of her throwing this argument in my face whenever we fight about other things, not just her workout room," he wrote.
He may have been sure he was in the right, but the internet seemed to feel differently.
FoxxiFurr claimed the husband's actions were "out of spite and to be petty" while Chemical_Relation008 accused him of putting her "quality of life" in "jeopardy" by going behind her back rather than reaching a compromise. Educational-Scene-497 acknowledged that while the wife "shouldn't monopolize and refuse to share a quiet space" her husband crossed the line when he "moved her stuff out."
Others like Charenton_ felt the husband's actions spoke to an underlying issue within their marriage. "Why is it okay for you to…unilaterally decide to take away the thing that helps her manage her 'number of disorders' when it suits you?" they asked. "This seems to indicate you don't give a f*** about her mental and physical health."
Primary-Criticism929 felt there was blame on both sides. "Neither of you is willing to compromise. You could have turned this room into a half and half, but neither of you considered that option," they wrote. "You're both acting like children."
Newsweek has contacted the original poster for comment.
Though this particular argument may be a unique one, working from home has taken its toll on plenty of relationships over the past few years.
According to an April 2020 survey of 3,000 U.S. workers conducted by GearHungry.com, 45 percent admitted that working from home was putting a strain on their relationship.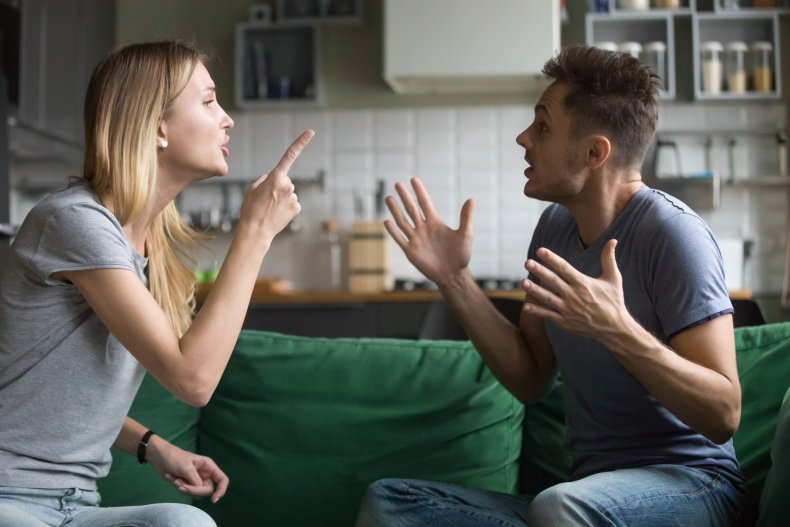 ================

Source link