Celebrities have come out in support of Mike Tyson after he was reportedly filmed punching a man in the face on a plane.
A video, which seemingly shows the former heavyweight boxer repeatedly punching a fellow passenger in the face, went viral on Thursday, but the reaction to the incident seems to overwhelmingly support Tyson.
That's because the extended version of the video, obtained by TMZ (seen below), shows the passenger "provoking" Tyson from the seat behind him. The after effects of Tyson's confrontation show the passenger with cuts to his head.
Tyson became a trending topic on the internet after the video was released, with a number of verified accounts on Twitter reacting positively for the boxer.
Dana White, president of the Ultimate Fighting Championship, got over a million views on an old video he shared, which shows him and Tyson in a light-hearted confrontation on a plane. White wrote: "Hey dummies, for future reference, this is how you stay alive when bumping into [Mike Tyson] on an airplane."
Many other people pointed out that the passenger was repeatedly "harassing" Tyson before being punched. Rapper and actor Ice-T wrote: "The problem is nowadays, MFs think they WON'T get punched in the Face…" This tweet has received over 270,000 likes.
The Roots drummer and now Oscar-winning director Questlove weighed in too. He suggested he's all for pushing boundaries in the name of art and entertainment, but not around Mike Tyson — "provoking, agitating, disrupting, chaos in art im all for. but to Mike Tyson? nah that's all you dog, lemme know how that work out for you."
Reality star and son of the professional boxer Ray "Boom Boom" Manicini, Ray Mancini Jr also sided with Tyson. In a series of tweets he wrote, "Dude was definitely asking for it from Mike Tyson. And Mike even took a picture and gave the dude shroom and he still couldn't chill out – Iron Mike not the one."
Musician DJ Kam Bennett also pointed out that the passenger made a mistake, writing: "Mike Tyson is the wrong one to play with.. I thought yall knew this?" while American comedian George Wallace delivered a deadpan reference to Tyson's history in the ring by writing:"I heard that dude was giving Mike Tyson an earful."
British boxer Nicola Adams shared her reaction, stating that the passenger bothering Tyson "must have a death wish." She wrote, "If there's one person in this world you should know not to annoy on a plane, it's Mike Tyson."
YouTube star-turned-boxer Jake Paul also weighed in. He commented that: "This generation thinks they can get away with anything" and that Tyson should have legally be given a "hall pass" to beat someone up if he's being heckled in public. Sports writer Kristian Sturt then directly questioned Paul and asked how he didn't see the irony in his comments.
Rapper Wale kept his reaction short in a message to his 6.3 million Twitter followers. "Why would anyone provoke Mike Tyson," he asked.
After the video and incident became a talking point on the internet, some people drew comparisons between Tyson and Will Smith losing his cool and slapping Chris Rock onstage at the 2022 Oscars.
Journalist Ksenija Pavlovic McAteer wrote seriously about the state of celebrities in public and their perceptions on social media. She wrote, "People are losing their cool. Planes or the Oscars, celebrities don't care how they come across anymore. And we live in the age of cellphones. Everything is on the record. Mike Tyson, airplane punching tv. that's now a new category of things to avoid and worry about."
She continued, "Even if you are not a celebrity people can find a way to provoke you. Explosive situations are everywhere. You go about your day and boom, out of nowhere, someone is having a go at you. Measure of mental strength is in self control. When you see crazy, cross the street."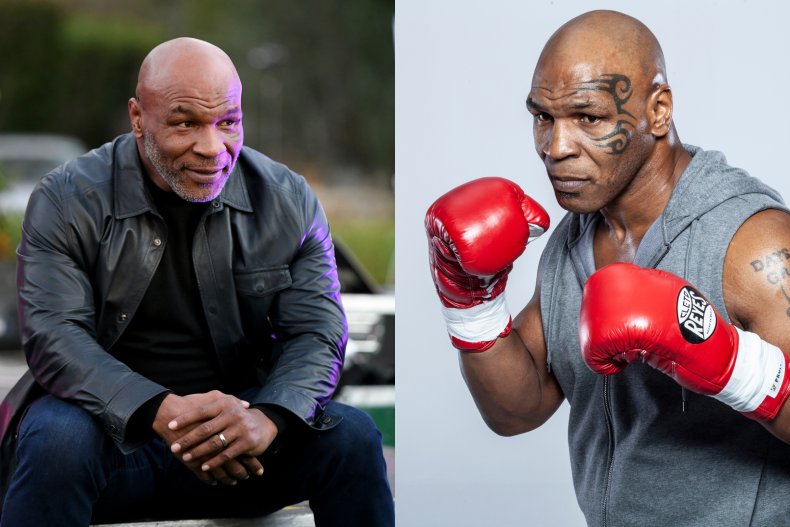 Alt-right political commentator Mike Cernovich shared his worry for Tyson and called on his followers to "pray for" him. "Mike Tyson was getting better, working on himself, and some demon harassed him. This is why a spiritual understanding of the world is important. When people attack me, I realize this is a demonic assault, and avoid letting them draw me in," he said.
"about how "people are losing their cool" and that seemingly, "celebrities don't care how they come across anymore."
Journalist Tariq Nasheed came out in support of Tyson's actions, but called out the way that the situation has been framed in the media. He wrote, "I don't like this low-key anti-Black, white media narrative that 'Mike Tyson lost his cool'."
Newsweek has contacted representatives of Tyson, JetBlue and the San Francisco Police Department for comment.
This article was updated on 4/22/2022 at 06:00 a.m. to remove embedded tweets.
================

Source link